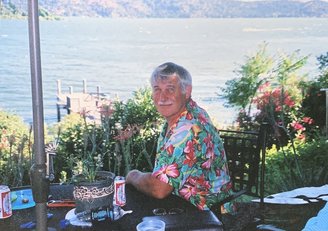 North America's top ranked Tonk player, John Sylvan Brownfield, died unexpectedly on March 16, 2021 at his home in Fieldbrook with his wife by his side (#1 ranking unofficial and under dispute). While the cause of death is currently unknown, the rumor on the street is that his heart gave out because he had not been to a garage sale in over a year.

John is survived by the love of his life, his wife of 45 years, Leanne Brownfield, his devoted daughter, Holly Ruys, his brother, Danny Brownfield, and many other adoring friends and family members. He is preceded in death by his parents, among others. He is both survived by and preceded in death by one. His beloved dog Pete, who although dead for over twenty years, lives on since John had him stuffed and would often take him on car rides with Pete riding shotgun.
John has always blessed us with adoptive children such as Lynne Owens and Holly Brunner. Other times we've been completely surprised by new children coming into our lives ready to call him Dad.
For those that know John, you know that there are no words or reciting of stories that could accurately describe him. For those that did not know him … you missed out.
John was always the funniest person in the room. He would go great lengths to make you laugh, or more importantly, make you laugh with him. A story, when told by John, was a magical experience no matter how many times you had heard a version of that story. At the end of the experience, you never knew if what you just heard was true, part true, or just complete and utter rubbish John had made up for a laugh. John was happiest when creating stories and adventures for the children in his life.
John exemplified the adage that a stranger was just a friend you had not met yet. He engaged with everyone and anyone, always finding common ground so that by the time they parted they felt loved and listened to. Something he learned while traveling across the United States and Europe on his motorcycle.
John could often be found burning brush on his property in Fieldbrook, and several times had the privilege of the Fieldbrook Fire Department assisting in extinguishing those fires.
John loved agate hunting, any large agates he would find he would throw them into his gravel driveway along with coins and marbles for kids to hunt for.
John had an incredible love for his grandchildren. This is where John's presence will be missed most.
Please join us in a Celebration of John's life to be held at his brother's house in Fieldbrook Friday, June 18 at 12 o'clock noon. Please bring your favorite dish to enjoy potluck style. Guaranteed to be a day full of tears, laughter, food and drink and of course a bonfire sure to make John proud, where everyone can enjoy a beer, and tell their favorite Uncle John story. There will be a large collection of authentic colorful Hawaiian shirts available for all that arrive to wear, enjoy & take home.
Hope to see you.
###
The obituary above was submitted on behalf of John Brownfield's loved ones. The Lost Coast Outpost runs obituaries of Humboldt County residents at no charge. See guidelines here.