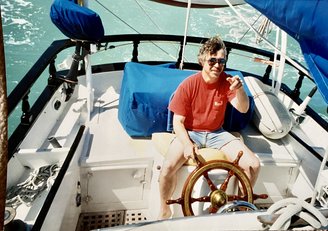 Ronald Gene McGee was born on June 30, 1947 in Los Angeles. He moved to Humboldt County with his parents Kenneth Gene McGee and Bernadine (Esser) McGee at the age of 2. His father Kenneth worked at the Scotia Mill and his mother Bernadine was a nurse. He passed away in his home on February 28, 2021 at the age of 73. He lost his ongoing battle with Chronic Obstructive Pulmonary Disease.

Ron is survived by Barbara Jean McGee of Eureka; sister Cindy Cartwright and brother-in-law Joe Cartwright of Summerville, Missouri; daughter Stacy McGee-Graham and her fiancé Cory Buchanan; his grandsons Cooper and Cody Graham of Roseville; and Daughter Courtney McGee of San Jose.
Ron graduated as a Fortuna High Husky in 1965 while being an active football and track star. Upon graduation, he enlisted in the United States National Guard and was then drafted into the United States Army. Upon graduation from training in April of 1967 in Fort Bragg, North Carolina he received his US Army Diploma and certificate of completion from the US Army Transportation School. After an accident, he became a disabled Army veteran. Ron graduated from College of the Redwoods in Eureka and attended Humboldt State University. His early hobbies and classes included photography, where he learned to process slide photographs.
Ron was a man of many lifelong hobbies, which included motorcycles, classic cars, camping, fishing, hunting duck, deer, elk, and abalone diving. Being an avid sportsman, he loved anything and everything outdoors that involved the sea and the redwoods. He owned several beloved boats out at King Salmon, but the most notable boat was his "Big Dipper", which he would use for salmon fishing. He also had a little blue boat, "Little Dipper", which he would use for trout fishing. His love for the sea and diving led him to become a volunteer for the Eureka Sheriff's Marine Posse as a certified diver in 1977.
Ron was a longtime member of the Fraternal Order of Eagles (FOE #130), as well as a member of the Elks Lodge of Eureka. He spent many years playing recreational Men's softball often held at Cooperstown Gulch Park in Eureka.
Ron was welcomed into heaven by his beloved parents Kenneth and Bernie McGee of Ducktown, Tennessee, his grandmother Helena Esser of Minnesota, His sister Karen McGee, and his brother Kevin McGee.
He will be truly missed by all who knew him and his sense of humor and quick wit. He would do anything for anyone who asked, with his genuine compassion for people touching a lot of hearts. His love for Christmas and Halloween will be dearly remembered as he would spend much time decorating inside and outside the house, and setting up numerous memorable exterior Halloween displays while living on Hillside Drive in Eureka during the 80's and 90's. He will be especially missed by his buddies Allan Wright, Steve Eckert, Mike Beck, Lanny Bravo, Dennis McBride, Jim Scholl and a few special neighbors out at King Salmon. Ron will be joining some of his lifelong buddies Ed Schneider and Richard Lorvig, who are waiting to welcome him with open arms and fishing poles.
Some of his favorite things to do in his free time were making Crab Cioppino during Super Bowl Parties, and watching the San Francisco 49ers and the San Francisco Giants games. He was surprised with tickets to the new Pac Bell Park for Father's Day in 2000, one of his favorite experiences. Ron's career included time with Mission Linen Supply, and a long career with the United States Postal Service of Eureka.
Ron was an avid photographer, writer, and enjoyed many artistic outlets. His parents had a very special place in his heart and wrote this poem in their memory:
"We'd like the memory of us to be a happy one.
We'd like to leave an afterglow of smiles when life is done.
We'd like to leave an echo whispering softly down the ways,
of happy times and laughing times and bright and sunny days.
We'd like the tears of those who grieve, to dry before the sun,
of happy memories that we leave when our life was done.
I go now to that real, sunshine of my life.
That happy loving Bernie the one I called my wife.
Thanks to all we've known.
With love, Ken & Bernie McGee.
Will we meet those we lost? Damifino."
###
The obituary above was submitted on behalf of Ron McGee's loved ones. The Lost Coast Outpost runs obituaries of Humboldt County residents at no charge. See guidelines here.