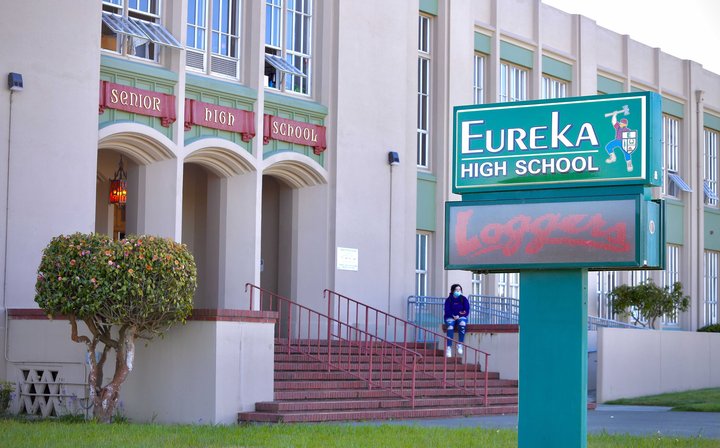 ###
Welcoming students into her classroom for the first time last month was a special moment for Rebecca Baugh, a chemistry teacher at Eureka High School.

"We had never met in real life before, and they reminded me of, you know, our youngest elementary learners. They walk in and they're like, 'Your classroom is so big! It's so pretty! You're so tall!'" Baugh told the Outpost a few weeks later. "The things that were so mundane and mediocre, that you took for granted in the past, are the things that are almost like these beautiful new experiences in the classroom."
Opening up campuses has been a months-long undertaking that, at times, seemed impossible. But this month, every Humboldt public high school campus officially reached that goal. From whether teenagers can be trusted to keep safety protocols in mind to whether the extensive efforts to get back in the classroom were worth it at all, folks in the thick of it have mixed feelings.
There are teachers like Baugh, who are comfortable with the risk and thrilled with the opportunity to teach in person once more. Some teachers returned with a mix of apprehension and eagerness, others somewhat begrudgingly, while a percentage of both students and teachers have opted out of in-person classes altogether. And while the move has been, for the most part, positive, some aspects of having everyone back on campuses just aren't beautiful like Rebecca Baugh's classroom.
For instance, the bathroom. "That's a place where, most of the time, there's not teachers," Bella Volz-Broughton, an Arcata High senior, told us before the district opened up its campuses early this month. Worried about students behaving carelessly in the normally teacher-free zone, she wondered "how are we supposed to regulate a pandemic, like, in the bathroom?"
How indeed? Roger Macdonald, superintendent of the Northern Humboldt Union School District, which includes Arcata and McKinleyville high schools, told the Outpost this week that the bathroom situation specifically "doesn't appear to be an issue right now." With combined efforts from administrators, teachers and non-teaching staff, they have extra people walking the halls and popping into bathrooms to make sure kids are staying safe in and out of the classroom. That, and everything else, is actually going well, Macdonald said.
High school campuses are open, but most are not full. At both Eureka City Schools and the Northern Humboldt Union High School District (which are the two districts that supplied sources for this article), only about a third of students are on campus at a time, creating a "stable group" of a few hundred students. Both districts split students interested in classroom learning into two groups that alternate learning on campus week-by-week (NoHum) or every two weeks (Eureka High). Meanwhile, about a third of students from each decided to stay in distance learning, or were enrolled in independent study and therefore didn't have the choice to go on campus. Teachers interviewed for this article reported in-person class sizes of three to 12 students.
Trusting kids to keep it together in tricky-to-monitor spaces is just one concern folks have voiced during conversations about opening campuses throughout the past year. At Eureka High, "there's not enough staff and faculty to walk around and patrol [the students]. So there's a certain amount of responsibility on the kids, you know, to follow the safety guidelines," Tim Olson, a Spanish teacher at Eureka High School, told the Outpost a few weeks after the district opened up campuses. "So far it has not been an issue."
Volz-Broughton can't herself return to campus because she opted to learn by independent study at the beginning of the school year. As a school board student representative, though, she's been very vocal about reopening, aiming to accurately portray concerns raised by herself and fellow students.
"So much is going on every day," Volz-Broughton said. Though she's hopeful that students who are in-person "are going to be those people who want to be there and are going to maintain safety protocols," she wondered if that's feasible based on her experiences at school. "I just feel like there are so many racial issues that go unnoticed. So I just feel like it's going to be very hard for the teachers and the staff members to actually take action if someone pulls down their mask. Like, if you guys can't call out a student when they use slurs and stuff, how are you guys supposed to maintain students wearing their masks?"
Volz-Broughton's fellow student trustee, Avery Arbaugh, who chose to stick with learning from home to protect family members, trusts that the "vast majority" of students can follow protocols. "But it only takes a couple people acting inconsiderately to potentially cause an outbreak," he said.
The teachers and students interviewed for this article said that masking hasn't really been an issue.
Baugh said that going back, she was worried about monitoring students. But "when they're in class, there are no reminders needed," she said, and the few times she's had to remind students to wear their mask properly or keep their distance, they're polite and cooperative about it. There's been "no controversy or anything like that."
Many say that distancing in the hallways and outside often isn't quite six feet.
"In the hallways, you can see them getting closer than six feet apart," said Wendy Zamboni, a math teacher at Arcata High. "But in the classroom, they're doing a great job." However, she's worried it might not last. "We haven't seen these kids enough times for them to get comfortable enough to misbehave yet."
Isabella Sundberg is a McKinleyville High senior who has been advocating for a return to campus all year as a student board rep, fearing that the social isolation has been harmful to her peer group. She did, however, anticipate from the start that proper social distancing wouldn't be possible on campus, and when the high school distributed safety guidelines before students returned, she actually laughed. "I was like, no way are these students going to keep six feet," she said. She ended up being right; during the 15-minute breaks between each class (intended to give students at home a rest from their screens), Sundberg has observed some clustering between friends, but it doesn't bother her. "I would deem [that behavior] pretty safe, because, I mean, you see those people every day most likely."
Teenagers are hanging out off campus. "After they've been good about keeping their distance all day long, you see six of them load up in the same car together and take off," Zamboni said. "I think we're trying to put protocols out there to mitigate the pandemic. But when it comes down to it, people are still making choices outside of the confines of the school that may or may not be supporting these separate groupings and the idea that we're not cross-contaminating."
High schoolers 16 and up now have access to vaccines, but most aren't yet fully vaccinated (just over 4 percent in Humboldt are). Sundberg assumes that most kids have been seeing their closest friends in-person anyway, while Arbaugh and Volz-Broughton speculated that a chunk of their peers don't seem to stay up-to-date about coronavirus-related news or local case numbers.
"There's like two worlds of coronavirus. A lot of students just don't care anymore. And then another portion of students see people not caring and do feel concern," Arbaugh said. "I think there's becoming less and less stigma by the day for people meeting up."
###
Now that schools are open, what does it look like? In terms of safety, classrooms are outfitted with HVAC filters, and teachers keep the windows and doors open at all times. Students must complete a health checkpoint each day before entering campus, and NoHum told us they've been utilizing rapid testing for certain activities. And, of course, everyone is masked and is trying to social distance.
"It's definitely not what I expected, just compared to how it used to be," said Hannah Haraldson, a Eureka High senior. But "it was actually kind of exciting. I was really glad just to be able to be back in person at all."
For the most part, Eureka High and NoHum schools kept the modified schedules they created for distance learning — a four-day week with three classes per day instead of six, with a minor decrease in class time at NoHum. But the shift has been a massive one for teachers, because, for the first time, they need to teach students in-person and online simultaneously.
"'I said, 'kids you're gonna have to give me some grace,'" Tiffany Bullman, a social sciences and culinary teacher at McKinleyville High, told us before campuses opened. "This will be my third new teaching style in a year. My brain is full."
Many teachers are approaching the challenge by continuing what they've been doing all year, just inside the classroom. "The term that I've heard thrown out there, that seems to fit pretty well, is "zoom in the room,'" Dorian Koczera, a math and landscaping teacher at Six Rivers Charter High School in the NoHum district, told the Outpost prior to the opening. Especially for his math class, "it doesn't seem appropriate to, you know, completely overhaul how things have been running to this point," he said.
Simultaneously teaching students in-person and online raised equity concerns for JoAnn Moore, an English teacher at Arcata High School. "We have to equitably provide this same education for those students that are sitting in a classroom and those students who are on Zoom, and you can't do that by doing different things," she said during an interview prior to the shift to hybrid. (Since the shift, she's transitioned to teaching distance learning students only through the district's Independent Study program.)
The few students we talked to for this article said that the distance learning feels similar to how it was before the shift to hybrid. "The only difference is that teachers have two things to juggle," said Steven Hadley, a senior at Eureka High School who chose not to return to campus because he didn't feel it was safe. "So there are definitely situations in which the teacher will focus more on one group than the other," adding that he feels like teachers got "the short end of the stick."
Most teachers, based on Moore's assessment, are continuing with the distance learning framework inside the classroom — in-person students sit at their desks with a computer in front of them, while their teacher does the same. But for classes that are more hands-on, some teachers are trying to bring a more interactive experience to kids who are in class, while still engaging with virtual students and delivering them an equally rich experience. "Hands-on," however, is obviously difficult right now — according to safety guidelines, students shouldn't be touching the same equipment without sanitizing in between.
At Eureka High, Baugh thinks she's figured it out. Her in-person and distance students do the same lab simultaneously, using materials that distance students pick up beforehand. She also projects her distance students onto the board so that all students can see each other during the class.
Baugh's in-person students wear disposable gloves during the labs, wear their own safety goggles, and are masked and socially distanced. "We really do feel really safe in the lab," she said.
###
Rather than opening up for hybrid instruction, Moore would have preferred identifying struggling students — those who live in a distracting environment, are contending mental health difficulties, have internet issues, or haven't been attending virtual classes for other reasons — to bring only them back instead. "We completely understand that distance learning does not work for a body of students," she said.
Zamboni reported that many of those struggling students chose not to return to campus. "It wasn't universal," she said, but "it's the kids that were succeeding with distance learning, that had the A's and B's, that are coming back to campus. And the ones that weren't succeeding, many of them chose to stay on distance learning. And that's concerning, because, you know, I can't push them forward as easily when they're on the other side of the screen."
In addition to equity issues, Moore worried that changes in the schedule and learning modality will ultimately pile on more learning loss. The district had to decrease class time a little to make the shift work, which worried Moore because instructional minutes were already half of what is standard during normal times.
"So the question becomes, well, does that really justify upending the schedule?"
Because of the week-on-week-off in-person stable groupings, high school students throughout the county will only have about 12 or fewer in-person sessions of each class (except for Eureka High seniors, who are allowed on campus at all times, and high school students enrolled at schools that have been open for most of the school year, like Fortuna and Ferndale). Meanwhile, the work that has gone into these efforts — every teacher and administrator we've talked to have worked more this year than ever before — combined with the potential impacts that might accompany the shift, beg the question: Was it worth it?
"Prior to doing it, I would have said, 'no, it's not worth it,'" Zamboni said. "I still believe that this change was really based on public demand, and not necessarily about what's the best for education." However, "for some kids, I think it's making a huge difference."
At McKinleyville High, Bullman was more vocal about supporting on-campus learning than most of her colleagues leading up to the shift to hybrid. Most teachers who spoke publicly opposed the decision. "I think that is not a good look for the public because they would just think, 'Oh God, all the teachers don't want to come back.'" But Bullman, who is union president, assessed that most teachers are, in fact, OK with returning.
"Do I necessarily think this is the best thing to do academically for the students? Not really," she said. But some kids need "to be around adults they trust, so that way, if something is going on, they can actually talk to us in person rather than, you know, through a computer screen." Returning to campus is necessary for those students, she said.
It's a tricky question, Moore said. If no one gets sick, maybe. "But if one person gets sick, is it worth it? No, to me, it's not worth it if one person gets sick."
In Eureka, Baugh represents another group of teachers. "It's 100 percent worth it," she said. "Getting to meet them is just wonderful, and getting to have that kind of in-person exchange with teaching makes it worth it. I think it'd be worth it if it was the last month of school."