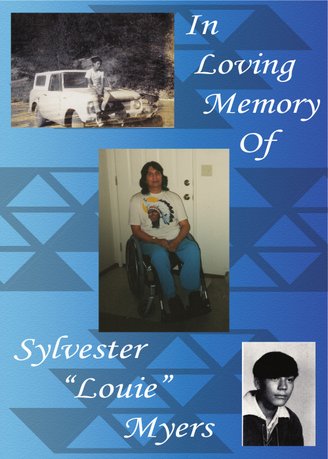 Sylvester Lewis Myers was born April 22, 1952 in Humboldt County to Charles Everett Myers and Ida Mae Lewis. He passed away on March 15, 2021 in Arcata. Similar to his late brother Dewey, he also didn't go by his first name but rather an adaptation of his middle name, Louie. Although, he did have many nicknames given to him throughout his life such as Sad Sack, Screwy Louie, Kung-Fu Louie, Uncle Ear, Sylvester the Cat and Horsefeathers. He was a son, brother, husband, father, grandpa, uncle, mechanic, Elvis fan, artist, vehicle enthusiast and a member of the Yurok Tribe.

As a young boy, he had an aptitude for fixing cars. One would find him as a young boy learning and helping his father fix cars. This skill would later lead him to attend a school in Los Angeles to train to become a mechanic. After finishing school he started working as a mechanic in Los Angeles but would later move back and forth between LA and Humboldt County. He was a mechanic most of his life and always loved to be around cars.
Being a vehicle enthusiast, he always wanted to own cars and he did own many different vehicles throughout his lifetime. He also owned a motorcycle in which he shared many memories with family and friends. Most likely his favorite vehicle he owned was a white Corvette as he would always talk about it even after he crashed it. Even towards the end of his life he always talked about getting a car and fixing it up for him to drive around town in.
He loved to play and dance to Elvis Presley as well as his "Oldie but Goodies" music. On one occasion, his ex wife mentioned he would dance on a table to Elvis shaking his hips as Elvis would. In another occasion, he had his two nieces sing along with him to Angel Baby at the very least three times while parked in his sister's old red Pinto on Martin's Ferry bridge.
In his later years, he would draw his favorite cartoon characters and Jesus drawings for his family and friends. When he was in the hospital he would then make drawings for his nurses and doctors. He especially loved to draw pictures for his pretty nurses.
With that said he loved the ladies and had three wives in his life. Two of which gave him his sons. His second wife gave him Andrew and Sylvester Myers. His third wife gave him Laurance Myers. He loved all his sons in his own way.
He really just wanted to live as long as he could in this life. There were many times when he did almost lose his life but as he would say, "the good lord didn't want him in heaven yet." As such he was given the nickname Sylvester the Cat with the many lives he seemed to have. With his passing, his family can only imagine him saying as he would when he left a place, "Elvis has left the building."
He is preceded in death by his Grandparents Melissa & Charles Myers, Rose & Andrew Lewis; his parents, Charles Everett Myers & Ida Mae Lewis; his siblings Sharon Myers, Sam Young, Eugene Young, Frankie Erickson, Joseph Henderson, Everett Dewey Myers & Andrea Lavato; his Aunts & Uncles Georgiana & John Troll, Queen James, Arvada Lewis, Andrew Lewis, Jr., Rose Wilder and Marilyn Latham; and his wife Pamela Whitlatch.
He is survived by his sons, Andrew Myers, Sylvester Myers Jr. and Laurance Myers; his grandchildren, Ryan Myers, Sylvester Myers III, Pamela Myers; his brothers & sisters, Everetta Myers, Gilbert Myers, Larry Silloway and Barbara Rakestraw; his first cousin who was like a brother, Richard "Dickie" Myers and his many nieces and nephews.
Honorary pallbearers are Gilbert Myers, Larry Silloway, Wesley Latham, Richard "Dickie" Myers, Anthony Lavato, James Snow, Nin Myers, Gilly Myers, Frankie Jo Myers, Richard Myers, Charlie Myers, Dustin Latham, Dewey and Louie Myers.
The graveside service and burial was held at 1 p.m. on Friday, April 2, 2021 at Greenwood Cemetery in Arcata.
###
The obituary above was submitted on behalf of Sylvester Myers's loved ones. The Lost Coast Outpost runs obituaries of Humboldt County residents at no charge. See guidelines here.