This week, a newly listed four-bedroom house overlooking the Trinidad coastline was featured on the popular Facebook page For The Love Of Old Houses. The custom home includes a spacious kitchen, 3.8 acres of land and a $2 million price tag.

Of the approximate 143 homes (not including cannabis farms) currently for sale in Humboldt County, 20 are listed for more than $1 million — some for a great deal more. While many of these multimillion-dollar homes are estimated to be overvalued based on the hundreds of days they've sat on the market, Humboldt's houses are selling faster, and for more money than ever before.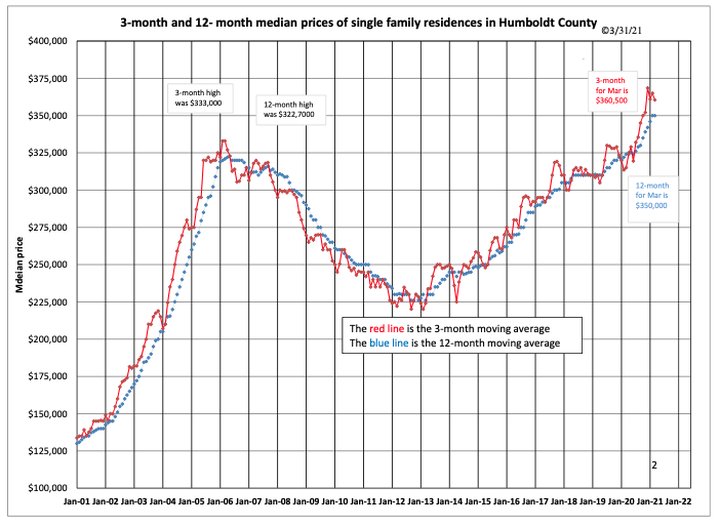 Coldwell Banker Cutten Realty agent Dane Grytness told the Outpost that, despite the pandemic, the local housing market is seeing record sales prices this year. In January, the local market surpassed previous price records set in 2007.
"Statistically, yes, we're at the highest prices we've ever had," Grytness said. "In March of 2020, I lost quite a few escrows. We thought there'd be a crash. Over the next few months — June, July — buyer confidence soared. People said, 'This isn't that bad.' They were cooped up in their houses, but I think a lot of people have been economically successful [despite the pandemic]. A lot of people are unemployed, but I think those people are entry-level workers who aren't buying homes in the first place."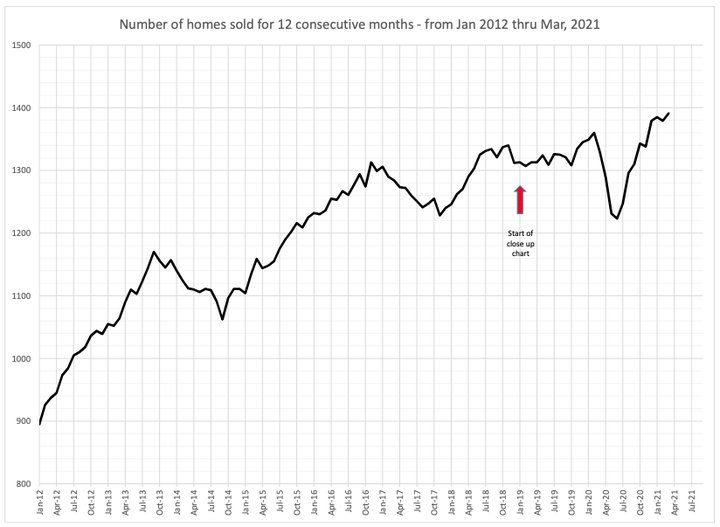 With a median household income of $48,041, as reported by the U.S. Census Bureau in 2019, it's not surprising that many Humboldt County residents are finding it difficult to buy a home in the present market.
"What we're definitely finding with bidding wars here is out-of-the-area buyers tend to have more capital than a lot of local buyers," Grytness said.
Zillow estimates that the average value of a Humboldt County home is $360,353 — an 11.4 percent increase from last year. According to the National Association of Realtors, this rise is following a national trend.
"The median existing-home sales price in March rose by a record-breaking annual pace of 17.2% to a historic high of $329,100, with all regions posting double-digit price gains," the NAR reported last week. "Median existing-single-family home sales price jumped 18.4% to $334,500, both historic highs."
Additionally, the Wall Street Journal just listed the greater Humboldt Bay Area as the country's 13th hottest market on its Emerging Housing Markets Index. This rating is based on expected growth for regional home prices and attractive lifestyle amenities in the area.
So what's causing this meteoric rise? Grytness said it's mostly a supply-and-demand problem.
"We have more people moving up here," he said. "It's probably not as aggressive as everyone thinks, but it's creating bidding wars on houses. Prices are going up dramatically, but the demand is there and there is significant demand because there's low inventory."
As previously stated, there are approximately 143 homes currently for sale in Humboldt County — a drastic decrease compared to past years. According to data provided by Grytness, there were as many as 350 homes for sale in Humboldt County last summer. In 2019, the housing market peaked at approximately 550 homes. In 2018, 650. The data shows that Humboldt's housing market has gradually been shrinking since at least 2006, when there were as many as 800 homes for sale at one time.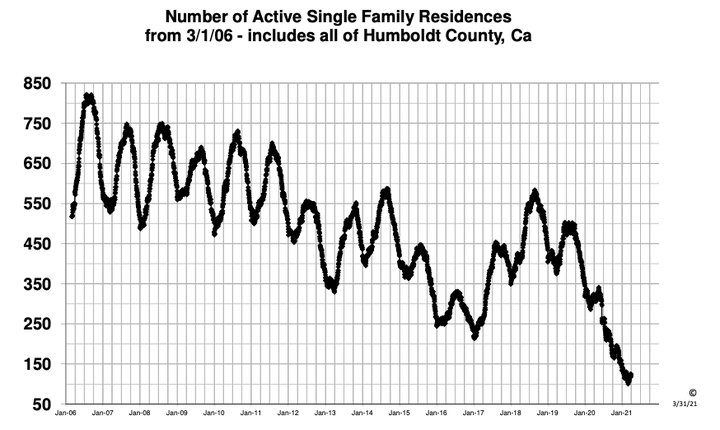 So what would it take for local real estate prices to drop? For starters, Humboldt can build more houses. However, Grytness said this isn't a feasible solution right now.
"Single-family homes just aren't being built fast enough," he said. "Part of the reason is there's not enough zoning in Arcata to allow for subdivisions. Those take time and the fastest growing areas are McKinleyville and Fortuna where zoning allows for it."
The construction industry is also currently affected by skyrocketing building material costs. According to the National Association of Home Builders, lumber prices have risen by more than 180 percent in the last year. The New York Times reported in 2018 that these soaring prices are partly due to the Trump administration's tariffs on Canadian lumber that went into effect in 2017.
"This price spike has caused the price of an average new single-family home to increase by more than $24,000 since April 2020," the NAHB reported earlier this month — a figure based on its standard estimates of lumber used to build the average home.
Grytness said these high costs make construction a bad investment for many local contractors.
"Construction materials are so high that it's not economical," he said. "They have been going up for years. It doesn't make sense to [build]."
But are there actually fewer homes being built in Humboldt? According to limited statistics provided by the California Department of Housing and Community Development, the number of single-family homes built in Humboldt County dropped from 62 in 2018 to 44 in 2019. However, the number of approved construction permits for single-family homes held steady in Humboldt County during this same period. Eighty-eight permits were approved in 2018 and 89 permits were approved in 2019.
To help curb Humboldt's current housing crunch, the County Planning and Building Department has been actively updating its "accessory dwelling unit" policies, allowing more homeowners to build second "mother-in-law" units on their properties. Between 2018 and 2019, local homeowners added 38 new accessory-dwelling units. During this same timeframe, another 86 homeowners were approved to begin construction on these secondary units.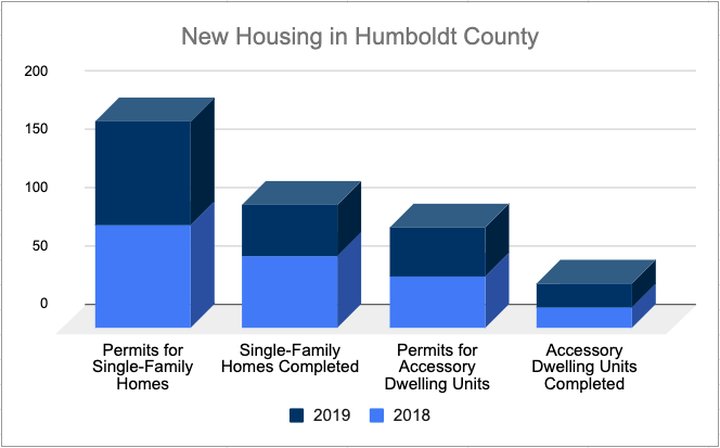 While experts can only speculate about the future of Humboldt's housing market, Grytness is hopeful that prices will go down.
"What's going to correct this is rising interest rates and older populations getting vaccinated, which will allow them to relocate, put their homes on the market and let people look inside their homes," Grytness said. "Or another economic crash."
While "housing bubble" chatter has been prevalent since the Great Recession of 2008, Grytness said that Humboldt's real estate numbers aren't indicative of a market ready to burst.
"It doesn't feel like a bubble," he said. "I don't see a lot of people moving out of the area. The rental market is just as busy. With the influx of people moving here and a lack of inventory, it definitely stresses that this is not a bubble."