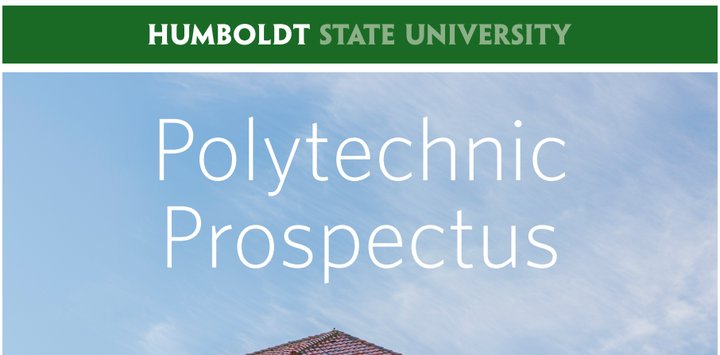 ###
PREVIOUSLY:

###
Humboldt State released a draft "prospectus" on its transformation into a polytechnic university today, and it includes some eye-popping promises. Student population could increase 50 percent in the next three years, and double in the next seven. Nine new academic programs would launch in time for the 2023-24 academic year and at least as many again by 2029-2030, with associated certificate programs. Dorm rooms accounting for more than 2,000 new beds would be constructed on the campus and at Arcata's Craftsman's Mall property, and several other massive, multimillion dollar projects would upgrade old buildings or construct new ones not only at the university but around the county.
The prospectus, which the university characterizes as "near-final," is essentially a pitch for Humboldt State's plan to officially transform itself into a polytechnic university, with an emphasis on hands-on learning and STEM curriculum. A final version is due to be submitted to the California State University Chancellor's Office, according a note sent to the campus community today, and the CSU Board of Trustees is expected to vote on the plan in January.
Earlier this year, Gov. Gavin Newsom and the state legislature awarded over $400 million to the proposal to transform HSU into an official polytechic university. If it goes forward, it would become the CSU's third polytechnic – Cal Poly San Luis Obispo and Cal Poly Pomona are the others – and the first in Northern California.
The prospectus includes rough timetables for building out Cal Poly Humboldt, assuming the proposal goes forward. The first academic programs to be added will include bachelor's degrees in marine biology, mechanical engineering, energy systems engineering, software engineering, data science, cannabis studies and fire management, and a new master's degree in engineering leadership. Down the road, it forecasts new programs in biotechnology, nursing, education, digital arts, agriculture and more.
Though the prospectus sees the county's current housing stock as a significant barrier to growth, it also plans a mad spate of dorm-building — starting with the Craftsman's Mall property across the highway from the HSU campus. The university plans to spend $100 million to build room for 800 students at the Craftsman's Mall site by 2024. That would be followed quickly by another 1,500 to 1,800 beds in new facilities on campus.

A number of other new, pricey construction projects are mentioned in the prospectus. A new, $150-million Engineering & Technology Building would be constructed near "a key campus gateway," and $36 million would be spent renovating and upgrading the campus's existing science buildings.
In addition to that, the university forecasts spending $45 million on facilities to support an "applied research and climate resiliency initiative," which would include a new, $28 million, on-campus building to support energy microgrid research.
Also as part of that initiative, the prospectus envisions building an $11 million, 10,000 square foot building on the Eureka Waterfront to support offshore wind research and to serve as base for the Coral Sea, the university's research vessel.
Reached this afternoon, Eureka City Miles Slattery said that the city has been talking with Humboldt State about potential waterfront properties for polytechnic-related construction, but that no site has been settled upon yet.
Read the whole draft prospectus at this link. From HSU's notice:
Following a semester-long collaborative self-study conducted by representative staff, faculty, students, and community members, we are pleased to share the near-final draft of the polytechnic prospectus submitted to the Chancellor's Office on August 2 for a last round of feedback. This draft reflects the integration of feedback from the CO on two additional rough drafts this summer. Our final prospectus is due on September 1 for review by the CO and consideration by the Board of Trustees in their January meeting. A heartfelt thank you to the leaders and participants of our self-study working groups. You were thoughtful, careful, inclusive, and creative in your envisioning. Thank you to each one of you who engaged in this self-study process by providing feedback, information, and insights. The result of your work is a strong proposal for a comprehensive polytechnic university that is true to our purpose and values. When the semester begins officially, we will be in touch about the opportunity to participate in an open forum about the proposal and approval process. We will also be sharing information on how to volunteer to become engaged with implementation should we receive approval of our prospectus.

Thank you and we look forward to continuing to work together to advance HSU.

Jenn Capps Provost & Vice President for Academic Affairs

Lisa Bond-Maupin Deputy Chief of Staff and Special Assistant to the President