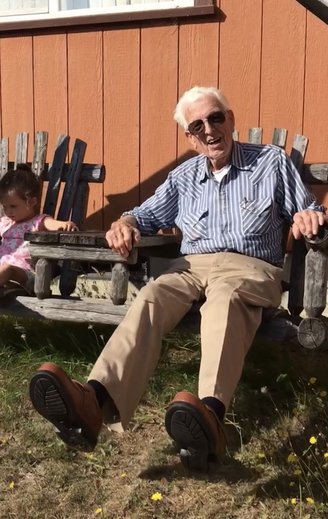 William H. Hiscox, Jr. was born April 8, 1928 (Easter Sunday) in Eureka to parents William H (Bill) Hiscox, Sr and Agnes Doreen (Nancy) Jess Hiscox.

He attended elementary school in Grass Valley and Eureka, attended Eureka Junior High School, and earned a diploma from Eureka Senior High School. He also attended Humboldt State University in the field of engineering.
As a youth, Bill worked at the Eureka whaling station. Later he worked at jobs as a mechanic at Elgars in Blue Lake, and as forest service road maintenance crew member in the Lake Tahoe region.
As a young man, he joined his father in the home construction business for William (Bill) Hiscox and Son. While there he designed homes, built custom cabinetry, and constructed many homes in Humboldt County.
On July 21, 1948, Bill married a young lady named Dorene Johnson. They would remain married until his death - two days short of 72 years.
Later in Bill's career he became a construction superintendent for several large commercial construction companies, where he built many public buildings and public works projects in Humboldt county, including the Eureka waterfront, CalTrans shops, Eureka High shop buildings, the Naval base at Centerville, and many large housing complexes.
He also ran his companies Tip Top Rock company and Tip Top Logging Company, to make use of the resources on his ranch in Fieldbrook.
Throughout his life he was a dedicated public servant. He worked tirelessly to improve the communities he lived in, seeking neither recognition nor reward. He served during World War II in the US Merchant Marines, on troop and supply carriers in the Pacific theater. He was instrumental in founding the Fieldbrook Volunteer Fire Department and the Fieldbrook Community Services District, serving in many roles including Fire Chief and Assistant Chief. He was a member of the Grange, and served as Grangemaster. Later he was appointed a Board Member of the Gasquet water district, and was volunteer dispatcher with the Gasquet Fire Department.
Bill worked with and for various local politicians and planning professionals as a respected consultant on community or construction issues. One such project was the Fieldbrook Road extension, connecting Fieldbrook to McKinleyville, to which he also donated land for the roadway.
After retirement from construction, Bill became a Real Estate agent, focused on country properties and ranches, enabling him to enjoy hiking in the country, and using his creative mind to help customers envision a ranch or homestead on the raw land he was showing.
In later life, Bill helped form the Humboldt Bay Chapter of the Merchant Marine Veterans organization, and joined the Lions Club, participating in order to continue his service to public and social causes.
For rest and relaxation, Bill enjoyed the outdoors, and could often be found in his jeep driving through backcountry. He was a dedicated game hunter, a sometimes fisherman, and maintained various vegetable gardens wherever he lived. He was an amatuer historian, and due to his photographic memory, was able to research and make many connections regarding Humboldt County history. He was very much a "Do It Yourself" man, before the phrase was coined. When in company, whether family, friends, or acquaintances, Bill loved to tell a good story, and had much in his life on which to base them. He could tell of great history or grand adventures, for as long as one had time to listen.
Bill died peacefully in his sleep, at home in McKinleyville, on July 19, 2021 at the age of 93. He follows his parents Bill and Nancy Hiscox, his Brothers Sam Hiscox, Cecil Hiscox, and John Hiscox, and his sisters Margaret Lefils and Nancy Meeker.
Bill leaves behind a legacy of integrity, honesty, hard work, public service, dedication to family, and of course, classic storytelling.
He is survived by his wife of 72 years, Dorene Hiscox, and his children Barbara Jones, Sandra Abedi, Bill Hiscox, and Tom Hiscox, along with 14 grandchildren, numerous great grandchildren, and even a few great-great grandchildren.
Bill was interned on Friday, August 6 in the Veterans Garden at Ocean View Cemetery in Eureka, with veteran's honors, in a private family ceremony.
###
The obituary above was submitted on behalf of Bill Hiscox's loved ones. The Lost Coast Outpost runs obituaries of Humboldt County residents at no charge. See guidelines here.