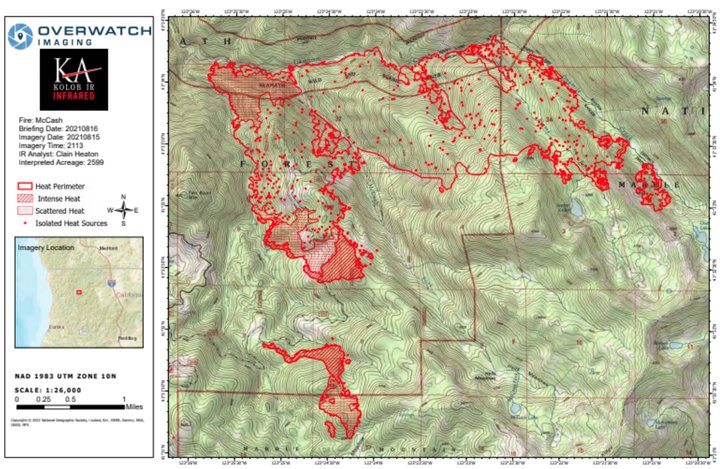 The McCash Fire burning east of Highway 96 in the Klamath National Forest has grown to 2,599 Acres and remains 1 percent contained.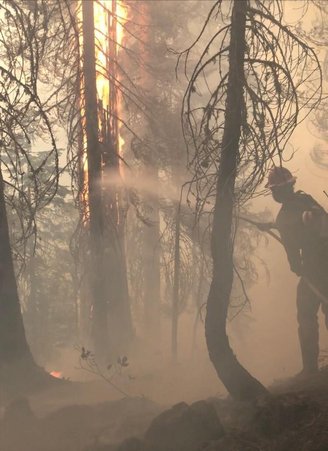 The fire's incident management team stated this morning that firefighters are focused on protecting communities along the fire's southern border.
"Burning and holding the southern line is critical to protect the identified values and communities along highway 96, including the community of Orleans," the incident management team stated. "Firefighters continue working to complete the northern indirect line, improve and prepare roads, create safety zones, and create an alternate route around the Independence Creek Bridge, which is closed due to damage and impeding access for fire resources."
While Highway 96 is open, firefighters are asking drivers to slow down in the area for the safety of firefighters and the public.
"Watch for increased fire related traffic on area roads and highways," the fire's incident management team stated. "Please drive defensively."
Cooler temperatures and breezy conditions are forecast for today, which firefighters say could clear smoke and improve visibility. Lower humidity and northeasterly wind gusts up to 20 mph may make for more hazardous fire conditions on Tuesday and Wednesday.
A team of 366 firefighters are actively working on the fire, including three hotshot crews, five type 2 hand crews, eight engines, two helicopters, five dozers, three water tenders, and five masticators.
No evacuation orders are in place at this time.