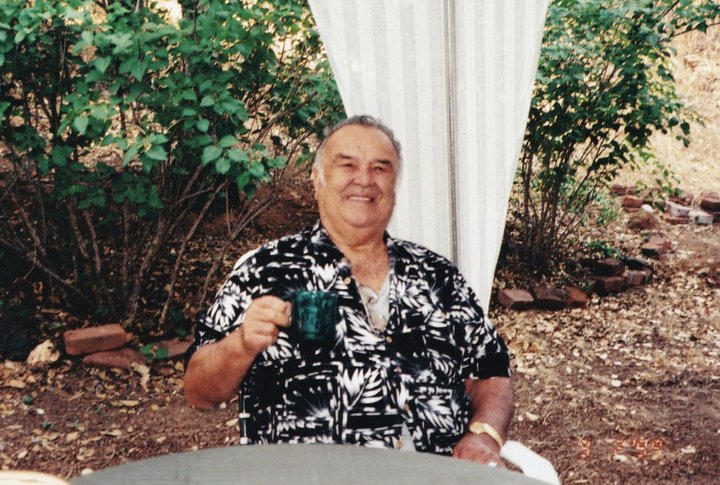 Merlin Wayne "Sonny" Tripp
January 17, 1929-August 1, 2021
A man with a kind gentle spirit, he could knock a bull down and then come in with a beautiful bouquet of wildflowers. The Schwanns drivers knew they couldn't come unless they learned to yodel – they did their best.
Merlin was born and raised in Somes Bar. He spent most of his young life there. He attended Junction Elementary School and from there he went to the Sherman Indian Institute in Riverside. After three years he returned home. The next thing you know he went into the US Navy for four years where he was a lifeguard for the officer's wives and families. He got a lot of practice and became a strong swimmer on the Salmon River while growing up. It was while he was in the Navy that he met his first wife, Violet, the mother of their four children.
Merlin always worked. He did a lot of road work from Highway 96 to Southern Humboldt. He later worked for and retired from the US Forest Service. Merlin always loved good food, no matter where he worked or lived everyone knew he "could often be found in the chow lines." While at Dillion Creek Campground some people would come from Southern California to visit with him – what they didn't know was that Merlin was like Yogi Bear going from camp to camp filling his pic-a-nic basket.
He moved to Eureka for a while then back to Orleans; there, he married his third wife Janice Cooper Tripp. They had been friends for several years and were married February 14 at Weitchpec Assembly of God. They traveled as much as they could. Their favorite place to visit was Gill's by the Bay – especially during crab season. Merlin battled with his health following a stroke in 2017. Merlin loved the Lord Jesus, wherever there was a camp or tent meeting, he and Janice were there. They traveled to Washington and other places to be with their Shaker friends.
Merlin was the last of his generation, he was predeceased by his grandparents, parents, siblings and other family members and friends. He has many, many friends. He is survived by his loving wife Janice ("Wifey", "Honeygirl"), his daughters Terry Tripp (Mike) and families, Marlene "Sunday" Wilson (Preston) and families, Trudy Brock and her family, and by his son Merlin Wayne "Chip" Tripp Jr. and his family. There will be a celebration of life at a later time.
Thank you so much to all of those that have held us up in prayer and encouragement – we can't thank you enough.
God bless you.
###
The obituary above was submitted on behalf of Merlin Tripp's loved ones. The Lost Coast Outpost runs obituaries of Humboldt County residents at no charge. See guidelines here.