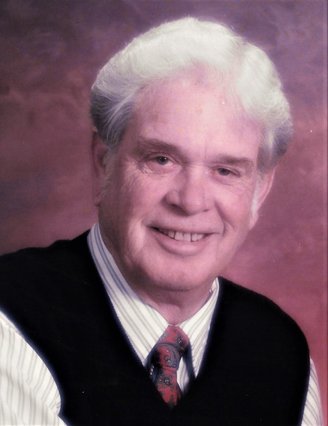 Bennie N. Gill was born in Hollister, Oklahoma on May 10, 1928. He passed away Aug 11, 2021, holding the hand of his wife of 71 years.

He was the second of eight children born to Bennie Gill Sr. And Alyce Pemberton Gill. In the spring of 1930, the family moved to Bethany, Oklahoma. His father worked long hours in the oil fields, and his mother ran a small store out of the front of their house. In November of that year, a powerful tornado decimated the small town of Bethany, including the Gills' home. His mother, older brother Johnny Glen (4), Bennie Jr. (2 1/2), and Bobby Wayne (4 weeks) were carried away by the tornado. All were seriously hurt, all survived, except for Bobby Wayne.
Bennie and his now six siblings attended grade school in Oklahoma. In 1942, when Bennie was 14, the family moved to California to escape the storms, and for more opportunities for work. Bennie gave his entire savings of $125 to his father to help with the move. He had earned the money shining shoes.
The family of nine packed into a 1932 Ford delivery van, with a total of $600, and made their way to El Centro, Calif. Bennie Jr., his brother John, and his father briefly worked at a carrot packing house. Bennie's job was gluing the labels on the boxes. Ben Sr got a job in the oil fields and the family moved to Avenel, Calif. Bennie Jr., attended Avenel High School. He followed in his father's footsteps and worked in the oil fields before moving to northern California.
Bennie worked for Hunter and Foland at the whaling station in Fields Landing. He was the head flenser at just 10 years old. While working at the whaling station, he lived in a boarding house in Fields Landing.
Around this same time, he met the love of his life, Vivian Harper, at a dance. They married in 1950, and just celebrated 71 years together in July. The newly married couple purchased a small cabin on a bit of land in the Ridgewood area. Ben, with the help of family and friends moved and enlarged the original cabin to accommodate his growing family.
In 1964 the family moved to Goleta, Calif. where Ben managed the Santa Barbara Fisheries. He loved everything fishing, so in 1969, he and his sons built a fishing boat. He named it the Kay-Lynn after his daughters.
The summer of 1970 the Gill's returned to Eureka to the home he built and where he lived until his passing.
Ben was a salmon and crab fisherman out of Humboldt Bay. He later worked for the Hunter family on a drag boat.
In the early 1970's, Ben and Vivian purchased and opened the Fields Landing Market. Vivian ran the store, and later they opened the first "restaurant" venture. Gill's Grill, a walk-up hamburger stand located beside the market.
In 1979, the Gills purchased Herman's Club. It was a beer bar in Fields Landing (that original old boarding house). It was in rough shape, but Ben was a visionary even when the rest of us just shook our heads in disbelief. He turned that 100-year-old run-down building into "a fancy dinner house." Ben was always grateful to the many craftsmen that he called friends, that helped make the Whaler's Inn exactly what he dreamed it could be. The names of those dear friends are burned into the large beams in the dining room of what was once the Whaler's Inn. He was so proud of that place, as we all were. He could see potential in that dark old building that the rest of us did not.
In 1990, Ben's oldest son Curtis was driving around looking for a place to eat his sack lunch when he drove into King Salmon. He arrived at in the gravel lot of what had been Pat's Place and The Capt'n's Pier. Now it looked abandoned. It had been flooded, and most of the windows were broken out. It was in sorry shape, but what a location! He showed it to his dad, and the rest is history. He renovated the café, adding the amazing gardens full of roses and godetias, which were his favorites, and are still a hallmark of Gill's by the Bay.
Bennie was a simple genius. The only work he knew was hard work. He was patriotic and strong beyond his years (He hung sheetrock into his 80's!). He knew how to do most anything. He taught us all so much. Starting as a poor farmer's kid in Oklahoma, to a fisherman, carpenter, business owner, husband, father, grandfather, great-grandfather, brother and uncle. Thanks, Dad.
Bennie is predeceased by: his parents; brothers Bobby Wayne Gill, and Johnny Glen (Rose) Gill; sisters Ruth Massey, Phyllis (Wayne) Thompson, Joanne Massey; brothers-in-law Marvin Harper and Ernie Rippetoe; in addition to many great friends.
He is survived by his wife Vivian Gill. Sisters June Ann Rippetoe, and Joy Beth (Johnny) Haro. Children: Curt (Anne) Gill, Kevin (Linda) Gill, Denise Gill, Lynnette (Mike) Freitas. Grandchildren: Travis Gill, Kristen Gill, Amy (Garth) Gunderson, Benjamin Gill, Brad Gill, Tyler (Karissa) Goldsam, Emilie Goldsam, Brent (Crystal) Freitas, Wesley Freitas. Great-grandchildren: Makenna Gunderson, Garren Gunderson, Hadley Gunderson, and Wyett Freitas. He loved and was loved by his numerous nieces and nephews. He was especially close to his nephew Matt Thompson.
A private family service will be held August 25. A celebration of life will be held in the near future.
###
The obituary above was submitted on behalf of Bennie Gill's loved ones. The Lost Coast Outpost runs obituaries of Humboldt County residents at no charge. See guidelines here.