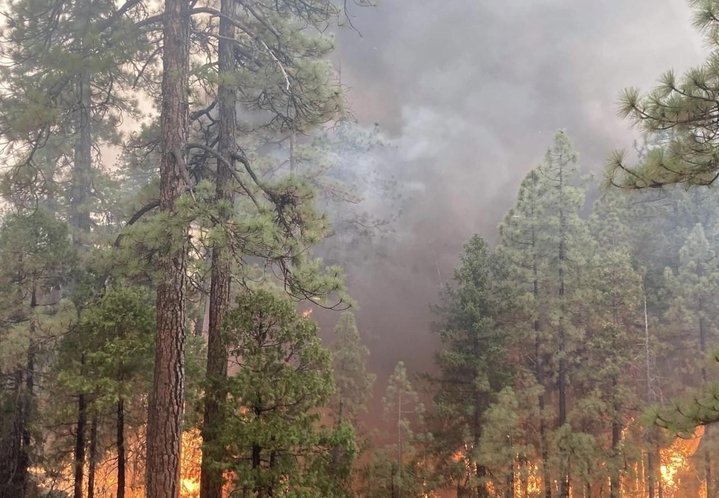 The McFarland Fire burning along Highway 36 in Trinity County has grown to 117,985 acres and is now 66 percent contained.
A damage assessment team has confirmed that 11 residential structures and 14 other structures have been destroyed by the fire. Damage assessments are ongoing. A map of the destroyed structures and images of the properties can be found by clicking this link: visit:https://arcg.is/1Pu8GW
A team of 819 firefighters are currently working to contain the blaze, including 13 hand crews, 73 engines, 6 helicopters, 14 dozers, 22 water tenders and 3 masticators.
Air quality conditions are good to moderate across Humboldt County today.
"Air quality remains good at the surface in many areas as the smoke remains aloft," Eureka's National Weather Service office stated this morning.
Evacuation Orders:

Shasta County

The Shasta County Sheriff's Office has issued a mandatory evacuation order for all residents within the township of Platina. The evacuation order includes all residences and roadways from the Trinity/Shasta County line east to the Shasta/Tehama County line. Residents are encouraged to use Platina Road as an evacuation route. There will be a temporary evacuation site at the Igo/Ono Elementary School. https://www.facebook.com/ShastaSheriff

Tehama County

The area west of Vestal and Weemasoul Roads to the Shasta/Tehama County line and south of Highway 36 in the fire area. EVACUATION WARNINGS: Highway 36 from Bowman Road west to the county line and north to the Shasta County line (Zone 157).

The area south of Highway 36, east of Vestal and Weemasoul Roads, north of Pettyjohn, and west of Cottonwood Creek and Vestal Roads in the 4 corners area (Zones 158 and 169). Click here to view the map for Tehama County: https://tinyurl.com/Evacuation-and-Road-Closure
Highway 36 remains completely closed between the Highway 3 junction and Vestal Road.