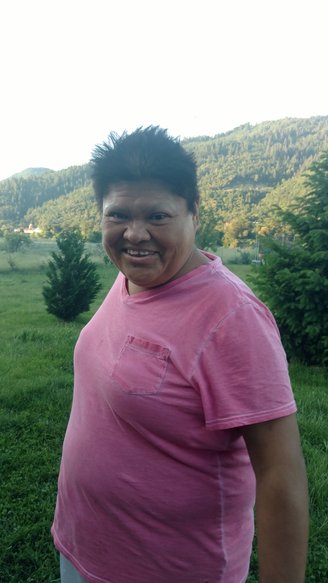 Aryliss June Pratt was born on June 3, 1972 in Hayward to Helen C. "Hez" Pratt and Alexander E. Pratt Jr. She passed away on August 11, 2021 in Eureka due to health issues.

Known affectionately as "Frogs," Aryliss was loved by many. She was a proud Hupa Tribal Member, and enjoyed cooking and baking for her family. She looked forward to every Brush Dance, Deerskin Dance, and Jump Dance, and would bake pies for each of them. She could always be seen heading up the road with her niece and cruising partner Alexiss Pratt heading to a brush dance, or ripping to town to go shopping.
Although she had no children of her own, she was a second mama to her nieces and nephews. She was the most loving Aunt and would often spend her last dollar buying gifts for them. Aryliss was a caretaker all her life, constantly watching after her father, nieces and nephews, or looking after another loved one. She lived her life loving and caring for people, and she has touched the loves of many in her time on this earth.
She is preceded in death by her mother, Helen "Hezzie" Pratt, grandmothers Alice Pratt and Charlotte Colegrove, grandfathers Eugene Colegrove Sr, and Alexander Pratt Sr, aunts Agnes "Jeeps" Colegrove, Marge Traversie, Melva Jean Middleton, uncles Harvey Pratt Sr, Kenneth "Jonsie" Pratt, Vernon Middleton Sr., James Colegrove, Eugene "Fada" Colegrove, Daniel "Johnson" Colegrove, nephew Daniel Pratt Jr., and very special friend Gunny Reed. Unfortunately, she was also preceded in death by several cousins that she will be reunited with as they meet our Creator.
She is survived by her father, Alexander Pratt Jr., Aunt Cyd Colegrove, Uncle Carl Colegrove, siblings Daniel Pratt Sr. & Tawni Pratt, Alexiss "Carlyne" Pratt, Alyson & Sonny Hescock, Alexander & Tiffany Sotolongo, Gearold "Roldo" Pratt-Sotolongo, Misgilo & Shelby Moon, Malachi Hescock, Willis Hescock, Jaden Dixon, and Ezra Toops. Nieces Lea Pratt, Amber Pratt, Alexiss "Lexi" Pratt, Alea Hescock, Alyssa Moon, Chloe Sotolongo, Lily Sotolongo, Nakita Sotolongo, Kiara Sotolongo, Mila Clawson, and Ava June Moon. She also leaves behind many cousins and friends, that are too numerous to name. She has touched so many hearts over the years, and will be missed greatly.
A wake will be held at the Baptist Church on Loop Road, starting at 8 p.m. on Friday, August 20, and graveside services will be in held at the Tribal Cemetery at 10 am. Afterwards, a reception will be held at Pookey's Park immediately following.
The family would like to thank you all for your outpouring of love and prayers in this difficult time.
###
The obituary above was submitted on behalf of Aryliss Pratt's loved ones. The Lost Coast Outpost runs obituaries of Humboldt County residents at no charge. See guidelines here.