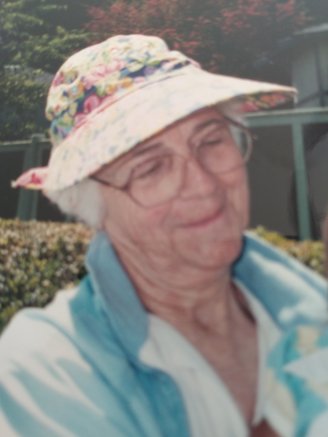 Lura Ann Winzler
1932-2021
Lura Ann Winzler passed away on August 11, 2021, at the age of 89. Lura was born in Eureka to George and Ruby Winzler. She had a happy childhood, and spent a lot of time at the family dairy ranch in Fernbridge with her brothers, George ("Bub") and John, and her sister, Beverly, playing in haylofts and riding in horse-drawn hay wagons.
Lura graduated from Eureka High School in 1949, and attended college at UC Berkeley, receiving a Bachelor's Degree in Education in 1953. She then attended Stanford for a year, studying Spanish. She taught in the Bay Area for two years before returning to Eureka to help care for her father, George, who had suffered a stroke.
Lura taught in the Eureka area for the rest of her career. She taught mostly at Zane Middle School and Jacobs Junior High. She was an excellent, caring and much sought-after teacher, who could keep challenging kids in check with a quick but gentle wit.
Lura traveled extensively. One of her first trips was to Europe, with her cousin, Marilyn. They started in Denmark, and went down to Paris where they were supposed to pick up a car and drive a friend to Italy. The friend never showed up, and when they went to pick up the car, the person spoke no English. Lura saved the day by communicating with him in Spanish, and she and Marilyn had a great time driving down to Italy by themselves. Lura continued to travel, including trips to the Soviet Union, South America and Costa Rica.
After the passing of her father in 1964, Lura took care of her mother, Ruby. The two of them traveled to many places, including Africa. On one trip, they visited Lura's niece, who was studying in Germany, then did a tour which ended in Rome. They also visited Austria, and the Winzler family's ancestral village in Switzerland. Lura continued to take care of her mother until Ruby's death in 1988.
In her later years, Lura developed an interest in genealogy and family history. Her research took her to places like Nova Scotia and Salt Lake City. She was often accompanied on these trips by her sister, Beverly.
She was also a great lover of dogs, starting with Rusty, the red cocker spaniel she grew up with. After returning home to Eureka, she took in a stray who lived up to his name: Rowdy. Rowdy kept everyone entertained with his antics, but her favorite dog may have been Buffy, the friendly miniature poodle who kept her company for years. After Buffy passed away, she enjoyed occasionally babysitting her nephew's Labrador retrievers, Molly and Ruby.
Lura was a devoted sister, daughter and aunt. She is finally reunited with her mother and father, her brother Bub and her sister Beverly. She is survived by her brother John, as well as nine nephews and nieces and their children and grandchildren. We loved her very much and will miss her.
The family would like to especially thank her caregivers, Alisa Osburn, Mary Lou Bravo, Sharon Parks and others, as well as the Visiting Angels and hospice nurses and staff who gave her comfort in her final days and hours. We would also like to thank the next-door neighbors on both sides of her house, who always looked out for her.
A graveside memorial service will be held on Saturday, August 28 at Sunset Memorial Park, followed by a get-together at Lura's house. In lieu of flowers, the family requests that you make a donation to the Winzler Children's Center in Eureka or the UC Berkeley Alumni Association.
###
The obituary above was submitted on behalf of Lura Winzler's loved ones. The Lost Coast Outpost runs obituaries of Humboldt County residents at no charge. See guidelines here.