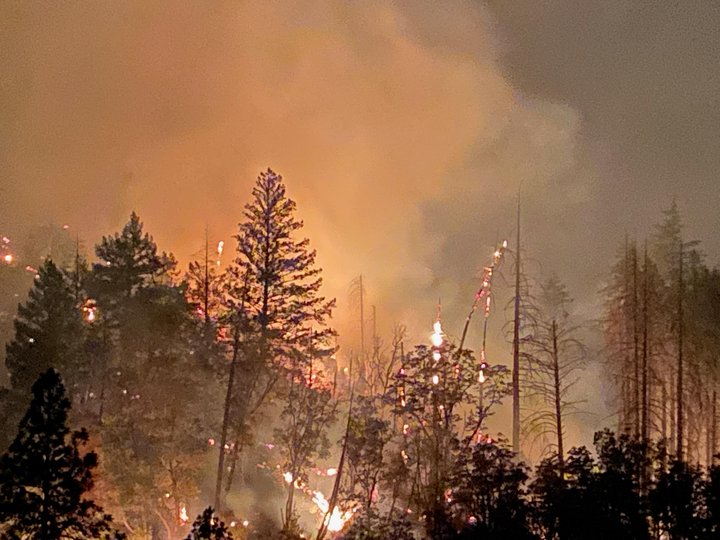 Monument Fire

The Monument Fire burning along highway 299 in Trinity County between Burnt Ranch and Weaverville is now 163,155 acres in size and now 23 percent contained

A team of 2,370 firefighters is currently working on the fire, including 37 hand crews, 172 engines, 18 helicopters, 57 dozers, 51 water tenders, 7 skidgines, 21 masticators and 2 excavators.
"Weather conditions are not expected to be quite as intense but severe enough that fire managers expect another uptick in activity again later today," the fire's incident management team stated this morning. "While yesterday's growth was largely confined to wilderness and unpopulated terrain, the fire still retains lots of potential to move toward populated areas. To protect those areas the emphasis today will continue to be the construction and strengthening of primary, alternate and contingency fire lines."
The Trinity County Office of Emergency Services is urging people to sign up with the CodeRed emergency alert system for the latest evacuation information.
Evacuation Orders: In effect for Barker Mountain, the northwest portion of Hayfork Summit and North Hayfork Valley, north of Highway 3.

Evacuation Warnings: In effect for Big Bar, Big Flat, Burnt Ranch, Douglas City, Junction City, areas south from Barker Mountain to Haystack, the north side of Hyampom Road from Hayfork to 9-mile bridge, Denny, Hawkins Bar and Trinity Village. For more information, visit the Trinity County Sheriff's Office Facebook.

Evacuation Centers: American Red Cross Shelters have been set up at Shasta College, 11555 Old Oregon Trail, Building 1900, Redding CA; Willow Creek Bible Church, 39 Brannan Mountain Road, Willow Creek, CA; and Fireman's Hall Pavilion, 9 Park Street in Fortuna.

Animal Evacuation: (Domestic animals) Trinity County Animal Shelter, 563 Mountain View St, Weaverville, CA (530- 623-1370). (Domestic + Large Animals) Hoopa Rodeo Grounds on Pine Creek Rd, Hoopa, CA. (Large Animals with the exception of Swine): Redding Rodeo Grounds, located at 715 Auditorium Dr., Redding, CA (Sandy Ekman (530) 739-8469)

Clean Air Center:

Trinity County has established a Clean Air Center at the Trinity County Library, 351 Main Street, Weaverville. Hours are Monday, Wednesday and Friday from 1-6 p.m. and Tuesday and Thursday from 10 a.m. to 6 p.m. The Clean Air Center at the Murray Building at 6641 Highway 3 in Hayfork has been closed due to fire activity.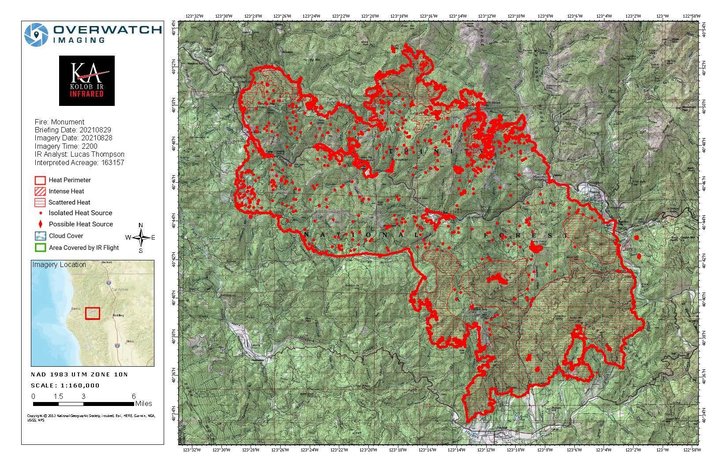 A damage assessment team confirmed that 50 structures have been destroyed by the fire. For information regarding property damages, contract the Trinity County Office of Emergency Services at (530) 623-1116.
Highway 299 remains open to one-way traffic control during the day.
"Five times a day, starting at 7 a.m. and ending at 7 p.m., pilot cars will lead vehicle caravans in the section between Burnt Ranch and Helena," the fire's incident management team stated. "These groups will leave from both sides every three hours. Residents may also travel this section of highway between 7 p.m. and 7 a.m. by showing proof of their address."
###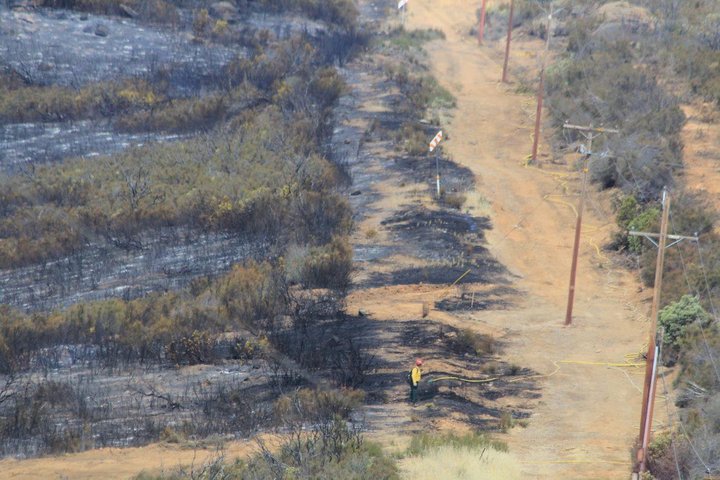 McFarland Fire
The McFarland Fire burning along Highway 36 in Trinity County is now 122,653 acres in size and 93 percent contained.
One month after the fire ignited due to lightning, a team of 310 firefighters are wrapping up work on the blaze. Equipment is reportedly being hauled out of the area and firefighters are mostly performing mop-up duty along containment lines.
"Overnight, crews worked in the Beegum Gorge area to continue the progress," the fire's incident management team stated this morning. "Smoldering stump holes and large dead down trees continue to burn out within the perimeter. Limited fire behavior is expected on the incident today. Hot, dry and windy weather could cause a general increase in fire activity as unburned interior fuels within the containment line continue to burn."
A damage assessment team has confirmed that 24 homes and 22 other structures were destroyed by the fire. One additional home was confirmed to be damaged by the fire. Damage assessments have been completed. A map of the destroyed structures and images of the properties can be found by clicking this link: visit:https://arcg.is/1Pu8GW.
All mandatory Evacuation Orders and Warnings have been lifted. Highway 36 has been reopened to both directions of traffic. Some stretches of the highway are still reduced to one-way traffic control due to unrelated maintenance work.
###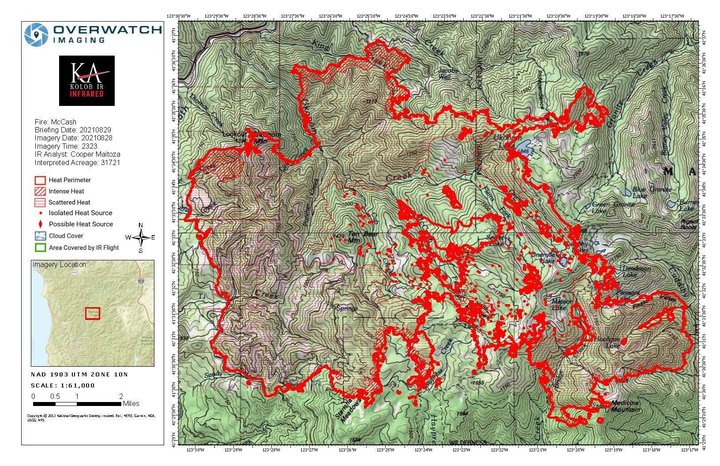 McCash Fire
The McCash Fire burning east of Highway 96 in the Klamath National Forest has grown to 31,721 acres and remains 1 percent contained.
A team of 401 firefighters is actively working to contain the fire, including six crews, 12 engines, five dozers six water tenders and three aircraft.
"The McCash Fire was active on all fronts Saturday," the fire's incident management team stated this morning. "It crossed to the north side of King Creek and has begun backing down toward Independence Creek. The fire is also moving west toward Highway 96 near the boundary between the Happy Camp Ranger District and Ukonom Ranger District."
Highway 96 remains open to both directions of traffic.
For the latest evacuation information use the Siskiyou County Evacuation Map.