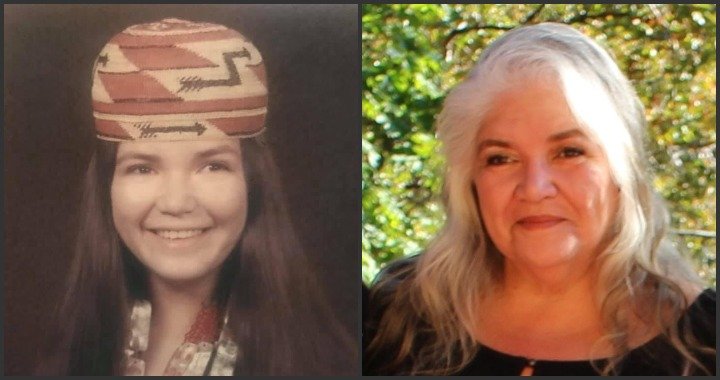 Rebecca Julianna "Becky" (Dean) Ferris, 67, crossed over to the other side at Mad River Hospital in Arcata on July 24, 2021. She was born February 24, 1954 in Calexico to Omar M. Dean Jr. and Alfreda Colegrove Dean, and was the oldest of four siblings. As the eldest in the family, she took her big sister role seriously and fulfilled it with much joy. She was a fierce protector, loved unconditionally, and had a silly side that made everyone feel uplifted and included. Becky's family and friends were her absolute world and they will miss her unique and special attention that she provided to each and every one of them.
Becky attended Catholic school in Los Angeles, Hoopa Valley Elementary School, Hoopa Valley High School, and College of the Redwoods.
Becky worked as a laborer for the U.S. Forest Service, Orleans Ranger District. For many years after that, Becky did selfless work as an Indian Child Welfare caseworker for the Hoopa Valley Tribe. Her girls fondly remember their mother often providing a safe place for children, treating them as if they were her own. During this time in her life Becky could regularly be found at the local grocery store, gas station or even at her home, lending a caring, listening ear and giving her time to people and families who needed it. Because of this important work she did, her family grew to include many people in the Hoopa Valley, far beyond those related by blood. She also managed the Hoopa Tribe's BP Gas Station for several years and was proud of the revenue generated under her management. Her last full time positions before retirement were at K'ima:w Medical Center where she filled a few different roles, building many meaningful relationships all along the way.
She married Dale R. Ferris and they lived and raised their three daughters, Julie Anna, Frances, and Ilene in Orleans. After their separation, Becky moved to Hoopa with the girls and thereafter she and Dale lovingly co-parented their girls. In 2000, Becky and Gary Jordan Sr, rekindled an old high school crush and have since been together as life-long soul mates. Becky's girls, grandchildren and great-grandchildren all have a special place in their hearts for Gary, as he has always treated them with tender loving care. Becky and Gary were good partners for each other because they were both kind, understanding and willing to go the extra mile to get things done.
As a child, she lived in Los Angeles with her family while her parents worked and attended barber and cosmetology school, returned to Hoopa with her family in 1960 where she lived since, with the exception of brief periods in Quinault Lake, Washington and Orleans.
Becky loved to sing traditional Hoopa ceremonial songs as well as contemporary songs, teaching her daughters and grandchildren to sing traditional brush dance songs, and would tell them, "Make it come from deep in your stomach." She was a warm, fun-loving soul who loved to make people feel good. Once when riding on the high school rooters' bus, one of her best friends talked her into singing Janice Joplin's "Mercedes Benz." There she sat in the back of the bus in all her glory singing to a bus full of schoolmates who cheered her on like they were at a concert.
Becky took on the role of camp cook for the Medildin Village brush dance during the time that her uncle Lonnie Colegrove was the ceremonial dance leader. Brush dances are held to help cure an ill child so they may live a long healthy life. She was honored and humbled by the experience knowing that all of the hard work, cooking over the camp stove in the hot Hoopa sun, dish washing and feeding the people added to the strength of the prayers and good medicine for the dance.
Becky is survived by her longtime partner Gary L. Jordan Sr, daughters Frances Ferris-Billy, and Ilene Ferris (Eric), grandchildren Tescheanche Moon (Quentin), Melissa Billy (Micah), David Billy Jr (Alexa), Lekshiyat Billy, Rebecca Ferris-Tripp, Dale Ferris (Cassie), Deanna Ferris, Aliyah Aubrey, Julian Ferris-Aubrey, Julie Hunsucker (Darren), Louisa Hunsucker, Lorencita Perry, Agapito Perez, Avery and Mason Ferris, Auhna and Loretta Castaneda, great grandchildren Dani, Harlee, and Darren Howerton Jr. Rowen Moon, Jett Matilton, Braelyn and Scarlet Billy, Maria Titus, and Dale Ferris II, step father Alexander Pratt, stepmother Kathy Baldy-Dean, great uncle Mel Youckton, aunts Ilene Colegrove, Lila Gerstner, Charlene Colegrove, Vonice Colegrove, uncle Gary Colegrove Sr. (Kathy), siblings Deborah McConnell (Bob), Omar M. Dean III, Alfreda Jackson-Brown, step-sisters Kathleena Valdez, Allison Hescock (Sonny), and Arlyiss Pratt, step brother Daniel Pratt (Tawny), and numerous nieces, nephews, cousins, aunts, uncles and special friends.
Becky is preceded in death by spouse Dale R. Ferris, daughter Julie Anna Ferris, son-in-laws David Billy Sr. and Jefferson Moon, grandchildren Baby Angel Ferris, great-granddaughter Gracelyn Billy, parents Alfreda Colegrove Pratt and Omar M. Dean Jr, grandparents, Mabel and Alfred Colegrove Sr, Julianna and Omar M. Dean Sr, great grandparents Theresa and Joseph Capoeman, aunts Marilyn Colegrove, Sarah Reyes (Manuel), Olivia Cano (Peely), Elizabeth Hernandez, uncles Christopher "JB" Colegrove, Alfred N. "Riggie" Colegrove Jr, and Bryan "Stoney" Colegrove Sr, Lionel Colegrove, Joseph, Robert and Richard V. Dean, sister-in-law Noreen Ferris, brother Richard V. Dean, brother-in-laws Wilfred "Sonny Buck" and Dwayne Ferris, niece Stephanie Ferris, nephews Omar "Baby O" Dean, and Wilfred "Bando" Ferris III.
The wake and funeral will be held at the Hoopa Valley Tribal Neighborhood Facilities building beginning at 8 p.m., Wednesday, August 4, 2021, and 10 a.m., Thursday, August 5, 2021, respectively. Place of internment will be held at the Colegrove Family Cemetery with a reception immediately following at Pookey's Park. CDC Safety Protocols will be followed. Officiant will be George "Pordie" Blake, and Paul's Chapel in Arcata is in charge of arrangements.
Pall bears are David Billy Jr, Dale Ferris, Agapito Perez, Avery Ferris, Eric Castaneda, Quentin Matilton, Micah Titus II, Darren Howerton, Tsewenaldin Van Pelt, Robert and Stuart McConnell, Marcus Rowe, Mathew Swanson, Lonnie, Al Kenny, and Sonny Jim Dean, Bradley Hostler, Brandan, Brian and Gary Jordan Jr.
Honorary pall bearers are Omar M. Dean III, Lonnie Dean Jr, Gary Colegrove Jr and Sr, Alex and Daniel Pratt, Bob McConnell, Isha-Kom McConnell, Kekyua and Kay-Cam Van Pelt, Danny, Larry and Leland Jordan, Billy, Lonny, Nolan and Alphonso Colegrove, Rocky, Rosco and Diggs Colegrove, Greg Cano Jr and Sr, Richard V. Meyers, Tuekwe Hunsucker, Orion and Louis Cosce, Richie Dean, Omar Dean V, Richard P. Dean, Sebastian Swanson, Dave Drake Jr and Sr, Stanley and Raymond Ferris, Michael and Ulysses McLaughlin, Josh and Ben Saxon, Rick Bradberry, Barry McCovey Jr, Kalvin and Leland Merlin, Whits Marshall, Kevin McConnell, Jason Hunsucker, Clayton James, Dave Maloney, Greg Perry, and Becky's boys, classmates and special friends.
Thank all of you who provided support, prayers and medical care for Rebecca. Remember her fondly the next time you sing a song.
###
The obituary above was submitted on behalf of Jens Reinhart's loved ones. The Lost Coast Outpost runs obituaries of Humboldt County residents at no charge. See guidelines here.