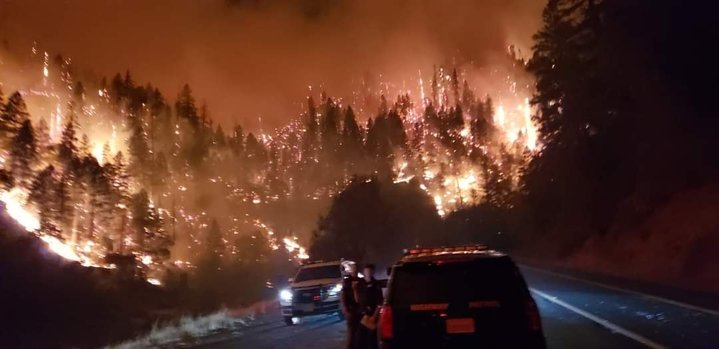 McFarland Fire

The McFarland Fire burning south Wildwood in Trinity County has grown to 15,925 acres and remains 5 percent contained.
Highway 36 is still completely closed from the Highway 3 junction in Trinity County to White Rock Road in Shasta County. Caltrans reports that there is no estimated time for when the highway will reopen.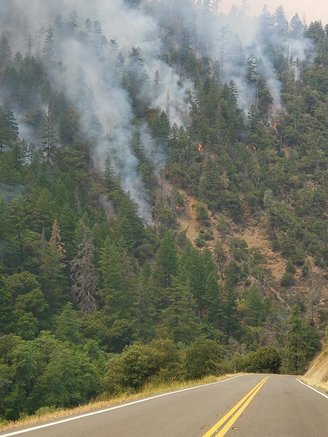 Mandatory evacuation orders are in place for the community of Wildwood. Evacuation warnings have been issued for Post Mountain and Trinity Pines. New evacuation warnings for western Shasta County include: Shields Road, White Rock Road and Harrison Gulch from Highway 36 to Deerlick Springs Road.
"Residents should be prepared to leave the area in case of increased fire activity," California Interagency Incident Management Team 11 stated. "This is the time to prepare valuable items such as important documents, prescription drugs and phone chargers."
Concerned community members can receive the latest evacuation warnings by signing up for CodeRed alerts: https://public.coderedweb.com/CNE/en-US/BFBDCA5E730B.
A total of 519 firefighters are working to contain the blaze. However, the California Interagency Incident Management Team 11 has stated the fire is still understaffed.
"The fire has been doubling during every 24 hour period and with the forecasted conditions tomorrow and a possible wind shift mid to later in the week there will continue a near doubling daily," CIIMT11 stated. "The drought and the dry hot weather have allowed all fuels to become available to burn. The lack of critical air resources combined with minimal ground resources will continue to limit availability to increase direct line construction."
Approximately 1,540 residences, 100 outbuildings and 36 forest service structures will be considered threatened by the fire for the next 24 to 72 hours. Firefighters say that many more buildings may be threatened if the fire spreads to the east or north.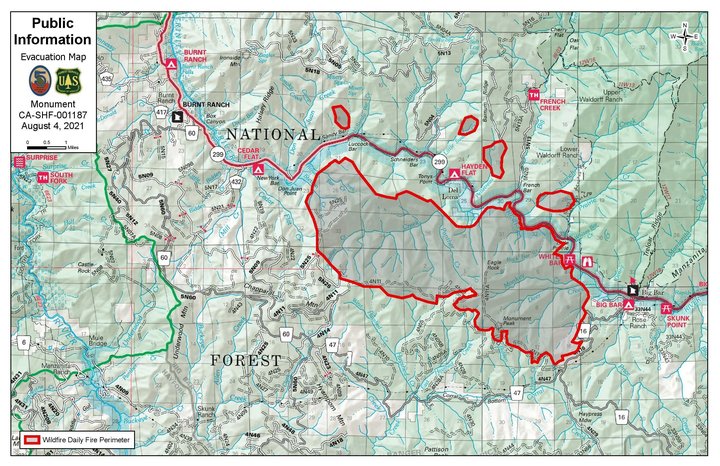 ###
Monument Fire
The Monuments fire burning to the north and south of Highway 299 between Burnt Ranch and Big Bar is currently 15,000 acres in size and 0 percent contained.
Highway 299 remains completely closed in the area between Cedar Flat and Big Flat. Caltrans reports that there is no estimated time for the highway to reopen.
"Four spot fires have now crossed the Trinity River and Highway 299," Young and California Interagency Incident Management Team 5 reports. "The fire remains south of Del Loma and a half-mile east of Big Bar. On the west side, the fire crossed over Panther Creek and has spotted across Canadian Creek. On the south side, the fire is still holding on Monument Peak and on the adjacent ridges."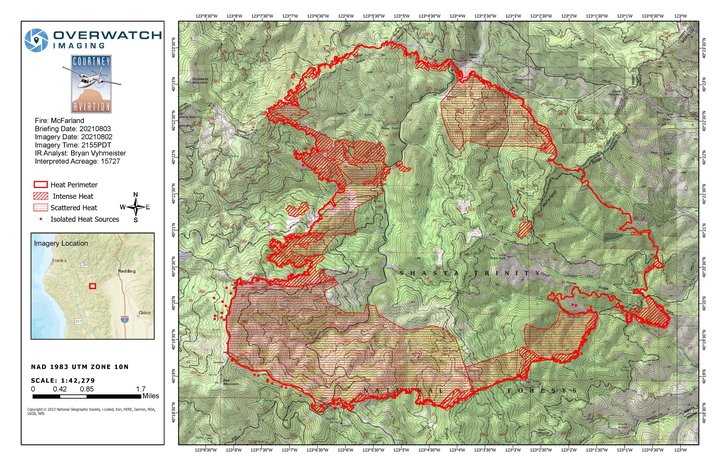 Evacuation orders have been issued by the Trinity County Sheriff's Office for Big Bar and Del Loma. An evacuation warning has also been issued for the Big Flat community.
The weather is forecast to be hot and dry through Wednesday. Cooler temperatures and higher relative humidity could bring some relief to firefighters on Thursday and Friday. Slightly stronger winds will also be possible toward the end of the week.