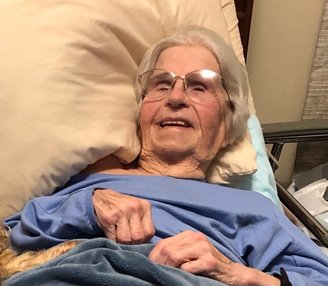 Marilyn Ruth 'Mary' Hibbard Willits passed away peacefully at her Eureka home at the age of 90 on December 5, 2021, with her daughter by her side and her son close by.

Mary was born July 27, 1931, in a Eureka hospital, the seventh and last child of Ruth Olivia McLearn and Carl Hibbard of Fields Landing. She was a third-generation Humboldt County native, her great-great grandparents, John and Hannah Noe, having been early settlers of the Table Bluff area. Mary's parents divorced when she was quite young, and her mother was later remarried to Mary's stepfather Roy "Red" Burnette.
Mary graduated from Eureka Senior High School, where she met her future husband Charles "Charlie" Willits. Many a family argument was had over whether their English teacher was the worst teacher ever or the best. Mary was a good student and paid attention in class and Charlie sat in the back and read the encyclopedias that were in the classroom. You can probably guess who was on which side of that one. After graduating Mary worked office jobs in the Eureka area while Charlie went off to war. After Charlie returned from serving his country during World War II and Korean Conflict, Mary and Charlie were married on November 10, 1951, and started a family, purchasing a home on Donna Drive at the top of Humboldt Hill where they lived for 29 years before moving into Eureka in the early 1980s. They raised a daughter, Connie, and a son, Tim. Soon after Connie was married and when Tim was almost finished with high school they had another very special son, Chris, whom has been enriching all our lives and whom Mary has been lovingly caring for the last 48 years.
For several years Mary and Charlie leased a place in Phillipsville every summer where Chris and the grandkids spent many hours swimming and playing while Grandma and Grandpa tended over 80 tomato plants along with many other fresh vegetables each summer in their large garden. After swimming time, the late afternoons were often spent with Mary telling her grandsons stories of when she was growing up. One that comes to memory is of her dad loading all the kids in the car to go to town for ice cream during the depression.
Charlie owned and operated two different Shell service stations and Mary kept the books for the business. During these years one of the favorite family jokes involved an old Plymouth Valiant that Grandpa Red had bought new and then later sold to Charlie for $2. It was light green and full of rust, had ripped seats, a cracked windshield, and it only started about every third attempt. Mary insisted that car belonged at the service station for running out to get parts for the cars they were repairing and refused to ride in it, but Charlie would drive it home for lunch and park in the driveway and Mary would make an act about how much she hated that car. Family lore is that Charlie had to open the station at Harris and Pine after closing the station at Spruce Point because Mary didn't want that car parked in front of her home. All in the name of good-natured fun of course. The "Green V" was eventually sold for parts before Charlie and Mary retired and closed the station. Mary and Charlie both enjoyed bowling and Mary did secretarial duties for several leagues over the years along with providing extra support to Charlie as he served in various capacities for both the Humboldt Bowling Association and the California State Bowling Association.
Mary and Charlie kept up on technology, having purchased one of the first color televisions in Humboldt County and owning a home computer before most people even knew what one looked like. Mary took a course in computer programming at College of the Redwoods and wrote a program that allowed her to keep track of the daily receipts from the service station on her Radio Shack TRS-80 that she used until they retired.
Family meant everything to Mary, she often bragged that she had spent every holiday with all her children from the times they were born except for one Thanksgiving that she, Charlie and Chris went to Santa Barbara to celebrate with Tim at college and then a couple years ago when Tim was under the weather and stayed home for Christmas in order to not make anyone else sick.
The disadvantage of living into yours 90s is that most of the people you loved in your younger years pass on from this life before you. Mary was proceeded in death by her husband of 52 years Charles Willits, her son Tim Willits just late last year, her parents Ruth Burnette and Carl Hibbard, 4 brothers Vernon, James "Jim", Kenneth "Kenny" and Bernard "Barney" Hibbard and 2 sisters Viola "Vi" Thompson and Bethel Wilson, stepfather Roy "Red" Burnette and her son in law Lorenzo "Larry" Alvara.
The advantage of living into your 90's is you get to spend a lot of time with and influence future generations of loved ones. Mary is survived by her daughter Connie Alvara, son Chris Willits, son-in-law Jim Willits, grandsons Steve (April) Hicks, Scott (Kate) Hicks, and Stuart (Jamie) Hicks, great grandchildren Olivia (Collin), Brianna (Drew), Kaitlyn, Noah, Nicole, Ashley, Kristen, Jackson, Joshua, Kyle, Cody, Kayla, and Cameron, 12 great-great grandchildren, and numerous nieces and nephews.
It was always Mary's wishes that no services be held. Her immediate family will gather later to share happy memories of our mother and grandmother, but we will otherwise honor this request. Final arrangements will be coordinated with Ayers Family Cremation.
If you would like to honor Mary, donations can be made to the Timothy A Willits Memorial Fund at HLOC.org, Hospice of Humboldt or your favorite charity.
The family is extremely grateful to her caregiver Carol Russell and Hospice of Humboldt for their loving care of Mary over the past year or so and for making it possible for her to spend her last days in the home where she lived with her son Chris.
We were rewarded with many years of having Mary as our family matriarch and now she is finally at rest. Chris said it best, "Mama is happy now."
###
The obituary above was submitted on behalf of Marilyn Willits' loved ones. The Lost Coast Outpost runs obituaries of Humboldt County residents at no charge. See guidelines here.