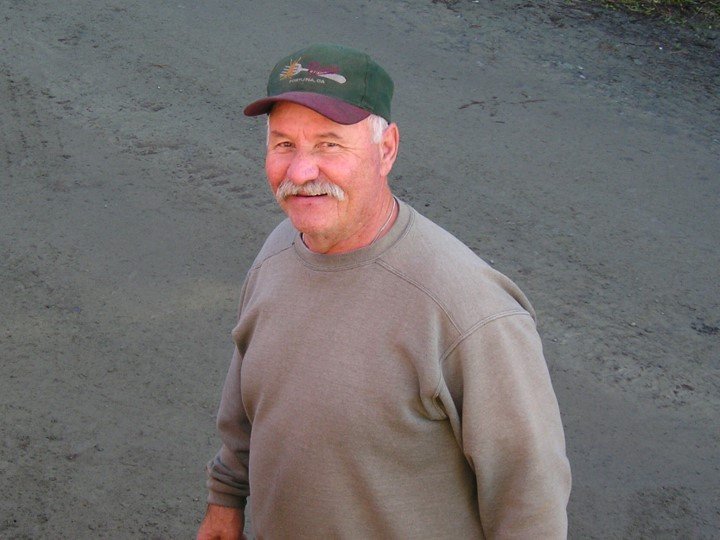 Strong, courageous, gentle and kind — for those who knew Ron, that is how they speak of him. He had the natural ability to touch your heart with very few words needing to be spoken. Ron passed away peacefully at the age of 79 on Dec. 6, 2021. He persevered through the many challenges of Parkinson's disease over the last 12 years with strength and courage.
Ron was born on February 20, 1942 and was raised in Fortuna by his aunt and uncle Caroline and William Marquis after his father Rinaldo Pelletier was killed falling timber in Blanton Creek when Ron was three years old.
Ron had many nicknames throughout his life due to his jovial and fun-loving spirit. Ron's friends that he grew up with talk about his days on the Fortuna High football team and how they could count on his sense of humor to brighten their day. He was thought of as a real comedian catching his friends off guard with a good prank or witty comment. Back in the sixties, Ron was often seen cruising his 1963 Corvette and smoking a stogie. This is a beloved memory of those he grew up with. He loved reminiscing with friends and sharing stories. His childhood and high school friends remained close to him throughout his entire life.
When Ron went to work, he followed in both his father Rinaldo Pelletier and "Papa" Bill Marquis' footsteps working in the timber industry at PALCO. He worked in the woods and hauled logs for 30 years starting in the 1970's and retiring in 2003. In the 1970s and 1980s, "Frenchie" and "Dad" echoed from the CB throughout the Yager Creek drainage from his longtime and cherished work friends as he hauled heavy loads.
Ron was the definition of the greatest Dad you could ever have to his four kids. He was a steady, reliable man who we all admire and are proud of. Even though he would put in 12-hour workdays, he still had time for his kids. He was involved in all their sports growing up, and taking them hunting, fishing, camping and many family trips. He also made an impact on those he worked with in the woods throughout the '80s and '90s as he was known by all as Dad. He had a long history working in the woods and had so many stories to tell from working with the road crew who became family to him. He liked to say that he was "flying the mail" after he found the mailbox on the 500 road. Dad loved to talk about all those times up until his passing. He liked to remind us that he was the last remaining member of the Mill C carpool to Elk River where he worked pulling green chain as one of his first jobs. He made us laugh with his dry sense of humor and his witty statements that he thought up on the spot at just the right time. We could count on Dad to be there for us always for a hug, a laugh, encouragement, advice, and to know what time the SF Giants and 49ers were playing. If you needed to know what that one person's name was from years ago, that you just couldn't quite remember at that moment, he could tell you.
After retirement, Ron met his love Helen Belloni, together they enjoyed going on trips especially to Forest Glen and the Trinity River. During this time, Ron continued enjoying the outdoors. They enjoyed being retired and watching birds and whales and combing the beach and river for knots for carvings he liked to make. Together they also enjoyed time with friends. Ron also loved being involved with Helen's grandchildren. He got to continue to share his love of sports with Mariqus, watching him play football, basketball, and baseball. He would often call Madison to give her support and encouragement as he was always proud of her accomplishments. Ron began going to "Rock Steady Boxing" classes to help with Parkinson's disease. This gave him the opportunity to improve his condition and help him to continue to live life to the fullest, and he made many friends there.
Ron is preceded in death by his parents, his wife Joann Pelletier, daughter Sarah Pelletier and many close relatives and friends.
Ron is survived by his children Ron Pelletier (and his wife Mary), Michael Pelletier, Amanda Pelletier, Joseph Pelletier, and granddaughter Abbi Pelletier. Ron is survived by his love of 16 years, Helen Belloni and Helen's children and grandchildren Madison and Mariqus.
The memories he made and helped us to make are gold. We love you Dad!
A celebration of life will be held on February 19, 2022, from 1-3 p.m., at the Fortuna Fire Hall. Donations in his honor can be made to the Loleta Fire Department, Hospice of Humboldt, and the Parkinson's Foundation.
###
The obituary above was submitted on behalf of Ron Pelletier's loved ones. The Lost Coast Outpost runs obituaries of Humboldt County residents at no charge. See guidelines here.