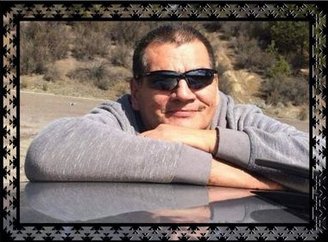 Frank "Charlie" Lewis Jr., born May 25, 1961, in Hoopa, to Athena Rube and Franklin Lewis Sr. Frank came from a blended family. His siblings from his dad included Carolyn Lewis, Gary Lewis, Nora Lewis, Fred Lewis, Aa'wok MaryAnn Lewis-McCovey, and Linda Lewis. Siblings from his mom included Darrell Thorton Jr., Shantelle Willison, Aa'wok Athena Willison, and Jessica "Nikki" Willison.

After Frank's parents divorced, he spent his teenage years going between Klamath Falls and Hoopa. He spent some time attending school at Kicking Horse Job Corps in Montana. After he left Montana, he started his family with Marla Kimbol in Klamath Falls. Ginette Lewis was his first born, followed by her brother Preston Lewis.
Later Frank continued building a family with Carolyn "Tambi" Schonchin. Their children are Kira, Jacquline, and Tanya Schonchin. Frank and Adeline "Pebbles" Jackson finished adding to his family with Derek, Talisa, and Sarah Jackson.
Frank was first made a grandfather by Ginette, bringing Charles Ochoa into the world. He was followed by his siblings Tyson, To-le-us, and Manny Ochoa. With Tyson adding the first great-grandson Kanoa. Preston and his wife Elyesse added to the family with Preston Jr., Eunice, Enid and Elizabeth. Kira brought her daughter Mya. Jacquline's children are Javy and Braiden. Tanya added grandson Desmond and Derek with his son Javen. And Talisa added the final grandchild with her daughter, Kaytwana.
As many native families suffer the effects of residential schools, so did Frank's. While family was so important to Frank, it didn't come easy. Many of the relationships with his children can attest to the struggle as he tried to navigate through his traumas. Frank had many support readings for healing and becoming a better person. He wanted better and did his best to be better.
While Frank spent a majority of his life in Klamath Falls, he never forgot his traditional roots and his family in Hoopa/Weitchpec. He would make trips to Klamath to visit and occasionally fish with his brother Fred. He would make weekend trips and stay with his sister Carolyn Lewis. And of course he never failed to spend time with his sister MaryAnn and her family. On any given trip he would make stops along the way to check-in on his nieces and nephews, starting in Yreka, Happy Camp and of course Hoopa.
His trade would keep him busy working in the woods (in Klamath Falls and Hoopa areas), and running heavy equipment. His passions were cars and woodworking. Whether he was on the road or at work he enjoyed taking the time to capture pictures to share with his family and friends on Facebook. It was common to receive a random text with a picture of the sunrise, snow, or a selfie in his machines.
Frank was supported and loved by: siblings Carolyn Lewis, Gary Lewis, Nora Lewis, Fred Lewis (Bonnie), Shantelle Willison, Linda Lewis (Cody) and Jessica "Nikki" Willison (Edward), Michelle Rocha.
His children, grandchild, and great-grandson as follows:
Nieces and nephews: Rebecca Lewis-Campbell (Melissa, Mariah, and Sam Campbell Jr), Angela & Justin Danel (Izzy, Rowland), Sophie Blake. Gary "Koo" Lewis Jr, Samuel Lewis (Elliott Xion), and Spencer Lewis (Nova). Josh Petty (Brody), Daniel& Janell Lewis (Jaden, Jaziah), Ayela & Matt Carstensen (Kohl, Keliegh), Derrick Lewis (Jordahlea) Hawk Erickson (Angel, Halo, Malakai) Tina & Jake Mitchell (Jordan, Oden), Pohliklah & Danny Lewis (Pohliklah Jr), Amelia Lewis (Jack) and Destiny Lewis. Russell, Per-Gish Hayden, Chegemmem McConville-McCovey. Calvin, Nathaniel McConnell, Gerrious Eaton, Marissa Morgan, Nai-tai-ya Willison.
His family and loved ones he joined:
His grandparents Amelia Caroll and John Rube, Manual and Jane Lewis His parents Athena Rube and Franklin Lewis, his brother Darrell Thorton Jr, and sisters MaryAnn Lewis-McCovey, and Athena Willison. His grandson Charles Ochoa. His nieces Jillian and Jerry Lewis Zariah Erickson. His nephews Zakema Erickson and Justyn Eaton. His paternal uncles Daniel (Jimmy), Alfred, Harold (Joe-boy), Robert, and Manual Lewis Jr. Maternal uncles Harold, Robert, Clyde, Vernon, and Pete Henry. His aunts Maxine Lewis-Raymond, Nelda Morgan, Lucille Lewis, Ruth Knutson. Many cousins and friends who passed along the way.
The services will be held Jan. 8 at the Yurok Tribal office in Weitchpec. The services will be at noon, with Celinda Gonzales officiating.
"Life is too short for hate. Love each other and show that love to one another"
-Frank Lewis
###
The obituary above was submitted on behalf of Frank Lewis' loved ones. The Lost Coast Outpost runs obituaries of Humboldt County residents at no charge. See guidelines here.