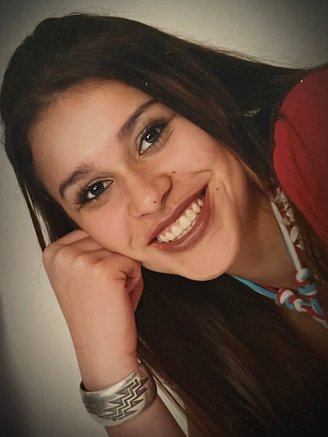 MareCee Naw Ra-Owh-Chee-Shep Robbins was brought into this world on August 26, 1991 and started her journey on November 25, 2021. MareCee was an enrolled member of the Hoopa Tribe and a descendant of the Yurok Tribe, Karuk Tribe, and Quinault Indian Nation. MareCee was the daughter of Tyke Robbins and Cindy Sue Colegrove and loving sister to Duwayne Xavier Say-Gep Best Jr., Grizzly T. Robbins, Rocky Robbins, Aurelia Robbins, Cecelia Robbins, Mardi Attebury, and Dolli McCovey.

She gifted this world three beautiful children – Non-Tos-Chet Rube Robbins, Rey-Go'Oh Berghagen and Faron Troy White-Robbins. MareCee brought love and joy to her large extended family, leaving many memories with her Grandma Lana Crutchfield; Great-Aunt Ilene Colegrove; Great-Uncle Gary, and wife, Kathy; Aunts Suedee Hicks, Mice, Sue-I-Chet (Fermin), Non-Tos-Chet (Loren), Jackie, Jeanette (Tony), Maria (Toby), Lydia, Lynette (Cory), Felicia; Uncles; Billy (Christy), Alphonso (Karrie), Nolan (Tory), Lonny, Bryan Jr, George (Dick) and Kapel; nieces Arianna, Chayton, June and Aria; nephews Falcon, Joaquin, Meskwoh, Lil' Grizzly, Nikwich (Bean), Cristian Jr and Ronny III.
MareCee became an amazing mother, spending most of her time with her babies. She was the most devoted, loving, and nurturing; always taking care of her precious babies ensuring their lives were filled with hope and limitless opportunity. She was committed to teach them the native values in life — connecting to traditions and culture as a way to survive this challenging world. She did her best to raise her boys to be self-sufficient, taking them to the mountains to cut wood with her chainsaw, jumping in the truck to go hunting and gathering or on the river fishing and swimming. She was a provider and the most amazing mother — her family and friends were in awe of all she achieved and accomplished.
MareCee was a perfect combination of beauty and fierce warrior — supporting friends and family with unbelievable strength while lighting up the room with her gorgeous appearance. Her spirit to live life to the fullest inspired all she encountered. She had no time for small stuff in life — negativity was never emphasized. She was a positive and focused on resiliency and courage. As a young lady, she appreciated the lessons from all those around her, all walks of life that contributed to molding her into the woman she would become. She was blessed with the most amazing smile that lit up a room. She had such an undeniable beauty that her mom wanted to share with the world by competing and winning beauty pageants throughout the United States in her youth and teenage years. She was determined to conquer more in life and was hard driven to earn a degree as a carpenter and cabinetry refinery. She took her employment as a carpenter very seriously and hung right in there next to the gentlemen she worked with. She was in the process of building her own home for her and her children.
MareCee was a gifted artist; she learned from the best, her Grandma Cee Cee, who taught her how to crotchet, gather and speak up for herself. She enjoyed weaving, beading, making slabs of burls and finding wood of any types to create the most amazing woodwork featuring unique native designs.
She touched so many lives and was a true friend to many. She was always up for an adventure with her babies and her besties. She loved her friends and family deeply and always had time to visit with them when she ran into them. She made a lasting impression to all that knew her and those that just met her.
She wrote recently in one of her journals –
"I have had numerous notebooks in my life prayer books, dumb girls thoughts, drawing books, all different kinds. This book will have a little bit of everything inside well everything I'm willing to share. They say everything you tell someone eventually will be repeated some way or another.
This is my 30th year living on this earth I was grateful enough to have been born Native American from Northern California, amongst the Yurok, Hoopa and Karuk Tribes which is rich in culture and trauma throughout our ancestors, but coming along with the trauma is survival instead of dwelling on being a victim. More people should be grateful for being so resilient and shouldn't take advantage of what our ancestors fought so hard for us to have."
PallBearers: Say-Gep Best, Grizzly Robbins, Owee Colegrove, Anthony Twofeathers Colegrove, Brandon Colegrove, Spike Guyer, Richard Guyer, Ben Ray, Gunner Ray, Son-Son Robbins, and Merk Robbins.
Special Pallbearers (by her request): Cecelia Robbins, Aurelia Robbins, Kinsita Joseph, Vanessa "Graebz" Graeber, Ashley Lamebear, Chelsey Thompson, Ariel Erickson, Rena Gibbens, Star Gibbens, Crissy Robbins, Janette Patino, Samantha Crutchfield, Julia (Honeys) Crutchfield, Presley Robbins, Dana Perry, Kinsa Moon, Jaclyn Moon, Cassandra Aubrey, Kisdyante Joseph, Onna Joseph, Diana James, Shalissa Jackson, Shantel Kneeland, Joselyn Kelly, Bianca Moon, Deja George, Frankie Tripp, Adriana Cloud, Melita Jackson, Kee-yah Joseph, Mitsche VanPelt, Ashley Myers, Larissa Sanderson, Caprice Vanpelt, Wynter Lyons, Chealsea Reed, and Michelle Bradberry.
Honorary Pallbearers: Billy Colegrove, Alphonso Colegrove, Lonny Colegrove, Nolan Colegrove, Bryan Colegrove, Fermin Sanchez, Twofeathers Offield, Spike Guyer, Richard Guyer, Joshua Colegrove, Stoney McCoy Sr, Stoney McCoy Jr, George "Dick' Robbins, Kapel Robbins, Chino Young, Albert (Alex) Perry, Travis Perry, Tristan Perry, Brendan Crutchfield, Brett Robbins, Trayce Crutchfield, Fabian Erickson, Justin Erickson, Eddie Koch Jr, Eddie Koch III, Roger Sanderson, Joe Nix, Marv Mullens, Pergish Carlson, Tom O'Rourke, Axel Erickson III, Axel Erickson IV, Tom Joseph, Silishitawn Jackson, Jason White, Jeremiah Berghagen, Meskwoh Robbins, Joaquin Applegarth, Falcon Williams, John Robbins, Rowdy Robbins, Cristian Alatorre Sr, Desmond Oliver, Jr Goodell, Rocky Colegrove, Neil Aitken, Alex Montes de Oca, Craig Murphy, Andrew Lamebear, Marty Lamebear, Ky'Kyah Vanpelt, Arrow Campbell, Turk Sylvia, Josiah Maymon, Tim Thompson, and Nah-Tes Jackson.
Proceeded by Great-Grandparents Alfred & Mabel Colegrove, Grandparents Bryan & Marilyn Colegrove, Grandma Theresia, Grandpa Ross, Grandpa George Robbins Sr, Grandma Viola Koch, Grandpa Edwin C Koch, Grandpa Samuel Moore, Grandpa Bill Crutchfield, Uncle Faron Robbins, Brother Brenan McCovey, Great Uncles – Alfred Colegrove Jr, Lionel Colegrove, Uncle Robbie Robbins, Uncle John (Rocky) Robbins, Uncle Allen (Buzz) McCovey, Great Aunts – Alfreda Colegrove, her special friend "Tibs" Virgil Mclaughlin.
— Continue to do Chee-Shep things wherever you may be.
She had too many cousins to name and please forgive us if you were not mentioned, she loved you all. There will be a wake held on December 1, 2021 for close family and friends. A graveside service will be held on December 2, 2021 at the Colegrove family cemetery at 1 p.m. The service will be officiated by Jessie Goddard and Winona Youckton.
###
The obituary above was submitted on behalf of MareCee Robbins' loved ones. The Lost Coast Outpost runs obituaries of Humboldt County residents at no charge. See guidelines here.