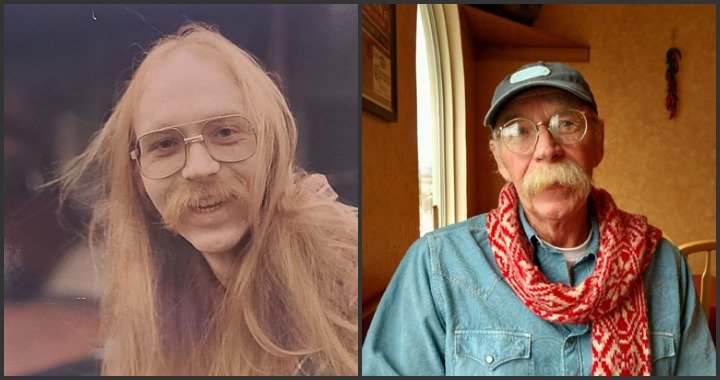 On December 6, 2021, John Myers passed away peacefully leaving this life on the wings of his ancestors and with the love of his family and friends. He was a beloved brother, uncle, and friend.

John was born in Willits to John Myers, Sr. and Dorothy Erickson Myers. The family later moved to Humboldt County and made a home in McKinleyville. John attended school in McKinleyville, graduated from McKinleyville High School and attended classes at Humboldt State University.
John lived a full life in his 71 years, traversing a creative and diverse career path that included millworker, retail sales, and organic farming in Temecula, California. John loved art, music, art glass and growing flowers, especially his Dahlias. He was a voracious reader and enjoyed the company of friends, family and his precious cat, Luna. A consummate baker, his prized biscuits and Finnish bread were always a welcome treat. John was born into a tight knit Finnish family and was proud of his Finnish heritage and culture.
John was an absolute rockhound and his hobby took him to Montana, Nevada, and all over California with his trusty rock hammer. John was a talented jeweler and made beautiful pieces cherished by friends and family. He was also an avid camper and loved to gaze out at the sky on a warm summer's night while camping at Tish Tang. Let us not forget to mention his enthusiastic love of treasure hunting at yard sales and flea markets. You always knew where John was on an early weekend morning.
John loved to chat on the phone for hours with his sister Doreen and friends. He was everyone's favorite weatherman as he reported the details of the upcoming weather during the nightly chats.
John's sense of humor, gentle manner, compassion, and love for all people made him a special person. He was committed to helping the less fortunate, advocating for LBGTQ youth served by the RAVEN Project and racial equity. John was an active and valued member of the Board of Directors of Redwood Community Action Agency.
John is survived by his sister Doreen Fridley (Kenny), brother Dennis (Sherry), niece Adrienne (John), nephews Dennis Jr. (Denise) and Troy (Maci) and great-nephews Derek, Andrew, Hunter, and Coby. He is also survived by special friends Val Martinez, Mary Lou Prentice, Ruth Collier, Stella Williams, and his dear neighbors Pearl Davis, Paul Smith, Darlene Boggs, Towanda Wallen, and Amy.
We wish to extend a heartfelt thank you to the dedicated and compassionate nurses and doctors who cared for John these past few years and especially over the last two weeks of his life. Your sensitivity made a difficult time easier for John and all who loved him.
To know John was to love him. We will all miss him and look up into the night sky to see the star that was lit for John upon his departure for new adventures.
The family will be holding a private ceremony for John and a celebration of his life will be held in January 2022 via zoom to keep everyone safe. Please contact JohnsFriends@yahoo.com if you would like to join us for the celebration.
###
The obituary above was submitted on behalf of John Myers' loved ones. The Lost Coast Outpost runs obituaries of Humboldt County residents at no charge. See guidelines here.