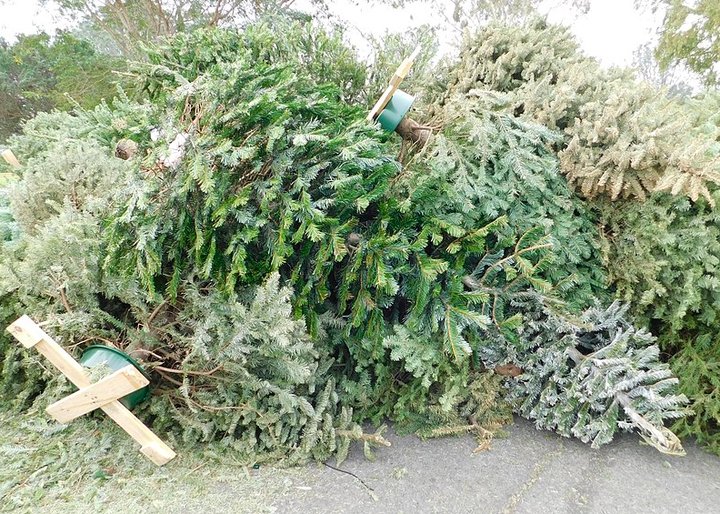 ###
'Twas three days after Christmas, when all through the house
Pine needles were strewn — some even got on my blouse.
The Christmas tree that we had decorated with care
Was beginning to dry out and the branches turn bare.
I wondered, "What the hell should I do with this damn tree?"
I know! I'll check the list from Humboldt Waste Management Authority
###

Here is a list of places to dispose of that tree, provided by HWMA:
With the holidays coming to a close, residents may once again dispose of their Christmas trees at several community locations at no-charge or may arrange for pick-up by their trash hauler. Residents are encouraged to recycle their Christmas trees so they may be processed into useful mulch or compost. This annual free Christmas Tree drop-off and recycling event is sponsored by HWMA, Humboldt Sanitation, Recology and Wes Green Company.

To prepare Christmas trees for recycling, residents must remove all decorations, including ornaments, hooks, garland, tinsel and lights. Flocked trees may not be recycled.


Free Drop-Off & Recycling:

Arcata

Wes Green Company — 6360 West End Road.


​​Dates: Dec. 28 – Jan. 31​

Contact: 822-8035

Eureka

HWMA's Hawthorne Street Transfer Station — 1059 West Hawthorne Street.


Dates: ​​Dec. 27th -Jan. 17th

Contact: 268-8680

Ferndale

Ferndale Fairgrounds —1250 5th Street, Ferndale

Dates: ​​​​​Dec. 26-Jan. 5th​ Contact: 725-5156

McKinleyville

Humboldt Sanitation Transfer Station — 2585 Central Avenue, McKinleyville​​​Dates: Dec. 26-Jan. 16th​ Contact: 839-3285

Fortuna

Recology Eel River's Fortuna Transfer Station​ — 965 Riverwalk, Fortuna

Dates: Dec. 26th -Jan. 15th​ Contact: 725-5156

Rio Dell

Rio Dell City Hall​​​​​ —675 Wildwood Ave, Rio Dell​​​​ (back parking lot)

Dates: Dec. 26th – Jan. 7th​ Contact: 764-3532




Curbside Collection​​​​:

Collection fee may apply, please contact


Humboldt Sanitation, ​​​​​​839-3285

Please call for pick up and inquire about pick up charges.

Recology, ​​​​​​​​442-5711

City of Arcata


Residential customers can schedule a bulky item pick-up to pick up unflocked trees on their regular pick-up days.

City of Eureka and Humboldt County Franchise Areas


If a customer has green waste service, Recology can pick unflocked trees up on their regular pick up day for no-charge. Customers without curbside green-waste services can request pick-up on Saturday, January 1st and January 8th for $5/tree.