I was 50. Half a century. How was that even possible?

Some years ago, one of my directors Zeynep, a lovely, cheerful Mediterranean woman had recently hit this milestone. I remember wishing her a happy birthday, as she stood having a cup of tea and smoking a cigarette on the balcony of our school.

"How are you?" I asked.

Zeynep stared out at the cityscape blankly, her usual smile replaced with a grim, thoughtful look.

"When you are half a century old," she mused, "Half a century! How is one supposed to feel?"

Indeed, there seemed no clear answer to that one. And now, here I standing at the same pale precipice: Yes, how is one supposed to feel?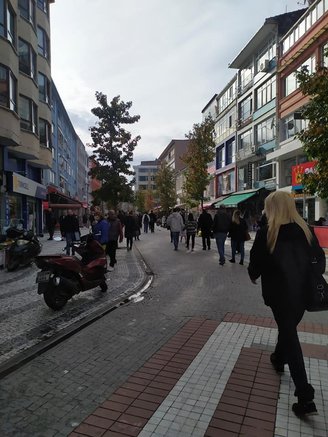 For my birthday, my wife Özge and I loaded our son Leo into a taxi and headed to Kadıköy, hoping a change of scene would lift my mood. It was Saturday, and the late autumn weather was holding up fine. At least it wouldn't rain. The traffic was light too, another decent sign.

In Kadıköy, we got out of the taxi near the iskele and walked up the hill. Although it was already after noon, the streets were mostly quiet, and most of the shops and cafes were still closed. We passed a menemen café, and the tables outside were full of young people who looked like they had just rolled out of bed. Further on, the bar streets looked exhausted, with their empty beer kegs deposited on the pavement for the trucks to pick up, the tables all empty, the bars themselves sleeping off the night's reveries.

Remembering my own days living in Kadıköy, I recalled the neighborhood was then, as now, very popular with young people, Turks and foreigners alike. Thus, the shopowners and cafes and bistros set their clocks in sync with their youthful patrons. Ah, to be young and living in Kadıköy, to be living in Istanbul – hell, to be young anywhere.

"Give them another hour or so," I thought. We walked towards Bahariye Street, a busy thoroughfare where the tram runs up the hill. We passed cool shops that we hadn't seen before (there are always new places, or places you haven't previously noticed, in Kadıköy). One of the shops was stocked with expensive-looking fashionable leather boots, for both sexes. I suggested Özge and I get a pair each – that would be a nice birthday gift, a swanky new pair of boots.

"What – did you suddenly win the lottery?" my wife asked. "With what money are you planning to buy these boots with?"

It was true. Payday was still a few days off, and inflation has been the news story for some time. Just the night before there had been scattered protests around the city, we read. People calling for action to stop rising prices, to halt the lira's sickening tumble. When one is a teacher, and your wife is on maternity leave with a toddler, and inflation is in the double digits, one must not indulge expensive fancies, even if you do only turn 50 once a century.

We stopped at a women's shop, where outside pink and green balloons festooned the windows. "PİNK FRİDAY SALE!" read the signs (Black Friday has become a tradition here too, notwithstanding the fact that Turks are for the most part oblivious to the fact that the tradition stems from the start of Christmas season). My wife went in for a moment to browse, leaving me to entertain Leo with the balloons. She came out a minute or two later empty-handed, and we continued on up the hill.

We walked past Viktor Levi, a wine house where we had our first date, just over eight years ago. Just out of curiosity, we stopped and looked at the menu. A cheese plate cost 90 lira ("When we were there, it was only 40!" my wife exclaimed). As for the wine, forget about finding a bottle for less than three digits, and the imported wines cost several hundred lira.

"Imagine if we wanted to have dinner here for your birthday," Özge said. "We'd end up paying nearly 1,000 lira!" Our first date, back in fall 2013, had consisted of dinner and a bottle of wine, and had probably cost not more than 200 lira. And we're not talking about "back in the '80s," or something. We're talking about only eight years ago, not a long time at all.

"Nostalgia is getting more expensive every day," I said.

I wasn't in any particular hurry, or was trying not to be. At 50, aren't you supposed to have this acquired, hard-won wisdom that allows you to take things easily, as they come? Wasn't quiet desperation for the thirtysomethings? Hadn't I already survived my haunted youth?

So I just followed as Özge steered the stroller toward the quiet streets of Moda. Leo didn't seem to mind where we were going. He was content to sit upright in the stroller and take in the sights, pointing out things here and there that he liked. Moda, which is really more of a summer kind of place, with its seaside villa vibe, was in full autumn mode. The streets were littered with dried leaves, the colored trees rustling in a gentle breeze, and the people walking as we were, in search of nothing in particular except to while away the quiet early afternoon.

We passed Granny's waffle and dessert café, which in summer serves very popular waffle ice cream cones in the warm nights. It was not busy. The other breakfast places looked steady. One of them offered American breakfasts, but when we looked at the picture, it hardly resembled any American breakfast I'd ever had. Pancakes, yes – but with cucumbers and parsley? Where were the grits? The hash browns? The bacon (you can find pork in Istanbul in some places).
Out near the seaside, where on fine summer evenings people sit at tables beneath the shady trees, having Turkish coffee or tea and looking out at the Marmara, we turned the stroller around and headed back. We needed a few things for the house, but upon passing the Migros supermarket, we noticed a long queue and decided to wait. The neighborhood, meanwhile, had woken up. The streets were now thronged, teeming with mostly young people. A long line of people waited outside a sweet shop that was serving Christmas-themed desserts. While Christmas is not a Muslim holiday, Turks seem to enjoy all the bright, festive accoutrements of the season, the trees and lights and ornaments can be found all over the city this time of year.
We stopped at a decoration shop and bought for Leo one of those glass ornaments that you shake and it fills with snow, like the one in "Citizen Kane." Leo was fascinated, and held it in his hands, shaking it the rest of the way (unfortunately, as expected he ended up smashing it the very next day – 45 liras gone).
"What do you want to do?" my wife asked, finally.
"Why don't we go to the Irish pub?" A pint was in order, if anything.
The Harp Irish pub had just opened, and was deserted except for the grizzled barman. He brought two pints of Carlsbad in very tall glasses. Özge wished me happy birthday, and we sat and drank the beer while Leo played with his snow ornament.
"Shall we walk over to Yeldeğirmeni?" Özge asked, as we finished and rose to pay. "We can get a taxi from there."
I had just been thinking the same thing, strangely enough. Yeldeğirmeni was my old neighborhood, where I had lived in the years before meeting Özge.
###
It was about a ten-minute walk, through the busy streets of Çarşa, with everywhere busy now. We crossed the main street over to where Yeldeğirmeni begins. It looked almost exactly the same as I remembered. A few different places here and there, but the overall vibe was the same. We passed the bakery where Özge and I used to get this bread she liked in the early days. We stopped and she went in. "They don't have it," she said, exiting quickly. We passed other places I knew, like the restaurant that served really good iskender kebab, and where I used to go after a rough night out at the bars. The same guy was still standing next to the sweating döner, with his balding head and broad easy smile. I nodded and he squinted for a second, seemed to dimly recognize me and nodded back.
There was Damli, the classic old-school pide place that heats the pide and lamahcun in a large flaming oven, the men using wooden sticks to take them out of the heat and onto a wide table. Finally there was my old street, with the tekel on the corner. It was owned by two Kurdish brothers, Edep and Bulent. This was where, back in the old days, I could always get beer and other stuff on account towards the end of the month.
Bulent was standing on the sidewalk outside. He was a lot grayer than I remembered, but he still had the twinkling eyes and easy smile. He saw me and lit up instantly. I went over and we embraced. I pointed out Leo, who was by then asleep in the stroller.
"Junior James!" Bulent offered, smiling again. He waved shyly at Özge, who waved nervously back. I asked after his brother, and Bulent said he was doing fine, fine, thanks. We bid each other farewell.
Down the hill, the cars and buses were passing under the iron footbridge on their way toward the Nautilus Shopping Mall, or else out toward Fenerbahçe stadium. How many times had I walked this way?
"Remember that place?" I said to my wife. I pointed to a white house, fresh and new-looking, where a ramshackle old Ottoman house had once stood. "Remember on our second date we walked past that old Ottoman house, and we talked about how they needed to restore it?"
"Yes, now it's a hair dresser," Özge said. And so it was, as a neat sign over the door informed us. Who needs restored Ottoman architecture when you can have hairdressers?
Leo was still sleeping as we passed beneath the iron footbridge, and where the new metro line runs out to the neighborhoods further on. I remembered the old train, and how it had been torn out and replaced with the metro line. I remembered when the metro lines were being built, and how every day the dust from the construction seeped over into the neighborhood, and you wondered if the work would ever be finished, and now the work was done and had blended in with the surroundings, become part of the neighborhood.
I felt better. I was glad we had decided to walk through Yeldeğirmeni. This glimpse into the not so distant past made me feel less disconnected, to see that some of the people and places were still there as I remembered, and that some of them even still remembered me, and that I had memories of the city as it had been as well as the feeling of having been though the changes with the city too. It was nice to be around to see the changes.
How is one supposed to feel about being a half century old? For younger readers, I'll leave it to you to answer it when your time comes. The older ones no doubt are asking other questions. I guess the thing to do is stick around.
###
James Tressler, a former Lost Coast resident, is a writer and teacher living in Istanbul.