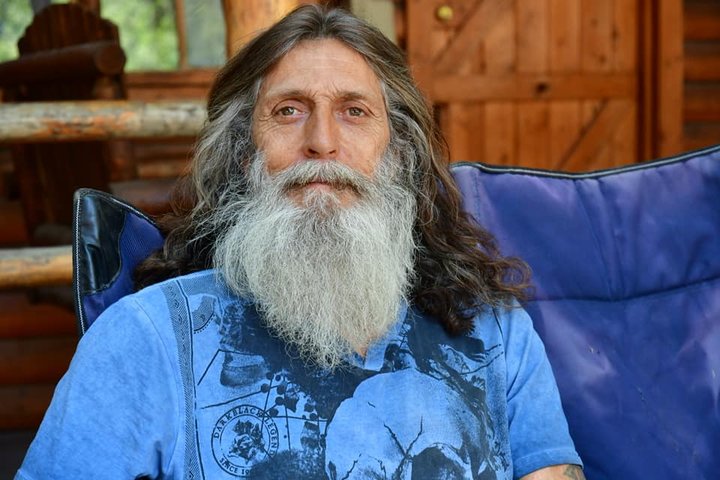 Mark Leslie Rios — "Tweety" — moved on from this physical world on August 4, 2021. Anyone who knew Mark will know there is no way to sum him up in a few paragraphs. Mark was born in San Mateo on August 2, 1956 to adoptive parents, Albert Rios and Frances Janice Arresta.
Mark was raised with his four older sisters Bev, Chris, Nelda, Linda and younger brother Mike. When Mark was 17 he enlisted into the Armed Forces, serving the Army as a Combat engineer. Mark was a Patriot and proud of the brotherhood he shared. Proud to be called Veteran. He was stationed in Anchorage, Alaska. Coming home on leave in 1975 his sister Nelda brought along her friend to pick him up at the airport. That is when Mark first met the love of his life and future wife Kimberli Ann Abreu. July 10, 1976 they would marry and reside in Anchorage. 1977 they welcomed their first-born daughter Richelle Renea. They would move back to Kim's home town of Brentwood after Mark was discharged from the Army, purchasing their first home in Pittsburgh, Calif. and in 1979 welcoming their second daughter Karon Lezly.
Mark went to work for PG&E in the gas department, and in 1982 PG&E would transfer Mark to Eureka. Mark was an avid outdoorsman and he was thrilled to be moved to Humboldt County, where he could live out his dream of raising his family in the mountains. He loved the outdoor life — fishing, hunting, hiking, exploring nature and the wildlife. Later in 1999 would purchase the ranch that would pass down his legacy of mountain living.
Mark was a boy who dreamed to be a musician. Music was in his soul. He could play multiple instruments, but the drums were his passion. He had drummed for multiple bands including Raise your Hair, Loose Gravel and AKA. He built many lifelong friendships.
Family was everything to Mark. He was a role model to many children while raising Richelle and Karon. But most of all to his own nephews and nieces including James and Denise Provancha, Jeffrey Anello, Malynda Burnett, Brianna Anello and Antonia Parks. He always made clear his door was open for whatever the need. In 1998 Mark became Papa! His ultimate loves in life are his seven grandbabies, each of which carry a trait of Papa — from musicians, serving the military, fishing, love of outdoors and their quick wit! In 2010 Mark started his journey to reconnected with multiple biological family members and began building close relationships. He looked forward to every family reunion.
Mark was a book of knowledge, and many enjoyed the meaningful and deep conversations. He will be greatly missed, and this world will never be the same without him. Mark is survived by his wife Kim Rios, His daughters Richelle McClurg (Ryan), Karon Rios, Grandchildren Kayla Hansen, Cameron Reeves, Bridgette Reeves, Rylin Grow, Cayden McClurg, Renea McClurg and Jameson Leonhardt. Sisters Beverly Craig (Tom), Nelda Provancha, Sister in-law Doreen Anello (Phil), Sisters Sharee DeMaderios, Denise DeMaderios,, Sister in-law Kathy DeMaderios and many nephews, nieces and cousins. Mark is proceeded in death by his Father and Mother Albert and Francis Rios, Grandparents Raymond and Genevieve Preston, Mother in-law Norma Loughner, Brothers Michael Rios and Earnest "Butch" DeMaderios, Sisters Linda Hester and Chris Cobb. Brother in-laws Larry Anello and Michael Provancha and Nephew James Provancha.
A celebration of life will be held July 3 and 4, 2022, in Salyer.
###
The obituary above was submitted on behalf of Mark Rios' loved ones. The Lost Coast Outpost runs obituaries of Humboldt County residents at no charge. See guidelines here.