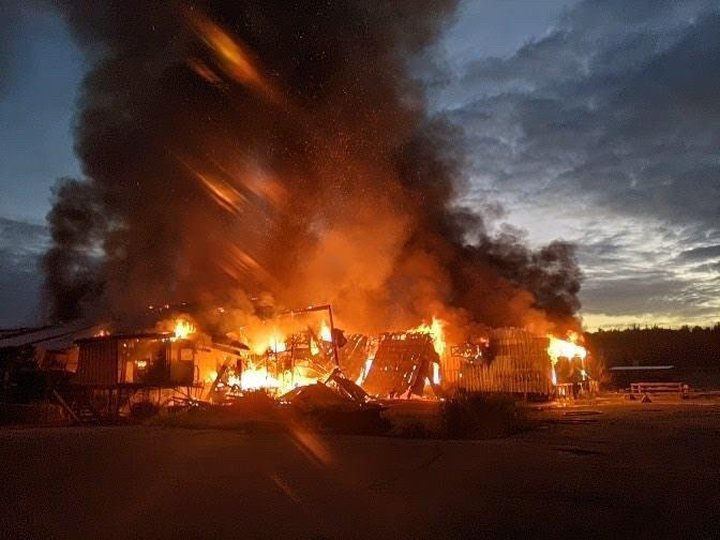 UPDATE, 1 30 p.m.:
The fire that destroyed a portion of the abandoned Manila Sawmill on the 2500 block of New Navy Base Road last night was likely sparked by smoking transients, Arcata Fire District Chief Sean Campbell told the Outpost today.
"There were a couple of transients seen about an hour before the fire at the south end of the old sawmill," Campbell said.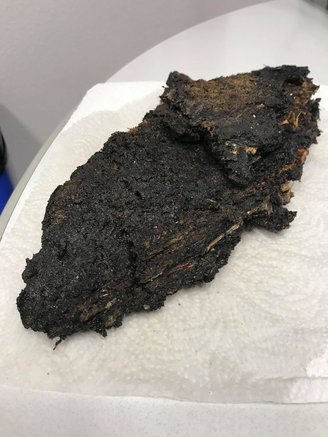 The severity of the fire was likely fueled by mounds of pitch, a crystalized form of sap, mixed in with years of sawdust still piled up on the mill floor.
"The amount of fire we had was mind boggling," Campbell said. "I couldn't figure out what was burning."
It wasn't until this morning that firefighters discovered the pitch.
"Things I thought were giant blocks of concrete last night were giant chunks, 3 to 4 feet thick, of this pitch," he said. "It smells like a Christmas tree."
Mangled metal, large pools of water and precariously dangling circuitry added to the danger.
"We were spraying 6,000 gallons of water a minute on that fire and firefighters were crawling around in knee-deep water," Campbell said. "I found one section of water this morning that was still 8 feet deep. There was a giant electrical box that was hanging from the ceiling by 1-inch conduit. That's, the kind of thing firefighters were dealing with last night."
Despite the hazards, no firefighters were injured battling the fire.
Campbell estimates that the building suffered $125,000 in damages and that $550,000 worth of property was saved. Firefighters will remain on scene as smoldering continues to be a concern due to the piles of pitch and impending winds.
###
A fire erupted at the old Sierra Pacific Mill along Highway 255 in Manila yesterday evening.
The Arcata Fire District stated last night that firefighters contained the blaze within two hours.
"Firefighters saved a lot of old growth fir by stopping forward progress," the AFD said on social media.
North Coast News reported last night that the structure is a complete loss.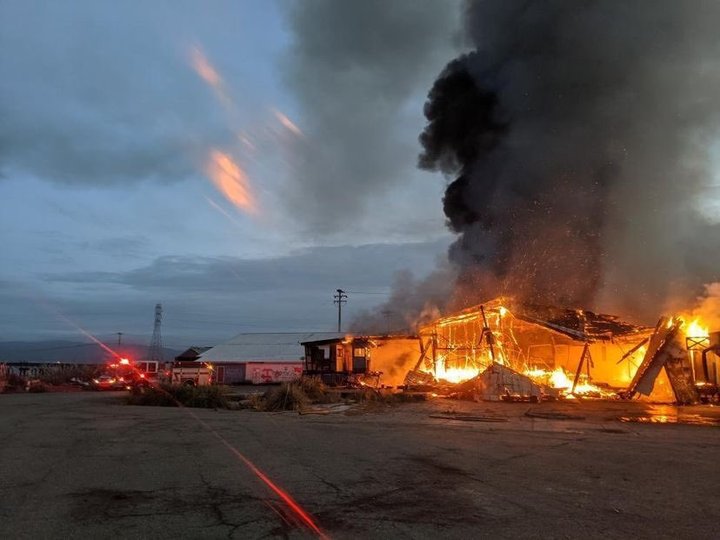 Photo by Tom Roberts.
The mill has sat abandoned since Sierra Pacific Industries announced its closure in January of 2016.

Humboldt Bay Fire, Calfire and volunteer fire departments from Samoa, Fieldbrook, Trinidad, Kneeland, Blue Lake, Fortuna, and Loleta all helped to extinguish the fire.
The fire is currently under investigation. The Outpost attempted to contact AFD Chief Sean Campbell this morning for more information, but he is currently at the scene of the fire.
More information will be provided when it is available.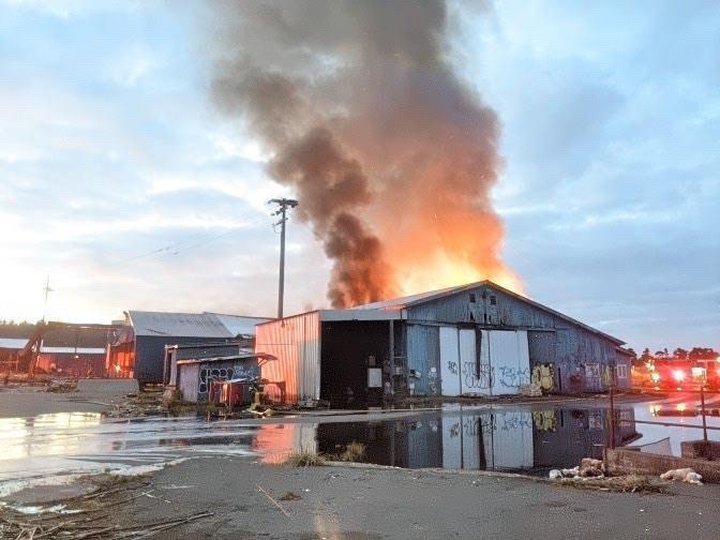 Video provided by reader Troy Woolard.