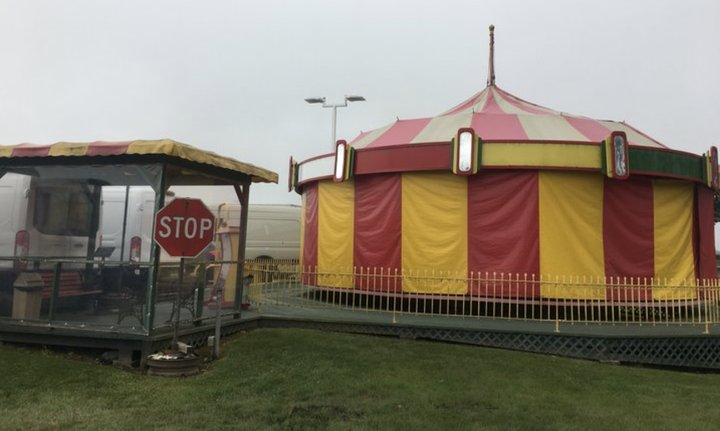 For almost three decades, beginning way back in 1991, Harper Motors' classic 1947 Allan Herchell carousel was a welcoming site on the stretch of Highway 101 between Eureka and Arcata where it long provided a useful distraction to Humboldt kids whose parents needed to direct their full focus to the tedious task of purchasing a new vehicle. Thanks to the colorful ride, many cars were sold and countless children's "whee"s were extracted.

But it's been a long time since those horsies have spun. 'Twas back in 2019, when the carousel had already sat idle for a couple years, that lot co-owner Trevor Harper told LoCO he was trying to unload the attraction due to associated insurance and maintenance costs.
"It's time to move on," Harper told the Outpost back then. "I'm just not in the amusement business."
New potential carousel homes have been discussed. For a time, there was talk that Harper might donate it to the City of Eureka to anchor a reimagined Clarke Plaza in Old Town. City officials even went so far as to draw up design proposals, but the pricey plan never materialized.
Well, good news for fans of local nostalgia can be found in today's North Coast Journal: Harper has found someone willing to accept his twirly donation. Humboldt County's only carousel has found a new home at Bear River Rancheria in Loleta.
According to Darrell Sherman, a Bear River Rancheria tribal councilmember, the carousel will soon reside next to the Bear River Recreation Center on Keiser Road. Currently it's being restored and new lights are being added so that someday, post-pandemic, parents will be able to treat their kids to an evening ride overlooking the Eel River Valley.
"I thought it was such a great opportunity, not only for the tribe but also for the community and for future generations," Sherman told the NCJ. Later in the piece, he painted a picture of the possible future joys to come.
"At seven o'clock at night, you're there and looking over the river, looking down on Ferndale and that's something that no one has ever done before and now you're enjoying a carousel ride with your loved ones at nighttime … it could potentially be a magical experience and that's where this idea and thought came from, wanting to give back to the community and provide things you could enjoy with your loved ones."
More at the NCJ here.