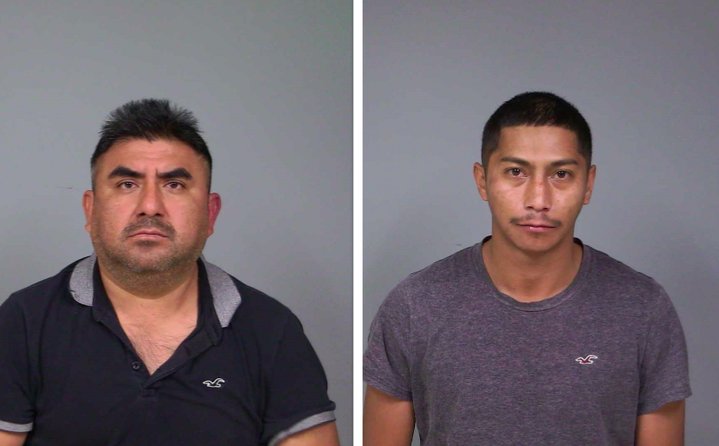 ###
Press release from the Humboldt County Drug Task Force:
In early February of 2021 the Humboldt County Drug Task Force (HCDTF) were advised that Rodrigo Moreno Rios, AKA: "Shorty" (44 years old Fortuna) was again trafficking heroin in the Eel River Valley area of Humboldt County. Agents were able to obtain Rios's new cell phone number that he was using to run his drug trafficking organization. An agent of the HCDTF, while working in an undercover capacity, called Rios posing as a new customer. Rios agreed to meet with the undercover agent at a local casino. Rios met with the agent, asked several questions, and agreed to start selling heroin to the agent.

Between Friday February 12th and Tuesday February 16th the undercover agent called Rios and ordered different quantities of heroin on three occasions. Rios negotiated weights, prices, and meeting locations with the agent and then Rios directed his runner, Alberto Evari Vielma Gonzalez (29 years old from Eureka) to meet the agent. HCDTF agents conducting surveillance watched Gonzalez take the money to his boss, Rios, after he sold heroin to the agent.

On Wednesday February 17th the undercover agent ordered a quantity of heroin to be delivered to a parking lot in the 700 block of South Fortuna Blvd. in Fortuna. When Gonzalez arrived in the parking lot a deputy from the Humboldt County Sheriff's Department (HCSO) along with officers from the Eureka Police Department (EPD) POP Team made a traffic stop on Gonzalez and detained him without incident The heroin Gonzalez was delivering was located in the vehicle.

HCDTF agents then served a search warrant at Rios residence in the 3800 block of Rohnerville Rd. in Fortuna. Rios was detained inside the house. Agents recovered the phone being used to run the drug trafficking organization in Rios possession.

Agents requested a bail increase and source of bail hearing for Rios pursuant to 1270/1275 PC. The order was approved by a Humboldt County Superior Court Judge. Rios and Gonzalez were both booked at the Humboldt County Jail for the following charges:


H&S 11351 Possession/sales of controlled substances (4 counts)
H&S 11352 Transportation of controlled substances for sale (4 counts)
PC 182 Conspiracy by two or more people to distribute heroin

HCDTF would like to thank EPD & HCSO for their assistance with this investigation. Anyone with information related to this investigation or other narcotics related crimes are encouraged to call the Humboldt County Drug Task Force at 707-267-9976.