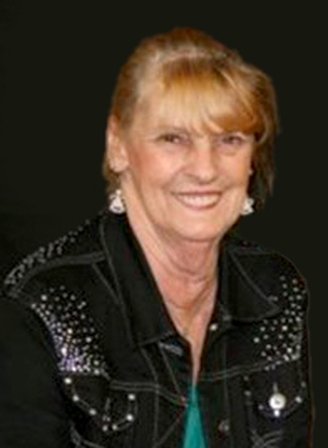 Murlene, better known as "Judy," was born on September 18, 1939 to Bruce and Gertrude McLeod. She passed away, surrounded by her family, on February 8, 2021.

Judy, and her sister Jacquie, were blessed to be raised on the McLeod Dairy in Fortuna and were always surrounded by a large and loving family. Judy enjoyed helping with chores around the dairy but loved to explore and play even more. On any given day you could find Judy riding along during milk deliveries through town, swinging from a swing her father built, climbing in trees, or begging to drive their pick-up truck in the pastures. There is a well told story of Judy nearly crashing that truck into fences on the dairy. Judy and Jacquie also really enjoyed playing with their cousin Larry Pries. He apparently had a better driving instructor than Judy, as he went on to be a successful local stockcar racer. From a young age, Judy was one of Larry's biggest fans and loved watching him race the 01 car at Redwood Acres Raceway.
Holidays were always a time when the entire McLeod family would get together. Christmas Eve was especially fun as the families would travel from house to house to open presents. Santa Claus was known to make a visit this time of year. The group would have dessert at the last home and the missing uncle or dad would always suddenly appear. The love of family and holidays would be something Judy learned and would cherish forever. This led to her creating many new traditions with her own family. Judy selflessly made sure every holiday, especially Christmas, was magical and memorable for her family. She enjoyed singing the song "Santa Claus is Coming to Town" and was diligent about making sure there were an equal number of gifts under the tree for each person. Judy would bake nearly 120 dozen cookies every year and her many generations of family would race to the freezer to get their shares as they arrived at her house on Christmas Eve.
Judy lost her mother at the age of 7. Judy felt the loss of her mother very deeply. Judy's father met and courted Ruby Biasca, after she moved down the lane from the family. The couple eventually married and the even bigger Biasca family welcomed the McLeod family with open arms. It took Judy a little longer to warm up to Ruby and the family. She was concerned that Ruby would not know the things she liked. Judy was always honest about what she thought. When Ruby cooked the first dinner and served cookies Judy did not like, her comment to this was, "Just as I thought, something I don't like." Judy eventually warmed up and it was not long before she loved Ruby and the Biasca children as family.
Judy graduated from Fortuna Elementary School in 1954 and Fortuna High School in 1958. She enjoyed going to school activities and working at the local A&W with her best friend, Barb Brashear (Robinson). After High School, Judy attended Fredrick and Charles Beauty College and began working in a beauty parlor. She began bowling around this time which continued to be a lifelong interest.
At the bowling alley in February of 1960, Judy met Jerry Meadors. Jerry was a young sailor who was stationed at the Ferndale Navy Base. They were engaged a month after their meeting and married sooner than initially planned due to Judy's father becoming ill. Judy's father was able to enjoy seeing Judy as a beautiful bride before he passed away in the fall of 1960.
Judy and Jerry spent the early years of their marriage moving from one duty assignment to another with the Navy. They lived in Bakersfield, California, where their first daughter, Tami, was born in 1961. Over the next two years, they moved to Pacific Beach, Washington, Ocean Beach, California and finally to Seattle, where there second daughter, Kathy, was born in 1963. Over the next seven years they moved to Adak, Alaska, Bermuda, Key West, Florida and then back to the San Diego in 1970, where their third daughter Teresa was born. Judy made many friends during her travels and was known for baking pies and cookies for the servicemen. Judy enjoyed her travels, but her heart was always with her family in Fortuna. The family moved back to Fortuna when Jerry retired from the Navy in 1976.
Judy was a loving homemaker for a large portion of her life, but also worked several jobs in the Fortuna and Eureka areas. She worked at Ben Franklin's for nine years and loved spending her days laughing with her co-workers and good friends. She also worked at Kmart for over 19 years, where her co-workers became her "Kmart family".
In 1982, Judy welcomed her first granddaughter, Jenifer. She was thrilled to be a grandmother and was beyond excited to see her family grow over the next few years with the birth of her other 5 grandchildren: Stacy, Chris, Derrick, Alyssa, and Samantha. Her grandchildren would often run into people around town who would know all about them because Judy would love to share stories and pictures about each one of them.
Judy and Jerry divorced in 1990. In 1993, while having a drink and visiting with friends at the Angelina Inn, Judy met the handsome Tony Michelet. They had many common interests and hit it off immediately. Tony and Judy began dating soon after their meeting and were married later that year. Over the years, Judy and Tony enjoyed visiting with friends at the Ivanhoe, Playroom and Parlato's. Judy especially liked to line dance and loved to dress up in her Western style clothes, boots, and jewelry. Tony and Judy also loved to spend time at the Ambrosini Ranch at Bear River. Judy will be very missed, especially by her husband Tony, who described her as "the most wonderful woman."
Judy's daughters often joked that each of them was her favorite. Truth be told Judy's favorites were her great grandchildren. She loved Kelton, Amara, Ryker, Kinley, Annaleigh, Remi, Gunnar, Sawyer, and Axton with everything she had. You would often find Judy watching them scramble for pennies at the rodeo events, hiding her eyes while they competed in wrestling, or cheering for them from her scooter at the soccer and football fields. She shared her love for agate hunting with them and was happy to be able to spend time at the beach any chance she could get.
Judy was preceded in death by her father Bruce, her mothers Gertrude and Ruby, her daughter Teresa, and her cousin Larry. She is survived by her husband, Tony Michelet, her daughters; Tami (Tom) Trent, Kathy (Scott) Rexford, her grandchildren; Jenifer (JD) Braud, Stacy Hanson (Shawn Sopoaga), Chris Craps, Derrick Craps, Alyssa Craps and Samantha (Michael) Cardoza, her great grandchildren; Alamea Sopoaga, Kelton Braud, Amara Craps, Ryker Braud, Kinley Braud, Annaleigh Craps, Remi Craps, Gunnar Sopoaga, Sawyer Cardoza, Axton Sopoaga and Baby Boy Cardoza due in August. She also leaves behind her sister and brother-in-law, Jacquie and Dale Callihan, nieces and nephews, Mike, Dana, Brenda, Lisa and their families, along with many other extended family members and friends whom she loved deeply.
###
The obituary above was submitted on behalf of Judy Michelet's loved ones. The Lost Coast Outpost runs obituaries of Humboldt County residents at no charge. See guidelines here.