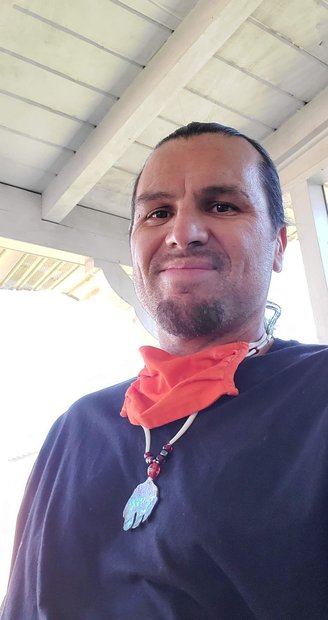 Nikki Dion Metcalf
July 19, 1980 - Feb. 10, 2021
Nikki Dion Metcalf was born to Barry Newton Metcalf and Sandra Dean Keisner on July 19, 1980, in Eureka, CA. Nikk had two biological children Barry Metcalf and Virginia Truby-Metcalf. He was engaged to Margarette Moon. Margarette Moon had three children Shelly, Chloe and Bubba, Nikk accepted them as if they were his own. It came naturally to Nikk to be a protective and caring father to all five of his children.
After Nikk's Dad tragically passed just before Nikk's thirteenth birthday he was on a mission or a path of destruction. Nikk often times showed no fear. He would fight or box with the biggest guy. He would wade in to the ocean far away from shore only to look further out until something from the shore drew him back in as if the ocean spit him out. He would climb trees to the highest large branch so he could sit at the top and gaze at the view. At one time in his life the path of destruction progressed further and he went along for a ride that landed him in a situation that he never thought would happen. For that reason, Nikk was away from his family for a period of time.
After being away from his family and friends for many years his focus coming back was on building or mending relationships. Once Nikk considered you family he would go to the end of the earth for you. Nikk was very accepting of others he saw past people's character defects. He prided himself on not passing judgment. He once wrote, "I don't want others to pass judgment on me for my past so I will go out of my way to see past others flaws and defects". He was dedicated to making a better life. He wanted to live peacefully amongst those who loved him. He wanted to give back to his community. He wanted to be example for all the children of his community.
Nikk graduated from college with a 4.0 and an associate's degree with a plan to advance in social work at HSU. He recently gained a facilitator certificate. His family learned the week of his passing that he had been asked to be the AOD counselor at Bear River. He was also working in maintenance. He was giving 200% to help others in all areas of his life.
Nikk was not materialistic. It wasn't about money to Nikk it was about spending quality time with family and friends. He would give the shirt off his back for another person, his family saw him do exactly that more than a few times, usually for children sometimes his own other times for someone else's. He loved dogs and they loved him. He was the only person that could come in to his friends' homes without their dogs barking. Nikk loved children and animals. He was able to communicate with people and animals on a spiritual level. Sometimes with just a hand signal he was telling someone he loves them and that he gets what they are going through. He had a hand signal that he shared with his God daughter Jordan Tripp. Jordan's parents Hector and Rhonda Tripp are also broken about the loss of a very loyal friend.
Nikk was compassionate, understanding, loving, kind, gentle and funny. He was really quite comical at times, he loved doing impressions sometimes poking fun at other people attempting to make a tough situation lighter. He frequently did this poking of fun at his own expense. He loved people and people loved him. Nikk loved playing basketball and football. His favorite football team was 49ers. He liked to play cards specifically poker.
Nikk was spiritual. He participated in sweats regularly. He would sing and pray. He most often was praying for his family and friends. We lost an amazing person. He was loved by many and he will be missed.
Thank you to Dawnetta and Tina Carpenter who hosted a fire at their home in remembrance of Nikki Metcalf, Margarette Moon and Shelly Moon. Thank you to Derek for leading us in an opening song while his son Barry Metcalf lit the fire. Thank you to Dawnetta, Tina, Derek, Orlando and James for manning the fire round the clock rain or shine. Thank you to Linda and Catherine for providing meals and snacks at the fire and for the family. Thank you to Bear River Social Services, Two Feathers, Sparky, Lil Kenny, Jack, James, Ruthie, Nicole, Hank and countless others. Thank you for providing a neutral location where many memories of Nikk, Margarette and Shelly were shared.
Nikk had siblings that loved him very much including Lucan, Rhoda, Alisha, Eddie, Troy, Bear, and Karen. His Grandparents Bert and Bonnie Metcalf who adored him. He had many Aunts and Uncles including Uncle Ben, Uncle Brent, Auntie Rhoda, Auntie Arlys, Auntie Jewel, many cousins, nieces and nephews. Nikk had a lot of friends and acquaintances including Jerimiah, Ray Ray, Derek, Dave, Kelsey, Kylee, Hector, Rhonda and countless others.
Nikk met Margarette last year and he asked her to marry him around Christmas time. They were planning their wedding for July 7, 2021. Unfortunately, Nikk, Magarette and Shelly were taken from us. Family and friends please join us at Bear River Recreation Center for a celebration of life for Nikk Metcalf, Margarette Moon and Shelly Moon Friday, Feb 26 at 10 a.m.
###
The obituary above was submitted on behalf of Nikki Metcalf's loved ones. The Lost Coast Outpost runs obituaries of Humboldt County residents at no charge. See guidelines here.