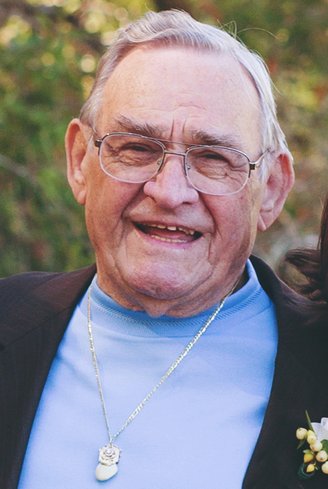 Marlin Paul "Mike" Larkin passed away peacefully in Eureka at age 92 on January 20, 2021, due to a massive stroke suffered the day before. Mike was born on April 17, 1928, in a farmhouse near the rural community of Bellfountain, Oregon (west side Willamette Valley between Corvallis and Eugene), to Delmar Larkin and Rowena Redmond. He attended various rural one-room school houses (one year riding a horse to school) and high school in Monroe, where he was a sports letterman. Mike was raised on a small dairy farm where, among many chores, he milked cows twice a day by hand (before and after school) and helped deliver bottled raw milk to local customers. He taught himself to play the guitar "sitting in the outhouse" and enjoyed shooting firearms on the open farmlands.

Mike left the farm chores (swearing to never milk another cow) and high school at his 18th birthday in 1946 and joined the Navy. He served with the WWII Navy occupation forces as a storekeeper on the gasoline tanker USS Elkhorn. His ship plied the large river waters of China and coastal ports there and in Japan, Korea, and on many Pacific islands delivering diesel fuel and gasoline supplies. He told stories of exploring Japanese wartime battle emplacements and caves on various Pacific islands, and he brought home a few war-related souvenirs. In late 1947, when his ship had returned from overseas and was moored in Long Beach, Mike was privileged to witness the only flight of Howard Hughes' massive "Spruce Goose" flying boat transport aircraft. Mike returned home from Navy service in 1948 happy that the dairy farm had been sold. Later, during the Korean conflict, he joined the Air Force Reserve but was not called to active duty. He participated in one of the first area WWII Veteran Honor Flights to Washington, D.C., in 2011. Mike was proud of his county and of his service to his country, and he flew the American flag at home for over 40 years.
After returning from the Navy, Mike lived with his parents in Lebanon, Oregon, and found work in a local sawmill. In Lebanon, he met Elizabeth Ann Blazer, and they were married later in 1948 (last September, Mike and Liz celebrated 72 years of marriage). A few years later, Mike was working as a bookkeeper, and the family was five with Dan (1949), Jan (1952), and Jeff (1953). In early 1956, with the encouragement of a close cousin, Mike came to Eureka looking for better work/wage opportunities. He soon found a good job with the local Caterpillar dealer, Brizard Matthews, and he moved his family to the Cutten Ridgewood Heights area of Eureka where the rents were low. Mike worked in the parts department where his earlier experiences with storekeeping and bookkeeping were put to good use. Later he was promoted to Parts Representative where, for many years, he travelled the backroads of Humboldt, Del Norte, and Trinity Counties serving construction and logging job site needs for Caterpillar equipment. Mike liked to tell the 1964 flood story of his being the second vehicle behind a PG&E truck in a convoy following a crawler tractor pushing debris aside bringing the first needed supplies via land into Scotia over the Blue Slide Road from Ferndale. After 20 years with Brizard Matthews, Mike partnered with two friends to run B&T Auto Wreckers in Arcata. Several years later, Mike took advantage of a better job opportunity becoming the Purchasing Agent for Arcata Redwood, a job he truly enjoyed, where he stayed until his retirement at age 67 in 1995.
Mike earned his private pilot's license in 1948 and enjoyed flying small aircraft like Aeronca, Ercoupe, Piper, and Stinson for several years around the Willamette Valley. After some forced landings in farmers' fields following aerobatic maneuvers, Mike's fun was tempered by the reality of safety and family responsibilities. The high cost of operating the aircraft certainly also influenced his decision to stop his piloting experiences. Mike always retained his love of aircraft, and never passed on an opportunity to read a flying book or to visit an airport. He even once managed to get a ride on the Goodyear blimp. Mike was very active in family genealogy research, and, especially in the 1960s/1970s, he made significant inroads into his extensive family history in the United States and earlier. Mike was descended from pre-Gold Rush Oregon settlers, from numerous Revolutionary War and Civil War soldiers, and from three Pilgrim families arriving on the Mayflower in 1620. All his life, Mike enjoyed working on, shooting, collecting, and discussing firearms with friends. His father presented Mike with his first hunting shotgun at age 8, he shot trap with the Eel River Trap and Gun Club for many years, he built an extensive personal collection of military arms (he was nationally-known in his specialty), and, for decades, he spent his Saturday mornings at Grundman's in Rio Dell working on firearms and sharing good times with friends. He liked professional wrestling and attended many bouts when the wresting circuit visited Eureka in the 1950s/1960s – later, he watched bouts on the television. Mike also volunteered with the Humboldt County Sheriff's Posse between the late 1960s and early 1980s participating in various law enforcement and search and rescue operations in the backwoods of Humboldt County. He played the guitar for personal enjoyment all his life until physical limitations intervened in the last few years. Mike was a proud Elk member for almost 70 years, supported the American Legion, and an NRA Life Member.
Mike loved a good joke, and he was blessed with a comedian's memory where he could tell them for hours on end. His fond sayings such as "finer than a frog's hair", "keep a cool stool", "that's marvy", and others permeated his personal interactions. He was a life of the party, he liked people, and people liked him. Over the past several years as his memory faded and his physical abilities lessened, Mike enjoyed the solitude of home and the many re-runs of old programs on cable television. Family visitations always brightened his day.
Mike was preceded in death by his father and mother, his brother Jim, and his nieces Suzanne Trask Kruger and Shelby Trask Peters. He is survived by his wife Elizabeth; children Daniel (Diane), Jan Glenn Belarde (George), and Jeffrey; sister Patsy Trask Ross; nephew Delmar Trask (Candace); grandchildren Rebecca Glenn Del Grande (Mike), Jennifer Glenn Montgomery (Mark), Katie Larkin, Julie Larkin Rosengrant (Andre), Hannah Larkin Gossi (Jared), Emily Larkin Jewell (Brandon), Jason Trujillo (Kelle), and Sara Trujillo Morri (Maurice); great-grandchildren Hailey Del Grande, Alyssa Del Grande, Hayden Montgomery, Morgan Montgomery, Alexis Trujillo, Gabrielle Trujillo, Macy Kibbish, Hayden Morri, and Madelyn Morri.
We, the above listed children, grandchildren, and great-grandchildren of Marlin, would like to thank our mother/grandmother Elizabeth for the wonderful care she has given to our father/grandfather for the past ten years.
Memorial contributions can be made to dementia research or to a favorite charity.
###
The obituary above was submitted on behalf of Mike Larkin's loved ones. The Lost Coast Outpost runs obituaries of Humboldt County residents at no charge. See guidelines here.