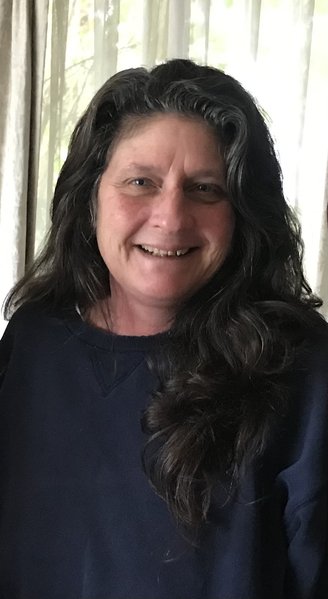 Kimberly Kay Clifton-Matthews, age 52 of Eureka, died at her home on January 26, 2021. She was born in Burbank to Willie Ray Clifton and Kathleen Timm–Pearl. When Kimberly was around three years of age her parents divorced and remarried other people. Kimberly was seventh in line out of 10 children – five girls and five boys a mix of biological and stepsiblings from the combined families. She grew up in Covina and attended Charter Oak High School. She lived next to an avocado orchard – she and her siblings used to pick and sell avocados on Covina Boulevard for 10 cents each. She spent many afternoon's in the Southern California sun, swimming in the pool and playing Marco Polo with her siblings.

Kimberly was a tomboy growing up — wherever her brothers were, that's where she wanted to be. Kimberly played t-ball and soft ball as a sport. She enjoyed spending time with her family and friends going roller skating, riding bikes, playing hide and seek, playing horse and pig (basketball), riding the Zipper at the fair. Seventies rock and roll was her favorite type of music. Kimberly enjoyed having her hair brushed and was meticulous about her clothes and shoes matching.
What Kimberly wanted most in this life was to be a loving mother and wife, but sadly due to suffering from mental illness beginning in her late teenage years this was taken from her. Kimberly married Brian Matthews shortly after high school and started their family in 1986. Shortly after having her first child is when signs of mental health issues appeared in Kimberly's life. Since her mother had moved to Eureka, Kimberly decided to follow and relocated her family to Humboldt County in 1993 to be closer to her mother for support.
Kimberly blessed this world with seven beautiful children – six girls and one boy. Thankfully, her children were adopted into loving homes through local social services and recently after being estranged from Kimberly and each other they all were reunited. They showed Kimberly love and grace and welcomed her into their lives. Despite all of the hurdles keeping them apart over the years, countless hours of searching, and determination reunited them. Although it was only for a short period of time, Kimberly was reunited with her children. It helped to mend her broken heart and filled her life with joy that we will forever be grateful for.
Due to Kimberly's disability she did not have a professional career or do a lot in the community. She did, however, bring a lot of smiles and joy to those who did work in the community and who knew and interacted with her. She would always try to treat people kindly, with respect, and used good manners. She was a sweet, loving, gentle, soul and despite not having much money to her name she would always offer to buy you lunch or give you gas money if you helped her out.
Kimberly is survived by her mother Kathleen and stepfather Charles. Sisters: Teresa, Suzie (Harold), Kathryn. Brothers: William, Charles (Rosemary), James, Allen and Jason. Children: Amanda (Josh), Krista, Anna, Jonathan, Jaime, Michelle', and Mackenzie. Grandchildren: Cody, Carter, Savannah, Josh Jr, Kiera, Kameron, Mercedes, Lincoln, and soon to be Kynlee. Nieces and Nephews: Grace, Krysteena, Savannah, Zach, Keshawna, Leah, Brandon, Summer, Beth, Dennis, Kayleen, William, Chris, Alicia, Charles, Timothy, John Paul and Katie. By aunts, uncles, cousins, as well as several great-nieces and nephews.
She is preceded in death by Grandparents: Ed and Lilly Dell Clifton, Harold and Eleanor Timm, parents Willie and Jane Clifton, her Sister Cindy Clifton, her Nephew Buddy Fife, Ex-Husband Brian Matthews, and Sister-in-law Veronica "Jo" Cox-Clifton.
Due to the current situation with COVID-19 we will not be hosting services at this time. Arrangements are being made through Humboldt cremation services and in lieu of flowers donations can be made in Kimberly's memory to Humboldt County Mental Health, 720 Wood Street, Eureka, CA, 95501.
###
The obituary above was submitted on behalf of Kimberly Clifton-Matthews' loved ones. The Lost Coast Outpost runs obituaries of Humboldt County residents at no charge. See guidelines here.