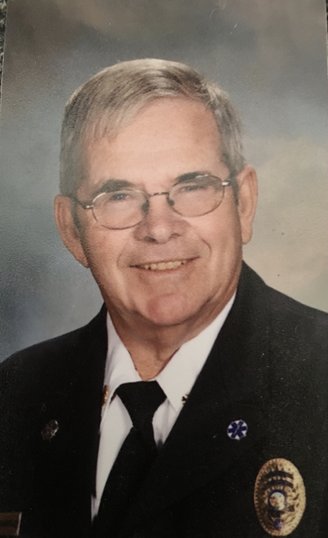 Robert Charles Durfee, 79, of Fairhaven, passed away on January 16, 2021, surrounded by his family, after a valiant fight against Alzheimer's. He was born to Bradford and Agnes Durfee on June 9, 1941, in Fall River, Massachusetts.

Bob attended school in Fall River, graduating from Durfee High School in 1959. He had joined the Navy prior to his graduation and upon completion of his basic training, became the sailor who never set foot on a ship, working on heavy equipment as a "Sea-Bee" with duty stations in Port Huaneme and Okinawa, before ending his Naval career at Centerville Naval Base in Ferndale. Upon his discharge in 1963, he remained in Fortuna, moving his heavy equipment experience to Pacific Lumber Company. Shortly thereafter, he met the love of his life, Ellen Hines, and they were married on December 20, 1964, at the height of the 1964 Flood. The family at home were sure that the newlyweds had been lost to the floodwaters, but instead they were spending a memorable honeymoon bunking with other refugees near Benbow.
Bob went to work for the City of Fortuna in the Water Department and soon became a volunteer firefighter, working his way to the rank of Captain. He also took on the management of the Fire Department's Roller Skating rink, which he continued until 1986 when FFD Skating transitioned to the management of the City.
Bob and Ellen's married life took a calmer turn after their exciting honeymoon, and they welcomed two daughters to their family — Beth, in February 1966, and Wendy, in November 1968. Bob became an integral part of Ellen's large family, and they also traveled with the girls frequently to the East Coast to visit Bob's parents and extended family in Massachusetts.
In September 1977, Bob entered professional fire service, as Assistant Fire Chief for the Fairhaven Fire Department, serving the pulp mills on the Samoa Peninsula. He served as an active member of the Humboldt County Fire Prevention Officers and the Arson Task Force. He retired from the then named Samoa Peninsula Fire in 1996, but continued as a volunteer Chief for several more years. In 1999, he went to work for Hydesville Water Department and re-joined the Fortuna Fire Department as a volunteer.
In addition to his time with his family and his dedication to his work, Bob spent twenty years obtaining his Associates' degree from College of the Redwoods, usually one class at a time, graduating in June 1991. He also continued his professional education with stints at the Fire Academy in Emmitsburg, Maryland and Asilomar in Monterey, California.
Bob was the nicest, friendliest guy you could ever want to meet, and his involvement in so many organizations made him many friends in his community. He was a member of the Elks Lodge, joining only after he could be a fully participating member; Humboldt Ski Club' and The Humboldt County Stamp Club. He was regular donor to the Northern California Community Blood Bank, with lifetime donations in excess of twenty gallons. Bob was also an active participant in all of Ellen's multiple Board organizations, helping anywhere he could, be it setting up tables for meetings or putting stamps on mailings.
In 2018, Bob joined one more organization, Humboldt Alzheimer's Association. He was diagnosed with this insidious disease in 2016 and, as always, stepped up to do what he could. Bob became a spokesperson for Humboldt's Walk to End Alzheimer's. He spoke up in hopes that others would as well; his message was that the more people admitted their own diagnosis and acknowledged the severity of this health crisis, the more likely that funding could be made available to find a cure. He always understood that his efforts were not going to help him, but were undertaken to help others. To this end, he also testified before the State Assembly Health Committee in support of a bill to finance more research into finding a cure for Alzheimer's. His perspective was always, 'Why not me?', in a battle that so many others are also embroiled in every day. Bob also attempted to participate in drug trials, but his own disease process and his remote location in Humboldt County ultimately made that impossible.
In the last months of 2020, Bob's condition had worsened to the point that Hospice of Humboldt came into the picture. The Durfees had long had an association with Hospice, as Ellen was on that Board of Directors for 11 years. This organization soon demonstrated why that had been a worthwhile choice in the amazing care and assistance they provided in the last month of Bob's life. The nurses, aides, and counselors—both social and spiritual—were a Godsend, to Bob, and to the rest of the family as well. They were able to help keep him comfortable while also preparing the rest of the family for the imminent. His nurse, Christy, was able to identify that his days were drawing to a close, allowing Beth and Wendy to be present with Ellen, and two of his grandchildren, as he finally slipped to a more peaceful rest.
Bob was preceded in death by his parents; his brother, Bradford Durfee, father-in-law, Ernest Hines, brother-in-law, Randy Hines, and his son-in-law, Tracy Collins. He leaves behind his wife and best friend of 57 years, Ellen; his daughter and son-in-law, Beth Ellyn & James Harville; his daughter, Wendy Sue Collins; grandchildren, Nathaniel Grow, Ryan Truby & wife Kaylee, Hollyn Harville, and Jackson Harville; great-grand daughters, Baylee Sue Grow and (soon-to-arrive) baby girl Truby; mother-in-law, Vivienne Hines-Betz; brothers-in-law, Ben Hines & wife Judy, Craig Hines & partner Shelley, and Joe Hines; numerous nieces, nephews, and cousins, by both blood and marriage; as well as many other family members and dear friends.
At this time, services will be deferred until the people who loved and were loved by Bob can gather in a fitting fashion. In the meantime, the family would be honored by donations in Bob's name to the Humboldt County Walk to End Alzheimer's, Hospice of Humboldt, Fortuna Fire Department or Samoa Peninsula Fire Department.
###
The obituary above was submitted on behalf of Bob Durfee's loved ones. The Lost Coast Outpost runs obituaries of Humboldt County residents at no charge. See guidelines here.