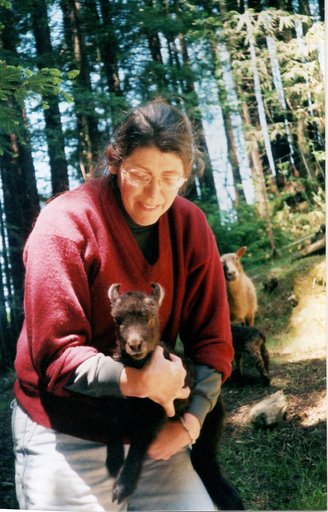 In loving memory of Kathleen Capps, who lost her battle with kidney disease at the age of seventy-two, two days after Christmas 2020.
Kathleen grew up in Half Moon Bay, California with her older sister and younger brother, a few blocks from the Pacific Ocean. Her childhood was mostly spent between the outdoors, with her father's extensive, Portuguese family in Los Banos, and reading a LOT of books. From an early age, she decided upon a career as a writer. Her first piece was published when she was a senior in High School, a poem titled "Light." The pursuit of writing led Kathleen to academia, and Humboldt State University, where she met John, her first husband. Kathleen and John had two children, Jeremy and Abby, settling in Jacoby Creek, on a cabin and fifteen acres of redwood trees, with the plan to raise goats. Kathleen fell in love with the land, but the marriage was not long lasting, and she craved a return to return to school, so went back to attending HSU, and living in Arcata. After she received her B.A. in English in 1978, and a couple years spent studying for an M.A. in Monmouth, Oregon, Kathleen purchased the land in Jacoby Creek, and moved back out to the cabin and woods she loved.
Kathleen was slowly going blind and losing her hearing, which meant learning braille and sign language, Fiercely independent, and not wanting to be treated as "disabled", Kathleen still did as much as she could. She even was able to drive a car for a few years, equipped with low vision glasses that had mini-telescopes. She purchased a VW Bug from Roger's Garage, across from Jacoby Creek Elementary school in Bayside, and drove back to visit her parents in Half Moon Bay for Thanksgiving 1981. The trip was slightly marred by a dramatic mechanical failure in the middle of crossing the Golden Gate bridge. Despite her vision loss, Kathleen was an avid photographer, joking that she could not see, but the camera could. She would take on carpentry projects, even building additional rooms onto the Jacoby Creek cabin, and refinished antique furniture, stashing bits of wood in all corners for "future projects". Kathleen also loved the visual arts, trying her hand at bronze sculpture, as well as acrylic on canvas, and filled many sketchbooks with ink and charcoal.
In 1986, Kathleen received her M.A. from HSU, and spent a few years working on novels, poems, and short stories at the cabin. Craving the Ivory Tower, Kathleen moved to Eugene, OR, and dove into the study of semiotics, especially the connection between the poetry of Ezra Pound and the art of Pablo Picasso. After receiving her PhD in Literature from the University of Oregon in 1998, now almost completely deaf and blind, Kathleen moved back to the cabin at Jacoby Creek, this time to raise Icelandic sheep.
She spent most of her last years with 20 sheep, spinning and knitting their wool in Jacoby Creek, until her age and health dictated she move into Arcata, late 2016. Kathleen could not bear to be parted from her last lamb born in Jacoby Creek, Bummer, so named as he was rejected by his mother, so kept him in the backyard of her Arcata house until she passed.
Kathleen is survived by her sister Sylvia, her brother Paul, and her children, Jeremy and Abby. Donations in her memory can be made to Shannon Miranda's in Fortuna, now caring for Bummer (link here), or PACE, the organization that helps seniors live in their own home as long as they can (at this link).
###
The obituary above was submitted on behalf of Kathleen Capps' loved ones. The Lost Coast Outpost runs obituaries of Humboldt County residents at no charge. See guidelines here.