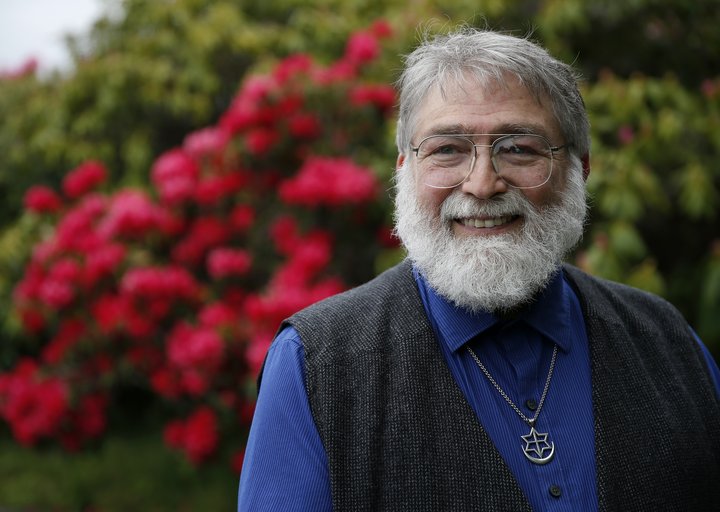 Scott Sattler, MD dedicated his life to following his "path with heart". He was a loving brother, husband, father and "Opa"; a care provider, educator and patient advocate; a spiritual leader and choir director in the local and global Universal Sufi community; a private pilot, writer and citizen of the world. In both his personal and professional lives, Scott was a force of life, energy and wisdom and a human of great compassion and curiosity. Profoundly open-hearted and kind, he had the ability to connect with people effortlessly. He loved to make others laugh through sharing puns, stories and jokes.
Born in McKeesport, Pennsylvania on September 27, 1946, Scott grew up as the youngest of three sons on a farm in Tiffin, Ohio. He attended Columbian High School and spent the summer of 1963 in Turkey as an AFS exchange student. Following high school, he studied at Ohio Wesleyan University where he triple-majored in German, pre-med and chemistry, with honors. His passion for human relationships and service and deep awe of human physiology ultimately led him to pursue a career as a physician and he moved to California in 1968 to attend the Stanford University School of Medicine.
Scott frequently hitchhiked across California and the United States during medical school and his internship at Santa Clara Valley Medical Center in San Jose, telling friends and family that it was something he "just needed to do from time to time". He would leave the Bay Area with only a few dollars, his parlor magic skills and his insatiable appetite for exploration, wondering where the universe would take him. In the spring of 1973 he caught a ride from a local man, Jerry McManus, on Highway 96. A few magic tricks earned him an invitation to stay the night with Jerry's family, a tour of the local hospital, and a one-week job offer that became an eight-year position at the Humboldt Medical Center-Hoopa. He served the Hoopa community as the Chief of Staff and Director of the Emergency Room. The combination of an isolated rural practice setting and access to specialists "in town" on the rotary phone launched Scott's career as a full-spectrum family doctor. He learned to care for patients who were in all stages of life - from birth through death. He did so with attunement to each individual's physical, emotional and spiritual health and needs. He delivered babies, managed diabetes, treated depression, resuscitated people after traumatic accidents and eventually felt capable of triaging and stabilizing most anyone who came through the door of the clinic or Emergency Room (ER). During his tenure he also designed and taught the first EMT class in Humboldt County and created and distributed an ER protocol manual for rural hospital ERs in Northern California. Scott brought his girlfriend and Registered Nurse, Kathy Schettino, along with him to Hoopa to help and they spent the rest of their careers working alongside each other. They built and got married at their geodesic dome house in 1979, nestled up on a hill overlooking the Hoopa Valley.
Scott and Kathy moved "to town" in 1982 when Scott accepted a position at Eureka Family Practice (1982-2004). He was a quintessential family doc who was guided by his personal mantra: "the secret to caring for patients is caring for patients". His calming presence and thoughtful, selfless care brought comfort and improved the health and wellbeing of countless members of our community. During this time, among other distinctions, he was on the Board of Directors at The General Hospital in Eureka (1983-85), founded the Bioethics Committee at St. Joseph Hospital (1984), was certified as an Aviation Medical Examiner for the Federal Aviation Administration (1987-2004), and served as Chief of Staff at St. Joseph Hospital (1989-91). Scott created and hosted a local cable television show called "Doc-in-the-Box," a medical information program where he invited guests to present various topics and answered medical questions on-air for the general public (1995-2004). Passionate about reproductive rights, he was a volunteer member on the Six Rivers Planned Parenthood Clergy for Choice Committee from 2006 until he passed. After retirement, Scott and Kathy volunteered at Hospitalito Atitlan in Guatemala (2006 and 2007) and worked at the student health clinic at Humboldt State University (2009-14). Starting in 2014, they coordinated a rural primary care program for Stanford medical students on their family medicine core clerkship and enjoyed hosting and mentoring dozens of students in their home.
Scott's love of Humboldt County's natural beauty and community was one of his favorite sources of inspiration. Scott served as a volunteer with a number of local entities throughout his 47 years in Humboldt County, including Planned Parenthood and the Area 1 Agency on Aging. He was a regular contributor to the editorial section of the monthly Humboldt-Del Norte Medical Society newsletter both while practicing and in retirement. He was a Paul Harris Fellow with the Rotary Club of Eureka (1985-2003). Being an avid punster, he helped revive the infamous Humboldt County pun-off as a fundraiser for Humboldt Connections and other local non-profits. He was the reigning champion for several years. Scott also enjoyed dressing up as Santa Claus for the annual "Lunch with Santa" gathering for local children at the Eureka Inn.
Soon after he and Kathy moved to Eureka they had their first daughter, Amelia (1982). A few years later they welcomed their second daughter, Shanti (1985). Adamant that his girls also see themselves as citizens of the world, they took many trips across the country and internationally as a family - including a few in his Cessna 182. They also hosted many travelers, including welcoming Irem Almac, their "Turkish daughter", into their home for a year in 1992 and into their lives forever.
One of Scott's core beliefs was that he was a spiritual being on a human path. He was a Universal Sufi practitioner, holding the title of Murshid, meaning "spiritual guide", the highest level of teacher in the lineage. Scott traveled, taught and sang around the world, and was especially known and loved for his work directing Sufi choirs. His students and companions have shared many stories of life-changing healings and transformation.
Scott passed away peacefully from complications of his advancing cancer at St. Joseph Hospital in Eureka on the morning of Wednesday, January 13th surrounded by love and song. He is sorely missed. His family wishes to thank Drs. John Albertini, Kusum Stokes, Caroline Connor and the staff at St. Joseph Hospital for their compassionate care and loving kindness. There will be a virtual memorial held in honor of Scott later this year.
Scott was predeceased by his parents Bea and Charles Sattler and his oldest brother Charles "Sam" Sattler. He is survived by his wife Kathy Sattler of Eureka, his older brother Steve Sattler of Delaware, Ohio, his daughters Amelia and Shanti Sattler, their husbands Chris Kundinger and Gabriel Talavera, and his grandchildren Elliot, Naia, Amina and Lucía.
Memorial contributions may be made to The Humboldt County Library, Food For People: The Food Bank for Humboldt County, Planned Parenthood - Eureka Health Center.
A Prayer Beyond
I am Truth beyond Reason, I am Knowing beyond Thought.
I am Grace beyond Effort, I am Strength beyond Force.
I am Love beyond All Expectation.
I am Peace beyond Time, I am Love in Motion.
I am Life Divine.
— Daniel Rhiger
###
The obituary above was submitted on behalf of Scott Sattler's loved ones. The Lost Coast Outpost runs obituaries of Humboldt County residents at no charge. See guidelines here.