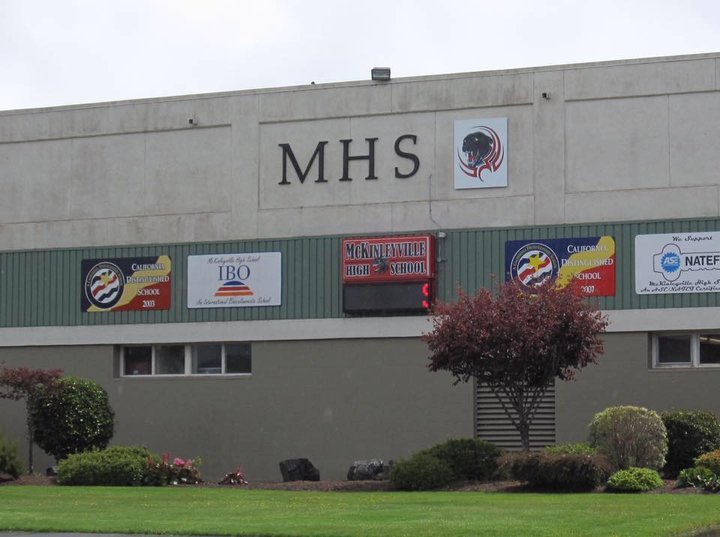 ###
In acknowledgement of what BIPOC students and families face inside and outside local education systems, McKinleyville High School Principal Nic Collart recently circulated a letter sharing what the school is doing to understand and amend systemic racism.
"We understand that racism and its impact on our systems and institutions is not an issue specific to MHS, but we recognize our role in it and our responsibility to make change," Collart wrote.
Specifically, Collart shared that the school is working to identify what needs to change in curricula, policy and procedures, as well as implementing staff training. The foundation of these plans was largely gleaned from listening sessions, Collart said, during which current and former BIPOC students and their families shared their experiences at MHS.
"Their sharing has both saddened and had a profound impact on me as both a member of our community as well as in my role as principal, for it is clear, from these listening sessions, that our school has not always provided a safe, nurturing and empowering environment for our BIPOC students, and this must change," Collart wrote.
During a call with the Outpost, Collart specified that there have been times when BIPOC students haven't felt supported by the school following a racist comment or action. "It may have been a specific incident, it may have been that something wasn't addressed that needed to be addressed in the moment and instead it just kind of, you know, it was left hanging there," he said. It's come to his attention that there are "times where there are microaggressions that occur in a classroom that we don't even notice," Collart added. "The student feels the impact yet nothing is done."
The school is reevaluating or clarifying policies and procedures to improve the way MHS addresses instances like these, Collart said. "I think it's making sure we understand what occurred, and then taking steps to hold the person accountable," he said. Some incidents may lead to suspension. In terms of addressing microaggressions, "our goal is always going to be to follow up, work to make sure that we understand the impact on the victim, and then hold the person who perpetrated it accountable. And I think that then we can hopefully help both of them move forward."
Another primary step highlighted by these listening sessions has been diversifying curriculum, Collart said. The school is working toward "making sure that all of our students, no matter their culture, their background, their ethnicity can see themselves in the books that we read, can be empowered by the lessons that we teach," Collart said. "That's something that we have as a long-term goal, is how do we find a process to really examine our curriculum with, with the lens of race and equity."
Collart emphasized that these efforts are ongoing, and that the school has made a commitment to continue evaluating and assessing where and how progress can be made, in terms of curricula, policies and procedures. In addition to those listening sessions, the school has assembled a committee of staff members and BIPOC students, who meet weekly to discuss these changes. The school has also been supported by BIPOC community members, Collart said. "I would say that we are definitely in the infancy stages of, I think, creating a sustainable process," Collart said. The recognition that there are changes to be made is "a really good step in the right direction."
These efforts at McKinleyville High School are happening elsewhere in the Northern Humboldt Union High School District, too. In June, the district released a statement on racial equity, partly in response to the murder of George Floyd, and also vowing to make "concrete, systemic changes to create a better, safer world." Since then, the district has implemented a standing agenda item in board meetings, during which Superintendent Roger Macdonald delivers an equity update.
Read the full letter from MHS Principal Nic Collart below:
Dear McKinleyville Community:

I have always been proud of both graduating from and serving as Principal at McKinleyville High School. My experience has been overwhelmingly positive in both roles. This fall I was honored and entrusted to listen to the stories and experiences of current and former BIPOC students as well their families during their time at McKinleyville High School. Their sharing has both saddened and had a profound impact on me as both a member of our community as well as in my role as Principal, for it is clear, from these listening sessions, that our school has not always provided a safe, nurturing and empowering environment for our BIPOC students, and this must change.

Our school mission states, "McKinleyville High School fosters an inclusive community where all individuals can excel both personally and academically by empowering learners with meaningful skills in a safe and supportive environment." We have not upheld this promise for all of our students. While we cannot change the past, we are dedicated to creating a school that honors and supports all our students from this day forward. We acknowledge harm in the hopes it will help our community heal.

We understand that racism and its impact on our systems and institutions is not an issue specific to MHS, but we recognize our role in it and our responsibility to make change. In order to do this, we are working on staff training, curriculum and the development of policies and procedures in partnership with our BIPOC community to meet the mission of our school for the success of all of our students. All of us want a school where our students have agency, feel connected and honored for who they are, and have all the opportunities and support to prepare them for all that comes after. McKinleyville High was that school for me, and I want to make sure it is that school for everyone. I look forward to making that happen.

If you have any questions about this work or would like to be involved, please feel free to contact me at 707 839-6405 or at ncollart@nohum.k12.ca.us

Sincerely,

Nic Collart
Principal
McKinleyville High School