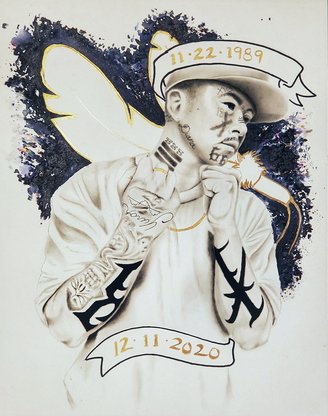 William Whipple, 31, of Eureka, passed away on December 11, 2020 in Bayside.
William Whipple was born in Eureka to Jewel Frank and Andrew "Slim" Whipple on November 22, 1989. He was raised alongside his siblings and family in Bayside. His fiancé Diane Baltzley and he were in a loving relationship since September of 2019.
William had the brightest soul that managed to light up every room he entered, while also brightening the day of anyone who had the privilege in knowing him. A man who gave his one hundred and ten percent into anything he put his mind into, there was nothing he could fail at. A smile that was so contagious he always managed to fill the area with laughter and love. His personality and aura allowed him to become the center of attention wherever he went. William was always on top of the world. William loved his family more than anything and was always someone you could count on, no matter what.
William Whipple is preceded in death by his grandmother, Ada Frank Jones, his uncle namesake, William Whipple, and his grandfather, Clarence "Punky" Whipple as well as several cousins.
William Whipple is survived by fiancé Diane Baltzley and stepson Payton. Loving parents, Jewel Frank and Andrew "Slim" Whipple. Sister Jessica Bradford Eleck and twin sister Raven Whipple. Brothers Domenyc "TJ" Whipple Johnson, Andrew "Cisco" Whipple Jr., Manuel Whipple and Laurence Whipple. Nieces and Nephews Jasmine Eleck, Ardie Eleck IV, Naomi Eleck, Kyanna Longendyck, Maxwell Longendyck, Bear Whipple, Tyler Whipple, Ruby Whipple, Fawn Whipple, Hazel Whipplendace Whipple, Donte Whipple, Manuel "Little Manny" Whipple, Wendi Whipple, Damein Whipple, Andrew Whipple, Colton Whipple and Kain Whipple.
Pallbearers will be Andrew "Slim" Whipple, Andrew "Cisco" Whipple Jr., Manuel Whipple, Laurence Whipple, Domenyc "TJ" Whipple Johnson, Nick Metcalf, Raymond Payton, Jeremy Wildman and Eugene Hatfield. Honorary Pallbearers will be Larry Alameda Sr., Kyle Longendyck and Ardie Eleck III.
The family of William Whipple wishes to extend our sincere thanks to the Yurok Tribe and the Northern California Indian Development Council.
Please join us in saying goodbye to William on Friday January 29, 2021 at the Ocean View Cemetery in Eureka at 1 p.m. All COVID-19 safety precautions will be in place, please wear a mask.
###
The obituary above was submitted on behalf of William Whipple's loved ones. The Lost Coast Outpost runs obituaries of Humboldt County residents at no charge. See guidelines here.