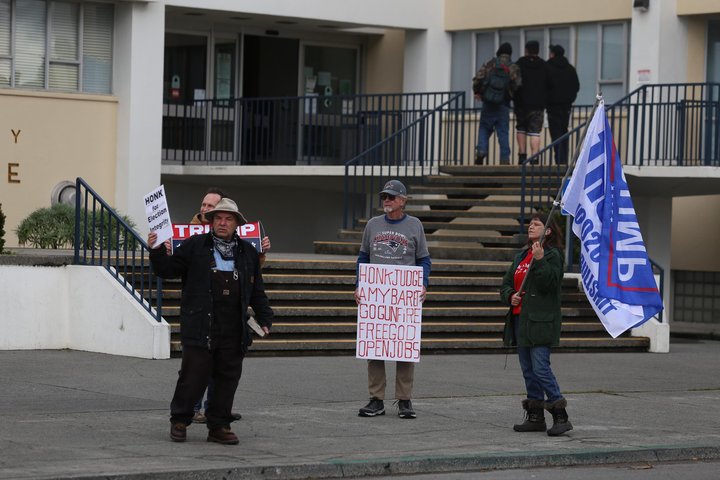 A few dozen Trump supporters gathered at the Humboldt County Courthouse this afternoon to wave flags and hold sings in unison with the mob of political extremists that raided the U.S. Capitol Building in Washington D.C. today.
Outpost reporters Andrew Goff and Ryan Burns report that the courthouse crowd has since dispersed.
Pro-Trump rioters shatter a window at the US Capitol and enter the building https://t.co/7V2SR34L6F pic.twitter.com/wxkZCA7B1A

— CNN Politics (@CNNPolitics) January 6, 2021
Meanwhile, the U.S. Capitol Building remains in lockdown after Trump supporters stormed the building following the president's rally in D.C. this morning.
According to multiple reports, one person was shot to death inside the Capitol Building during the riot. However, not much information is available at this time.
While the mob was seemingly motivated by the president's ongoing tirade of inaccurate claims about the legitimacy of the 2020 Presidential Election, President Trump later issued a pre-recorded statement where he continued to push anti-democratic sentiments while also asking the rioters to "go home."
January 6, 2021
President-elect Joe Biden also spoke at a live press conference today where he called for the chaos in the capitol to stop and for President Trump to "step up" in response to the riots.
"Our democracy in under unprecedented assault," Biden said.
WATCH LIVE: President-elect Joe Biden holds a news conference in Delaware. https://t.co/Wrg0u2X8vo

— ABC News Politics (@ABCPolitics) January 6, 2021
North Coast Congressman Jared Huffman issued multiple statements on social media while on lockdown in the Capitol Building today, calling the riot an act of "terrorism."
"Today, our country and democracy were attacked by domestic terrorists, egged on by Trump," Huffman said. "But we will not be intimidated into abandoning our Constitutional duty. Once the Capitol has been secured, we will continue our work to certify the election results."
My staff and I are safe. I am incredibly grateful to the first responders struggling to protect us.

I never could have imagined I would be riding out a violent coup attempt led by a president.

This is terrorism, and Donald Trump is responsible.

— Rep. Jared Huffman (@RepHuffman) January 6, 2021