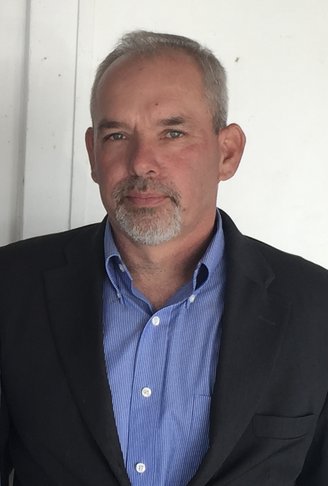 Alvin "Dean" Smither was born April 19, 1963, in Eureka and passed away suddenly on July 7, 2021, on his mom's birthday.

Dean attended school in California, Oregon and Washington. At the age of 17, he joined the Army, where he served a total of four years and afterwards joined the Army National Guard, where he served 16 years. During that time, he was deployed to serve in the LA Riots of 1992, Ukraine and Germany in 1999, and Fort Lewis, Washington after the 9/11 attacks.
As young students at the College of the Redwoods, Dean took notice of his future wife, Michelle in a nutrition class. As might be the case in many young love stories, Michelle didn't know he was interested in her until he started showing up around Michelle's mom's house. As the story tells it, he would jog up and down past her window with short-shorts and no shirt on. That must have done the trick — Dean and Michelle were married February 22, 1986.
Dean was a contractor by trade, and started his career working for Bigham Construction and for the housing authority. He eventually ventured out on his own, starting his own company, Smither Construction. It was this venture that led to the opening of the Old General Store in Rio Dell and Redwood Mini-Golf. He eventually moved the mini-golf set up to Manila and opened the Lighthouse Plaza and Mini-Golf, still popular to this day. Dean remodeled and built many houses over his career, including two houses for his family.
When he wasn't busy with his many business ventures, Dean was at his core, a family man. He was a loving father who enjoyed spending time outdoors with his family, hiking and camping, as well as helping with their many projects. He was a natural teacher and incorporated his kids into his work teaching them valuable life skills. Over the years, he also mentored many adults with great patience to teach them the basics of carpentry. Dean truly enjoyed helping people. He was open-minded, non-judgmental, and generous with his time, money, and service.
Dean was also creative and a true visionary. He was full of unique ideas and could see the potential in even the roughest of projects and envision the most spectacular outcomes. Dean had a big heart for animals, bringing home both a stray puppy and kitten. He loved to spoil his animals! Dean's dry sense of humor and goofy nature will sorely be missed.
Dean is survived by his wife of 35 years, Michelle Smither, his son Steven Gross and wife Jessica, his daughter Laura and husband Nick, son Alexander, and daughter Mariah; siblings Tammie Jean Jones, Terrie Lyn Bognuda and husband Anthony, and Coral Rose Rainey; grandchildren Thacher, Addison, and Amelia; 15 Great nieces and nephews, and 20 great-great nieces and nephews. Dean is also survived by uncles and aunts Dan and Judy Augustine, Robert and Cheri Olson, Mitzi Owsley, and Al and Nancy Young, in addition to numerous cousins. Dean was preceded in death by his mother, Jacqueline Fay Aho-Smither-Christian, his sister Pamela Rae Mattingly, grandparents Terence and Rose Shaver, brother-in-law Michael Rainey, and uncles John Aho and Pat Kiefer.
Please join us for a celebration of life Friday, July 16 at 2 p.m., to be held at 4566 Excelsior Road, in Eureka.
###
The obituary above was submitted on behalf of Dean Smither's loved ones. The Lost Coast Outpost runs obituaries of Humboldt County residents at no charge. See guidelines here.