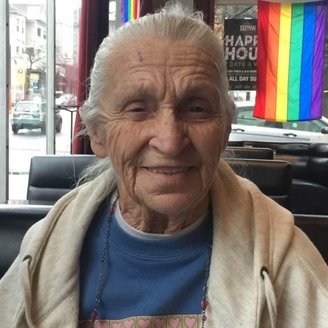 Joy Louise Burkhart left this earth on May 7, 2021 surrounded by her loving family for her eternal and forever home with God. She will be laid to rest next to her husband Charles Burkhart.

Mom enjoyed the simple life, long rides and picnics with family and friends. She worked at Stanton's Coffee Shop for 50 years, one of her proudest accomplishments. She also was a devoted member of the Eureka Pentecostal Church for over 35 years.
Mom's journey with God was as beautiful as her. She saw no wrong in anyone and always ended a conversation with I love you and I am praying for you. Mom could often be found in the kitchen making peanut brittle for her "buddies" for them to sell, so they could make money to go to youth camp. She also enjoyed cooking at youth camp every summer.
Mom had a mission when she came home in December after spending time in Seattle with her daughter Kathy, to make sure and see as many people as she could to tell them she loved them knowing her health was not the best and that she was praying for them. Her walk with God and her journey to the glory land was beautiful, she was faithful and never looked back. She met a friend 40 years ago, Marie Barry, and mom in her last days couldn't wait to see her again at the river of life. I would ask mom what about the river of life and she said it flowed forever, no end. Our loss is Heaven's gain. As I write this, I see her singing "I'll Fly Away Oh Glory" clapping her hands and enjoying heaven …
Joy was survived by her daughters Kathryn Bigelow (Tracy Langworthy), Rosemary Noel (Dan Braud), and her niece who was more like a daughter Tammy Flint. Her greatest gifts were her grandchildren – Lisa Longberry, Brian Bigelow, Gary, Noel, Marla Noel, Rick, Steve, Kyle, Evan – and her great-grandchildren. She is survived by her brother Michael Myers, Mary Zimmer, Millie Kissee and Treasure. She was preceded in death by her husband Charles Burkhart, her sons, Michael Myers, and Ronald Bigelow. her parents Thomas and Laura Myers, her brothers "Cowboy" Myers, Chuck Myers, and her sisters Della, Sally and Val.
We would like to thank Hospice of Humboldt for making sure mom was comfortable the last few weeks of her life.
Family and friends are invited to a memorial service celebrating Joy on Saturday, July 10 at 6 p.m., Eureka Pentecostal Church 1060 Hoover St, Eureka.
###
The obituary above was submitted on behalf of Joy Burkhart's loved ones. The Lost Coast Outpost runs obituaries of Humboldt County residents at no charge. See guidelines here.