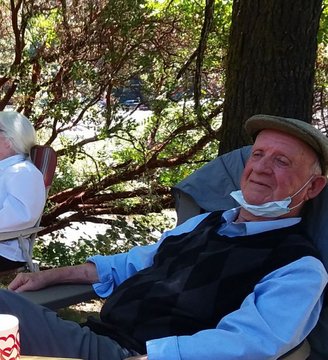 Dorvin Valgene Phillips, better known as Valgene Phillips, sorrowfully departed from us on the evening of June 2, 2021. He was a loving father, husband, good friend to countless many, elder counsel to many others. Always compassionate and caring, Dad put others before himself, a direct product of his upbringing and deep religious faith. He was ever the source of strength and wisdom.

Born in Butler, Oklahoma, on September 27, 1935, to Lydia Lorene and Dorvin Oscar Phillips, he was the eldest of five children, and first-born of many cousins. His family moved to Bakersfield when Dad was two, and later to San Francisco. He was a junior at Lowell High when his family moved to Salinas, where Dad found a group of musical students who would become lifelong friends.
Having come from humble beginnings, his family had little or no money. He was a child of the Dust Bowl years, when many thousands, including his family, made the great migration west to California, carrying everything they owned. With this background, he developed a strong sense of family, and grew to be a model father and family man, providing for the needs of his children, never complaining, always keeping the family unit together, doing things and going to places families go, helping develop the close, loving relationship we continue to share, along with our mother, Gerre Lyn, his former wife and life-long friend, fellow musician and accomplished violinist.
He attended San Francisco State College, and graduated from San Jose State College with a BA in music. From the late '50s into the '60s Dad juggled a career teaching music, raising a family and completing his master's degree, all the while serving in the National Guard on many weekends and two full weeks each summer at Camp Roberts.
From the moment his younger brother was born, Dad was destined to be the one to lead, blaze the trail, and find the answers. It was a huge and often daunting responsibility, but one which he performed with universal admiration. He just did what he knew to be right. That was his nature — do the right thing. And he was never afraid to so because he knew God would be with him to show him the way. He learned the Gospels at an early age, playing piano in church. He knew all of the popular hymns by heart, having directed many church choirs. Dad developed early on a love of music, and taught it for over 40 years to young and old alike. He became the consummate professional musician and French Horn player and gave countless hundreds of horn lessons. Band director, choir director and orchestra conductor, he also added two full opera productions to his repertoire. Dad played in several symphony orchestras over the years, including Humboldt, Eureka, Peninsula, Rogue Valley, Los Gatos-Saratoga, San Jose, and Lake County. To improve his own musicianship, he attended the international horn festival twice here in California, and his children can attest to the many, many hours he spent practicing to "keep the embouchure up."
In his earliest years at Humboldt State University, he was instrumental in getting the Marching Lumberjacks up and running and implementing the jazz music program. He attended hundreds of student recitals, and eventually served two separate terms as department chair. But Dad's academic pursuits took him far beyond the scope of the music department at HSU. He occupied positions from student teacher advisor in the Education Department, to two years as Multiple Subjects Coordinator, and prior to retirement, took a position as Associate Dean of the College of Creative Arts and Humanities, moved on to Acting Vice-President for Academic Affairs, and finally Dean of Undergraduate Studies.
He is well-known for his many years as the Director of the Humboldt Chamber Music Workshop, with which he became heavily involved, first as participant, then coach, associate director and finally director. He eventually started the Brass Chamber Music Workshop at Humboldt State as well. Musically, Dad also performed in two Humboldt Light Opera productions, and if you knew him you would smile to know that he played Charlie Cowell in The Music Man. He also performed with numerous brass and woodwind quintets, both locally and regionally. He frequently reunited with his former Los Gatos Woodwind Quintet colleagues during the annual HCMW, and remained close friends with them all.
Throughout his adult life, Dad contented himself with musical composition and arrangement. His favorite material to work with was the arrangement of spirituals and hymns. He worked closely with Nathan Smith, a fellow professor at HSU, and gifted singer of gospel music. Together they created a small ministry using Nathan's voice and Dad's piano playing to preach regionally.
While Dad's world was music, he was also visual, and busied himself with many projects around the house, and even dabbled in construction, woodworking, as well as automotive and appliance repair. He also loved Giants baseball — well, he loved baseball, period. That was one game he taught us all.
Throughout his career, dad received many awards of recognition for his achievements and contributions in music and instruction. He also received a medal for sharpshooter in the Army National Guard. We were impressed that he had learned to shoot a bazooka while being trained in heavy weapons! He received the North Coast California Music Educators Association Outstanding Administrator Award and served as President of the North Coast CMEA. He composed two processional marches for ceremonial use at HSU, "Light and Truth" and "Light and Truth No. 2". He was instrumental in founding the Chamber Players of the Redwoods and was awarded the Floyd Glende Award by CPOTR in 2017. He was also involved with the Scotia Band.
Most recently Dad had been working with the the All Seasons Orchestra. In 2014–2015 Dad served on the Humboldt County Grand Jury, which he enjoyed immensely and took very seriously. He had also been a dedicated member of the Compassionate Friends grief counseling group ever since the unexpected passing of his oldest son, Tom.
In 1995, Dad married his wife of 26 years, Joan Sikkens. They had years of happy times together – bird-watching and walks and pets and movies and church, but especially their musical partnership. Joan sang, and Val played for her on the piano. He was a fine pianist, but in truth, he didn't like to play "all those notes on the page," and much preferred playing the "changes" or the chords. It was a good thing, too, because almost everything had to be transposed downward for Joan's voice. Over the years, they did weddings and funerals, private parties, Red Lion brunches, the Eureka Inn, Christmas get-togethers, non-profit fundraisers, museum openings, and churches, and more churches.
Dad was preceded in death by his oldest son, Thomas Mark Phillips, his sweet loving sister, Lorna Joy, and his much-loved niece, Jennifer Sue Mesquita. He is survived by his former wife, Gerre Lyn Phillips, and wife Joan Sikkens, and four children, Meredyth Renee Phillips, Matthew Christian Phillips, Mona Lyn Phillips-Barham (Ty Barham) and Melinda Sue Skaggs (Cliff Skaggs), his grandchildren Cody Thomas Green, Timothy Valjean Skaggs, and Gerelyn Jean Skaggs, his brother Don Ivan Phillips (Dorly) and his sisters Sonja Sue Phillips, and Frances Leonora Brewer (Howard).
A memorial service is being held on July 24 at Eureka First Presbyterian Church at 1 p.m. There is a second memorial service being held on September 25 with a formal ceremony in the morning at First Covenant Church in Eureka. A separate celebration of life will be held at the Rose Garden at Redwood Acres at 1 p.m. on that same day to allow the March Lumberjacks band to attend and play for Dad. Since it is near his birthday, it is in honor of that as well.
###
The obituary above was submitted on behalf of Valgene Phillips' loved ones. The Lost Coast Outpost runs obituaries of Humboldt County residents at no charge. See guidelines here.