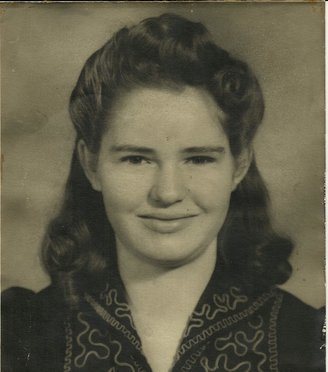 Vivian Isola Bradford Long, age 94, passed away, on July 15, 2021. She has been a resident of Fortuna for 52 years.

Vivian was born in Colorado on March 27, 1927, and grew up in Paonia, a small town at the foot of Mount Lamborn Masa.
On her first day of school, her father drove her to school in the family buggy, then told her older brother, Winton, to wait for her and walk her home. She did not see Winton after school, so Vivian walked the mile and half home alone, much to the horror of her mother. Vivian exhibited this kind of strength, independence, and bravery her entire life.
She was a math whiz at Paonia High School and was awarded a full college scholarship when she graduated. She met the love of her life while in her senior year of high school. One night, on a double date, it quickly became obvious that both girls were more attracted to the other's date, so they decided to switch boys, that is how she met Alfonzo Rochester Long.
They soon fell in love and after she graduated in 1945, they eloped to Aztec, New Mexico. During World War II, many things were rationed, including tires. The truck they were driving to Aztec, had very bald, worn out tires, one of which fell off while on the Silverton Million Dollar Highway. It was late at night and the embankment was very steep.
A passerby took them into the town of Silverton, where they rented a room in the Imperial Hotel for the night. The next day Al hitchhiked back to where the tire came off, climbed down the embankment, retrieved the tire, put it back on the truck. He then returned to the hotel, picked up Vivian and they continued to Aztec. They were married on September 28, 1945.
They made their home in Paonia, where their first daughter, Esther, was born. When she was three months old, they moved to Morgan Hill, California, where their second daughter, Kathryn was born. The next year their third daughter, Wanda was born in Colorado and just after their fifth anniversary. Their only boy, Steve, was born in California. Then, seven years later, their fourth and last daughter, Carol was born in Tulare, California.
When Carol was two the family moved to Crannell, a small company town for sawmill workers of the Little River Redwood Company, located about 4.5 miles southeast of Trinidad.
In 1969, Vivian, Al and their two youngest children, moved to Fortuna. Very shortly after moving to Fortuna, Vivian became a member of the Rohnerville Assembly of God Church. She spent a lot of her time in the women's ministry, making quilts for the needy, a project she deeply enjoyed.
In 1989, she lost the love of her life when Al died of lung cancer. After his death she decided she needed to re-engage with life so she went to work for McDonald's, where she worked for five years. She greatly enjoyed making the morning biscuits.
After her home burnt to the ground in 2011, she bought a home in Royal Crest, where she lived until her death.
She was preceded in death by her parents, Carl and Madge Bradford; her four brothers, Dale, Dean, Winton and Lynn Bradford; her beloved granddaughter, Sheila Vukevic; her sons-in-law, Norman Fleek and Marion Matlock; and her husband, Alfonzo Long.
She is survived by her children, Esther and Tom Bowles, Kathryn Matlock, Wanda and Virgil Muncton, Carol and Robert Marshall and Steve Long; her grandchildren, Norma Jean Patrick, Carol Rene' and Hazen Crowl, Peter Vukevic, Suzie and Gunter Kison, Sonya and Ron Waggoner, Aimee and James, "JJ" Whaling, Steven and Levi Anderson and Tommy and Sara Long; as well as many great-grandchildren.
Services will be held at Rohnerville Assembly of God on July 24, 2021, at 1 p.m. Please join the family for coffee and desert at 3 p.m. in the Church Fellowship Hall. Gobles Mortuary is handling the arrangements.
###
The obituary above was submitted on behalf of Vivian Long's loved ones. The Lost Coast Outpost runs obituaries of Humboldt County residents at no charge. See guidelines here.