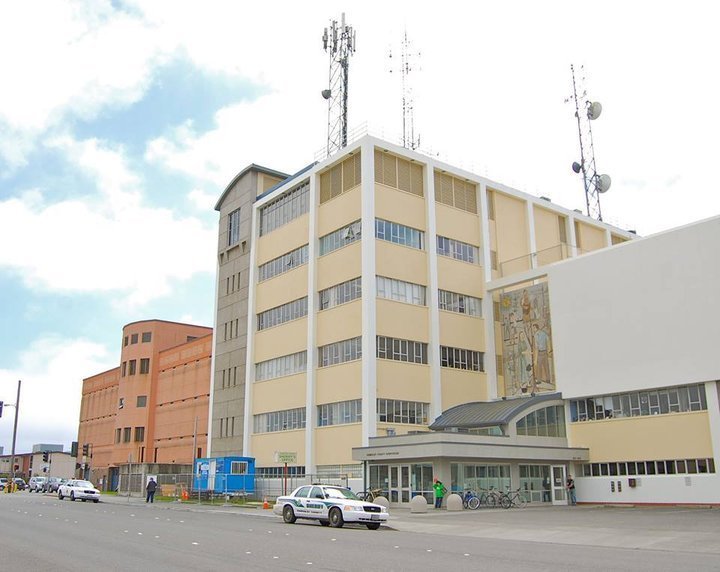 [Note: Kieth Vroman-Nagy is currently incarcerated while he awaits trail for his alleged involvement in an Arcata stabbing earlier this year.]

Press release from the Humboldt County Sheriff's Office:
Two correctional deputies were injured today during an assault inside the Humboldt County Correctional Facility.

On July 27, 2021, just before 10 a.m., two correctional deputies inside a housing unit were attempting to escort a disruptive inmate to a secure holding location when the inmate became combative. While refusing to comply with deputy requests, the inmate, 29-year-old Keith Tamas Vroman-Nagy, produced a sharpened pencil hidden on his person and attacked the deputies. During the assault, one deputy sustained minor injuries, while the other sustained serious injuries as a result of being stabbed just above the eye.

Both correctional deputies were transported to a local hospital for emergency medical treatment. One was treated and released, while the other is being transported to an out of area hospital for specialized treatment. The deputy is in stable condition and is expected to survive the injury.

Vroman-Nagy was booked on additional charges of attempted murder (PC 664/187(a)), assault with a deadly weapon upon a custodial officer (PC 245.3) battery with injury on a custodial officer (PC 243(c)(1)), battery on a peace officer (PC 243(c)(2)), battery with serious bodily injury (PC 243(d)), causing great bodily injury in commission of a felony (PC 12022.7) and resisting an executive officer (PC 69).

In 2020, the Humboldt County Correctional Facility recorded 33 assaults on staff members. Today's attack is the 18th assault on staff this year.

"I am thankful that our brave Correctional Deputies will recover from their injuries. It is a miracle that our deputy did not lose his eye from this assault," Humboldt County Sheriff William Honsal said. "Our correctional deputies have a very difficult job and face challenges daily. Many of those challenges have been exacerbated by the regulations imposed on us through AB 109 Prison Realignment. Despite these challenges, our deputies continue to serve our community with unwavering resolve and compassion for those on the journey of rehabilitation."

The Sheriff's Office remains committed to creating a safe environment for both correctional staff and inmates within our Correctional Facility, and this incident remains under investigation.