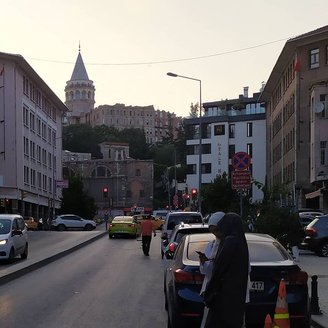 Like all great cities, Istanbul is a city that is forever in the process of becoming, never arriving. It never stands still, and nowhere can this be more clearly seen these days than along the shores of Karaköy.

This district, on the European side of the Bosphorus, was known as Galata in Constantinople days, and still rests pleasantly in the shadow of the proud stone namesake tower standing post at the top of the hill. And just across the flat Galata bridge, with its fishermen casting lines out carefully to avoid passing tourists, one can see the minarets of the great mosques.
But as you look closer, you see yet another new project. At the site of the Istanbul Modern Museum, workers are busy with ongoing construction of Galataport, as nearby signs indicate to the curious. Later I Googled it, and found a news story that said the project, set to be finished this year,as "arts centers, a world-class cruise terminal, hotels and various boutiques, cafes and restaurants, along with office spaces." According to the same recent news report, more than 200 cruise ships, carrying 350,000 passengers have already made reservations, despite the pandemic.
I just wanted to put these details up front as a reminder that one of the pleasures of stepping out in Istanbul, even after you've lived here a long time, you never know what you may see, but there's always change afoot.
###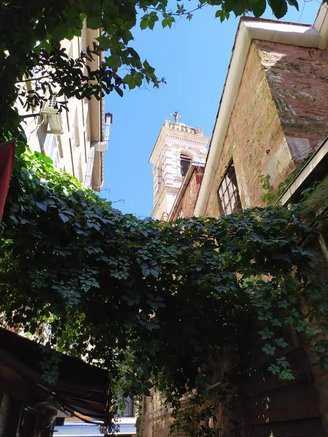 Now on to more pressing matters. For the first time in a year, my wife, son and I were taking a ferry. With the city baking in heat, there seemed no better time, especially now that the restrictions were finally on their way out. And what better place than Karakoy?
The feeling of the wind in your face, as the engines of the boat fire up, churning out white bubbles of the Bosphorus, the shores of our Uskudar neighborhood quickly receding, and our son Leo getting excited, pointing in every direction.
During the 15-minute journey, Leo marveled at all the boats passing by, the other ferries, the big tankers, the sailboats, all the things he had seen in his baby books but now floating past in real time. We marveled too, invested with that long-overdue sense of freedom, excitement, that we could go where we wanted to go in this great city (my wife and I have both received our first doses of Pfizer/Biontech). Of course, we still wore our masks, and kept a bottle of limon colonya close by.
###
When the boat landed at the Karaköy pier, the Galata Tower, peering from the top of the hill, seemed to welcome us back. Still, we stepped ashore a little tentatively, the other passengers passing swiftly. We felt like tourists in our own city.
Straightaway you felt the keen differences instantly. It's one of the old pleasures I'd missed, the visceral change, realizing you are now in Europe. Nearby, as if confirming this assessment, a fish restaurant with breezy, ivy-covered interior, open-air, blue-colored tables and a Greek vibe beckoned, but we passed it and went through the tunnel to Karaköy proper, where you can look out at the iskele or pass into the backstreets.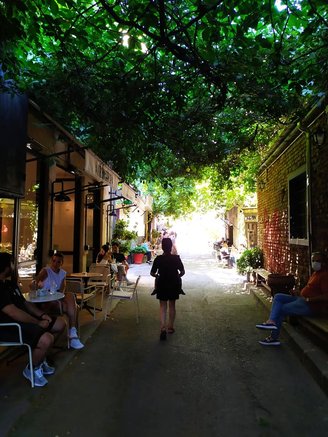 Since it was mid-day and the sunlight really sharp and intense, we opted for the shady backstreets. Here, too, we savored the aesthetic and tonal differences from our home in Üsküdar. The streets here have almost an Italian flavour, and indeed I read somewhere that back in the 15th Century this area Galata, a fishing and commercial port, was modeled after Venice, when that city and the Ottomans were battling for supremacy of the Mediterranean.
Nowadays, much of the neighborhood has been revamped, re-cast as a cultural center. There's the Istanbul Modern along the waterline, but also a host of other galleries, small shops and lots of cafes, bars and restaurants.
For our first stop, we went to Güllüoğlu, which is one of the oldest baklava restaurants in the city. Next door, in Namli Gurme, one finds a lot more than baklava. The place offers shelves full of pricey and "exotic" goodies, from teriyaki sauce, bacon (very expensive), to JiF peanut butter. It's self-service inside, so we settled on fistik baklava, tea and coffee and sat outside.
Later, we walked through the slender backstreets. The names of the places … Berlin Line, Italian Gastropub, Papel, Chez Moi… reflect the area's cosmopolitan past and present.
"Isn't this where all the Greeks, Armenians, Jews and even White Russians used to live?" I wondered aloud, and my wife nodded.
Indeed, here and there, peering up through the ivy, one makes out the tower of an old church, with a gold cross at its peak, and here and there gold crucifixes adorn the walls, while a few doors down the walls are sprayed with hip hop graffiti, another almost whimsical, rather than mystical, blend of the ancient and post-modern. The industrial chic and all the ivy hanging, and even fresh grapes growing in some of the overhanging greenery combine to give a sense of edgy, teeming vitality. For an old city, it feels really young, especially in this neighborhood.
Everywhere locals and visitors alike were sitting at small tables outside the cafes, catching a breath from the heat, some having iced coffee but others sipping pints (the Italian Gastropub boasted: "OUR BEER IS COLDER THAN YOUR EX'S HEART!").
We arrived at a lovely street that was completely shaded. Green grapes draped just above our heads, and blossoms fell softly, blending with the dappled sunlight on the ground. It was likee we were in Bozcaada, or some other Aegean coastal retreat, right here in the heart of the big city. A café called Karabatak lay nestled deep in the recesses of the shady corridor. Except for the occasional motorcycle (lots of those in Karaköy, as everywhere else in the city) and casual pedestrians, the corridor felt almost deserted.
I learned that Karabatak (named after the sea bird) used to be a metal works facility, and was refashioned into a café in 2010. So the café is a set piece example of the revitalization one finds all over the district. We ordered cay and an Americano (the bill came out to about 50 TL, so a bit pricey this urban revitalization is, I guess; perhaps all the neighborhood was preparing for all those rich cruise liner passengers soon to arrive) and sat at the comfortable wooden chairs outside. Others sat nearby, chatting and enjoying cool air and sequestered vibe.
As my wife took our son Leo to explore the nearby side streets, I sipped my Americano and thought about my friends back in Northern California and Oregon, which have been hit with a scorching heat wave in recent days, and how I was here in the shade of Karaköy, a breeze fluttering through the streets, and spending time with my wife and son.
Later, we crossed the main road near the tram stop and walked up the hill to Tophane. There was a garden there we knew, a former orphanage, that served beer. Alas, when we found it, the garden was still there, looking inviting and resplendent alongside the restored ruins of the orphanage, but the beer was no longer served.
By then, it was after four, and Leo was long past his nap time, but he was still quite awake and over-excited from all the new things and places he was seeing. We walked back to Karaköy, over to a long straight street with lots of cafes and restaurants. We passed Çorba Evi, or Soup House. Being "Seinfeld" fans, we couldn't help but check the menu to see if they had Mulligatawny soup, but no, but perhaps they do have a Soup Nazi employed. "Next time," we promised ourselves. Lots of people were out now, lots of them looking very young and fashionable. They sat at places like Chez Moi, with its French red awning, sidewalk tables and colorful drinks. We had Leo with us though so again, we would have to enjoy those pleasures some other time.
"Looks like Taksim is going down and Karaköy is rising," my wife said, impressed. I agreed. We haven't been to Taksim since the pandemic started, but even before that, Taksim just hadn't felt the way it used to feel, back when I first arrived in the city in 2010. Walking through Karaköy, I too had this feeling that, with its ongoing redefined ex-commercial, now-cultural aesthetic, and all the young people out and about, that if I were young and single again, I would be saying, "Farewell Taksim, Hello Karaköy!"
###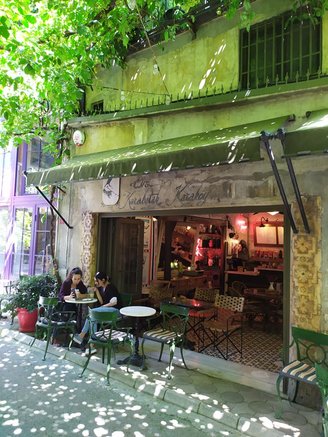 Still, as we headed to the iskele to catch the ferryboat back to Üsküdar, my wife and I both felt tired but refreshed, exalted. It felt good to be exploring the city again, which is the whole reason one lives in a city like Istanbul to begin with. Sitting at home much of the time this past year, or at best venturing out to the same old tired streets in our Üsküdar neighborhood, one started to forget that there's a whole city out there, whole worlds in fact, and one of the many pleasures of Istanbul is that you have so many of them just a ferry ride away.
Perhaps next time we'll head to Balat, or Moda, or if we're feeling saucy we'll risk taking the funicular up the hill to see what's shaking in Cihangir these days, or Ortaköy . Or perhaps Ortakoy, can't recall the last time we were there, certainly long before Leo. Hell, why not Kilyos? A bit of a Black Sea day. Oh well, the summer is long and, touch wood, we'll have our second shots soon, and we will be able to get around to these places and see how much they have changed too.
###
Evening in Karaköy … The air is cooler, more fragrant. All of the restaurants and cafes and bars are full, and the people look relaxed and happy sitting outside, their masks tied to their elbows. Leo looked around entranced at all the lights, the colorful lights and umbrella-covered passages, techno music inviting the younger crowd while the waiters looked up and down the streets, greeting people as they passed.
I wanted to try Chez Moi but all the tables were taken, but my wife noticed a nice set of cushy chairs unoccupied at a place next door, with enough space to accommodate Leo. A mural of Charlie Chaplin on the wall behind the chairs peered down at us as we ordered a glass of wine for Ozge, a tall glass of cold Tuborg for me, and some French fries. It was pleasant to sit and drink the beer and look out at the people passing on their way to their evenings, and feel somewhat normal again.
"It's like a different world over here," I said to my wife.
"It is a different world!" she scoffed. "Not 'like!'"
Later as we walked back to the ferry station, the call to prayer could be heard coming from a nearby mosque. Well, not an entirely different world, one supposed. Meanwhile, the fishermen were casting their lines out, and night was falling, the lights of the city shining in the darkening waters, the smell of fish and smoked kebab in the air coming from nearby restaurants. While my wife rocked Leo to sleep (it was past his bedtime), I looked out at the shining lights of the city, and the jeweled light of Topkapi Palace and the great mosques, and thought about the city, and how long ago it had felt so vast and mysterious, and how now, it felt that way again.
###
James Tressler, author of several books on Istanbul and a teacher, is a long-time contributor to Yabangee.