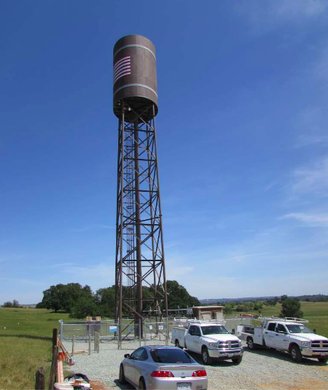 The Arcata Bottoms near Foster Avenue may soon be home to a new 100-foot-tall water tower. Except it wouldn't actually be a water tower. It would be a 100-foot cell tower designed to look like a water tower, camouflaged to match its charming rural backdrop.

The faux water tower is one of two cell tower designs proposed for the area along Foster Avenue. The Humboldt County Planning Commission will consider both proposals at its next meeting on July 15. Planning staff is recommending that the commission approve only one.

From the staff report:

Planning staff believes that the wireless needs of Humboldt County citizens can be met with a single facility in this area capable of co-locating different carriers. Staff recommends that the Commission review the two proposed projects, consider public testimony, and determine which proposed facility would be less likely to adversely affect the various users of the Arcata Bottoms area, including off-site residences and recreational users of the Bottoms area.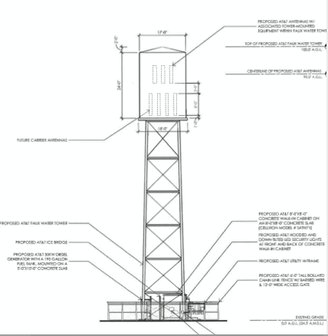 The first proposal — submitted by an AT&T Mobility Company, New Cingular Wireless PCS — includes construction of a 100-foot tall "freestanding faux water tower," on the north side of Foster Avenue, about 100 feet east from the intersection of Foster and Janes Road. The design includes a 76-foot lattice base topped by a 24-foot tall and 17-foot wide faux water tank that would be constructed of a "rustic-finish" wood siding. A total of 24 wireless facility antennas would be mounted inside of the fake water tank. The project would take up an approximate 40 by 50 square foot ground area and would be surrounded by a chain link fence. The tower would be able to host up to two wireless carriers.

Planning staff supports the use of the faux water tower design, which is "intended to better blend with the general agricultural setting by attempting to blend in as an accessory agricultural structure," the staff report states.

The second tower proposal for the area does not include any faux elements, but would simply be a 130-foot tall lattice tower atop a concrete foundation with ground-mounted equipment. The tower would be located on the east side of Foster Avenue, approximately 100 feet east from the intersection of Foster Ave and Dolly Vardon Road and would be able to host up to four different wireless carriers. The project would take up approximately 50 by 60 feet of ground area and would also be surrounded by a chain link fence. This proposal was submitted by Eureka-based company, PWM Inc.

Given the height and design of the second proposed tower, planning staff seems more concerned about potential visibility and recommends that the tower be either manufactured or painted to by off-white or grey in color to match the "predominant open sky background." To address the height concerns, PMW Inc. submitted several photographic simulations depicting visibility of the tower from various locations. The photos even point out an existing PG&E pole to give a sense of perspective.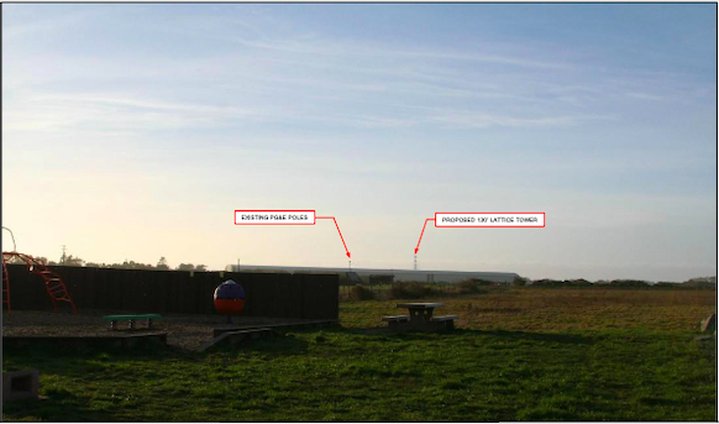 ###
Some neighbors are not too happy with the proposals and one nearby resident expressed her concern to planner Brian Miller in an email included in the staff report.

"As I said on the phone, I am adamantly against these, or any towers going up out here," neighboring resident Ramona Fair wrote in the email. "I've talked to neighbors, numerous people walking/jogging/etc. by here, the schools nearby,etc. — Nobody is ok with cell towers going up out here…There is No need to put those things out here. Cell service is great. They will be an eyesore. And a hazard— it's proven that the EMF radiation Is harmful to people, especially constant exposure as those would be causing."

Note: the American Cancer Society has said that there is currently "no strong evidence that exposure to [radio frequency] waves from cell phone towers causes any noticeable health effects."

The Humboldt County Planning Commission will hold a public hearing on combined cell tower proposals at its next meeting on July 15 at 6 p.m., after the hearing was postponed from its original July 1 date. The agenda has not yet been posted, but you can review the full staff report from the July 1 meeting here.