Video of the fire provided by Ryan Jensen.
A DUI crash nearly set off a series of disasters on Hatchery Road yesterday evening, after a downed power pole sparked a string of fires, sent an active electrical line splashing into a popular swimming hole and cut power to nearly 2,000 residents in Blue Lake, Arcata, Fieldbrook and McKinleyville.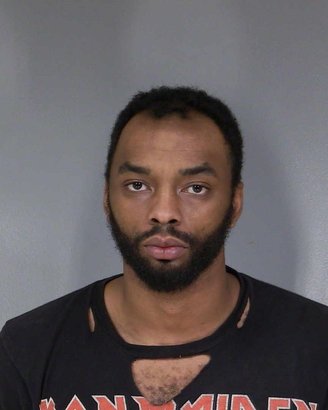 California Highway Patrol Officer Paul Craft told the Outpost that 27-year-old Lamont Douglas was booked into the Humboldt County Jail on DUI charges after his vehicle crashed into the power pole near the intersection of Hatchery and West End Roads at approximately 7:12 p.m.
The downed lines ignited several grass fires along Hatchery Road. The fires were captured on camera by local artist Ryan Jensen, who was jogging along the roadway at the time of the crash. The remarkable footage shows Jensen rushing to stomp out the flames before continuing on his jog.
"All of a sudden the power line started going off," Jensen said. "Looked like the 4th of July right over my head."
Blue Lake Volunteer Fire Department Chief David Vainuku confirmed with the Outpost that Jensen successfully put out all of the fires before firefighters arrived on scene. Other than a few singed leg hairs, Jensen reportedly escaped the ordeal unharmed.
"This river and forestland are so special to me," he said. "I'm so stoked I was able to be in the right place at the right time."
In addition to the fires, firefighters said the downed pole also caused an active power line to fall into the Mad River near the Hatchery Road bridge, a popular swimming hole — especially on Memorial Day.
Miraculously, Chief Vainuku said that no swimmers were in the water at the time of the crash.
PG&E spokesperson Deanna Contreras told the Outpost that the downed line could have resulted in an emergency situation.
"It's common to have power lines run across bodies of water across Central and Northern California," Contreras said. "It is possible the line was energized when it came down. PG&E Public Safety Specialists regularly meet with first responders in Humboldt County about how to handle downed power lines and other electrical emergencies. If anyone sees a downed line, low hanging or broken equipment, assume it's energized, stay away and call 911 because it is an emergency situation."
PG&E responded to the scene and restored power to all affected customers by 4:02 a.m. today.