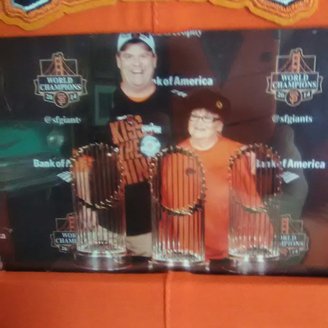 On January 6, 2021, Mark Izatt, one of Humboldt County's favorite son's passed quietly in his sleep. His family is small, and he is survived by his favorite person in all the world, his mother Diane Hollingshead. Mark was the salt of the earth and kept all his friendships from Winship Junior High, Eureka High and throughout his baseball and softball families.

Mark never met a stranger, and he could draw anyone in with a great story or his never ending humor. He would make everyone feel at home and if you just met him, it was like you knew him forever. Mark was a natural athlete and a lover of the game of baseball and the SF Giants. Much of his time was spent sharing his immense knowledge of the game with Humboldt County's next generation of players. He was a lover of all music especially the blues and a well-respected fan of many great rock and blues artists and he could also play one heck of an air guitar! Mark also loved working with plants and soil and was great at creating a beautiful outdoor environment that was as welcoming as he was.
You see, in the home of his life, Mark was the recliner. That rare soul that could engage you so thoroughly that you'd have to sit down and spend some time with him. When you finally left, you felt known, that thing that was bothering you, ya just couldn't quite remember, you were still smiling, and possibly shaking you head over something he had said. Mark Izatt will always be ours, for the life in the memories and the experiences of all he knew.
We will be gathering with family and friends on Saturday, June 26, 2021 at 4 p.m. at the Bill Damron Residence: 4725 Cummings Road, Eureka, for a Celebration of Mark's Life. Due to limited parking, there will be a shuttle at Redwood Acres beginning at 3:30 p.m. We expect there will be many familiar faces coming to say their final good-byes and share a memory he left for us. And share we will!! This is a special group of people and each one of us knows that Mark would love nothing more than for us all to be together just for him. His mother will be there to soak up all the love that we have for her.
We hope you will join us.
###
The obituary above was submitted on behalf of Mark Izatt's loved ones. The Lost Coast Outpost runs obituaries of Humboldt County residents at no charge. See guidelines here.