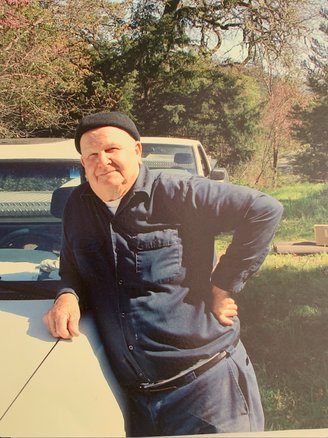 Richard was born July 5, 1932, in Omaha, Nebraska to Byron Rowland and Josephine Baiber Rowland.
Richard's father, Byron moved the family to Portland, Oregon around the start of WWII, for work at an aircraft plant. In 1946 they made their way down to Orleans, CA and lived on a ranch in the area called the Cooper Ranch. During these younger years Richard spent quite a bit of time as an avid hunter and becoming a skilled fisherman. He joined the United States Navy as soon as he could and was able to see some of the world. After receiving an honorable discharge from the Navy in 1954, Richard came back to Humboldt to find his father and to work with him for several years as a skilled carpenter. At this time, Richard's father was living in Weitchpec, and both helped construct many buildings in the area, some of which are still standing today.
Richard married Margaret Ann Longenbaugh in 1958, and together they had three children: Kevin, Kerri and Keith. During their early years together, Richard and Margaret built and operated the Deep Sleep Motel. Around 1964, just after the '64 flood hit the Humboldt County area, Richard started his own rock crushing and cement business. He called it Hoopa Valley Redi-Mix. He and Margaret ran the business until his retirement. Richard spent the majority of his life living in Hoopa.
Richard was blessed with a green thumb and took a lot of pride in his yard and trees. But if he was not in his trees somewhere, he was moving earth and crushing rock. He had his hands on many, many projects, and buildings in the surrounding area. Some reading this might be standing on a foundation he poured or using a septic tank he made. You may have even crossed over one of the eight bridges he poured in the area to get to where you needed to be today.
Richard is survived by his wife Margaret Rowland, children and their spouses; Kevin (Katia) Rowland, Kerri Rowland-Mendez and Keith (Pileta) Rowland, and grandchildren; Sarah and Natalie Rowland, Sarita, Dillon and Anthony Mendez.
Richard desired no memorial services and was cremated. His immediate family and friends will be holding a celebration of life sometime during the summer when the COVID-19 situation has a chance to improve. He will be greatly missed by his friends and family.
###
The obituary above was submitted on behalf of Richard Leon Rowland's loved ones. The Lost Coast Outpost runs obituaries of Humboldt County residents at no charge. See guidelines here.