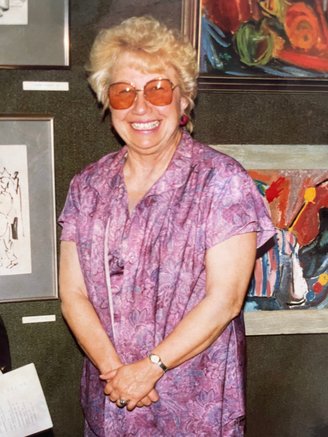 The Spinas Family of Eureka lost its matriarch, head chef and cheerleader Sunday morning, May 30. Jean Eloise Spinas passed away peacefully with piano music playing quietly and family by her side. She was 92 years of age.

Jean was born in Denver on November 3, 1928. If you knew anything about Jean, you knew she had a magnificent heart and cared deeply for her family, friends and co-workers. She began playing the piano at age five and played throughout her lifetime. She passed that love of music on to her children.
Jean was a latchkey kid due to her mother, Esther, working afternoons and evenings for Shell Oil Company. During those times, she was cared for by a Guardian Angel, beloved Cora Beinke. As a teen, she attended Herbert Lococco's dance school learning tap and ballet and performed on the famous SS Admiral Paddlewheeler that plied the waters of the Mississippi out of the Port of St. Louis. She also sang and played the piano every Sunday at church. Summers were spent lifeguarding at Fairgrounds Park and enjoying synchronized swimming. A part time job on weekends had her working as a cashier for movie theaters run by Ansel Amusement Company.
As she left her teens, she became a ticker-tape reader for the stock market exchange in St. Louis.
Her children were amazed when she divulged that as a young adult, she was a member of the Missouri Mules Motorcycle club riding Harley Davidson Motorcycles! But her favorite memory of those times was when her step-brother, Ted, and wife, Emily, would sneak her into Tunetown Ballroom, even though she was underage, so she could dance the Jitterbug to the great bands of Glen Miller, Louis Armstrong, Tommy Dorsey and Artie Shaw.
In her early 20s, Jean came to Eureka to visit her Uncle…her mother's twin brother, Joseph Losey and never left. She fell in love with the rugged coastline, wild rivers, redwood trees and a certain handsome gentleman who took her to coffee at the Bon Boniere, Curt Spinas. They married in 1951 and together, they would raise four children.
Family was everything to Jean and she doted on her two boys and two girls. She also blessed them with a great work ethic … something they have valued all their lives. Neighbors, friends and even strangers were welcome at mealtimes. It was not uncommon during her children's elementary school years, to have five or six kids walk in at lunch unannounced after a sandlot baseball game. An impromptu meal would magically appear in no time. Kids loved her generous nature and sense of humor. Those meals were an event at the Spinas household and as a baker, Jean was an artist. Her wonderful cookies, cakes and pies were featured attractions at many family gatherings, catered luncheons, weddings or school functions. She gave her time and talents generously to anyone and every cause that needed a hand.
Once the kids were of age, Jean began working for Eureka City Schools as a switchboard operator and then secretary. Later, and for 25 years, she worked for College of the Redwoods in the Upward Bound Program, Counseling Department and Student Admissions Office, where she was honored as Employee of the Year. She even managed to create a side business, "Food and Flowers by Jean." She catered many events at CR. It fueled her boundless energy and joy of crafting terrific recipes…elevating any celebration where people gathered. Both Jean and Curt took part in their children's endeavors, especially sports. All four kids became excellent athletes. She was inspired to take up bowling and in 1961, became the All Events Champion Scratch Bowler for Humboldt County. But it was rowing with the Humboldt Rowing Association that really got her going. She loved Humboldt Bay and its abundant wildlife. It fed her soul and many mornings, before daylight, she could be found loading a single scull into the water, "catching the glide" and enjoying the salt air. She would retire from "sculling" at the age of 70.
Jean was preceded in death by her husband Curt Spinas, daughter, Sandra McKay Spinas, mother, Julia Esther Parsons Losey, Uncle, Joseph Losey and his wife Barbara, cousin Jocleeta Reeves, Father and mother in law, Ben and Ruth Spinas and Ruth's sisters Elta Cartwright Hendrickson, Louise Pollack, Ivy Glenn and Mary Ellis and their children, Sister in law, Catherine Spinas, Joe and Mary Babica, Mel and Winnie Babica and son Larry and other extended relatives.
She is survived by her children, Brad Curtis (Cathy), Rich Spinas (SanDee) and Julie Spinas Sherman (Neil), grandchildren: Alexa Curtis (Geoff), Alyson Spinas Valainis, Makayla Spinas, Michael Spinas, Bryanna Sherman, Jaclyn Sherman, Annita Sophia Lucchhesi, Jim Lucchesi, Allie Lucchesi and one great grandchild: Grady Curtis Malott, her brother in law Bob Spinas, niece and nephew Lisa and Bryan Spinas, cousins Virginia Pratt, Jane Nelson, Vickie Henderson, Ginny Lee Denton and Bob Babica.
Jean revelled in the friendship of her dear friends: Louise Beal Warren, Betta Campbell, Nancy Gomes, Betty Tatka, Darlene Downing and countless others too many to name. She will miss her handbell choirs, Bunko group and especially the people next door in the old Glenwood neighborhood: the Van Zandt, Moore, Allen, Britt, Scott, Crnich, Kilgore and Purcell Families.The Spinas Relatives would like to thank the caring staff at Hospice of Humboldt and Timber Ridge Renaissance McKinleyville along with St. Joseph Hospital and Fortuna Rehabilitation for their kindness and care.
Donations may be made in Jean's name to the Humboldt Area Foundation, Hospice of Humboldt and the Humboldt Rowing Association.
###
The obituary above was submitted on behalf of Jean Spinas' loved ones. The Lost Coast Outpost runs obituaries of Humboldt County residents at no charge. See guidelines here.