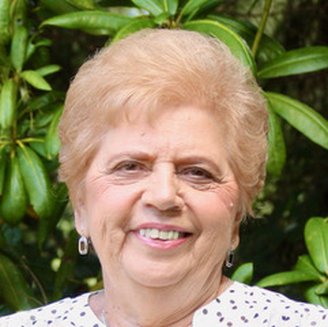 With great sadness, our family announces the passing of Phyllis Darlene Brown. Mom's wish for her final days was to be at home with her family. Mom passed peacefully in the early morning hours in the comfort of her home surrounded by her family on March 4, 2021.

Mom was born in Fortuna on August 14, 1933. Later her family moved to Eureka, where she grew up on B Street. Phyllis was a Karuk Tribal Member and spent many summers with her family in Orleans on the Klamath River. She and her sister, Theaetta, were very close and spent a lot of time together. When her sister passed, it was very hard on Mom and left a big emptiness in our hearts.
Mom worked at Challenge Creamery in Fernbridge for many years, the Times- Standard Newspaper for a short time and then began working in the liquor business in 1972 working at McKesson Wine & Spirits and Jalco as Office Manager until her retirement. She worked with a great group of co-workers who became friends.
Phyllis gave her life to service. She was a sixty-year member of Beta Sigma Phi. She was a current member of California Gamma Epsilon Masters and held all offices and participated on all committees in some capacity. She always offered her home to hold meetings or gatherings for social events. She was active in Council of Beta Sigma Phi and was a mentor for newer chapters.
Mom joined Quota International and enjoyed being a Quotarian for twenty-five years. Quota participated in Relay for Life which was close to Mom's heart because she was a Breast Cancer Survivor for 22 years. She also looked forward to the Halloween Dances at the Elks. Mom was in charge of calling Merv George and arranging his band to play at the dance.
The lifelong friendships that Mom made in Beta Sigma Phi and Quota were very special to her. She met her best friend Toni Stone in Beta Sigma Phi 60 years ago and became forever friends. Thank you to Kathy Fredrickson for coming to our home and reciting the 60 year Beta Sigma Phi ritual to both Mom and Toni (by Facetime). It was truly a special honor for both of them.
Mom always looked forward to spending time with her family. She enjoyed spending many Thanksgivings in Portland and spending Christmas at home hosting her annual brunch. Family meant everything to her.
Phyllis is survived by her daughters Cindy Pettit (Daniel) and Kris Smith (Harley). Grandchildren Nicole Pettit and Kyle Pettit (Lisa), great grandchildren Kya Hulcy, Katie, Kody and Trinity Pettit, Cloey Shackelford and Malaysia. She is also survived by sister-in-law Doris Hickerson, niece Lynn Carrico (Russell), nephews Randy Carrico (Deborah) and Dean Hickerson, numerous cousins and close friends that were like family to her. Mom was known as Grandma Phyllis, Grammy and Grams to so many.
Phyllis is preceded in death by her parents James and Ethel Quick, her husband Tom Brown, sister Theaetta Goodwin (Howard) and her sister-in-law Beryl Carrico (Gene).
Phyllis' care for the last thirteen months was challenging but was made easier by the support and constant attention of granddaughter Nicole and great-granddaughter Kya.
The family would like to thank Kelley McBeth and family for supporting us and taking care of Mom and Rylee Rose for loving Grams and making sure she always had what she needed. Thank you to our family and friends who came over to visit Mom and for the flowers and cards she received.
We owe a special thank you, to Dr. Allen Matthew and his wonderful staff for all the care, support and time they spent with us. Mom thought the world of you and appreciated everything you did for her. Thank you to Hospice of Humboldt for the professional care and time provided to Mom and the support that was given to the family.
In lieu of flowers, if you wish, please make a donation to the Humboldt Area Foundation, Angel Fund for Kidney Patients, 363 Indianola Road, Bayside, CA. 95524 or Hospice of Humboldt, 3327 Timber Fall Ct, Eureka, CA. 95503.
A memorial is scheduled for August 14, 2021 1:30pm at the Lodge, 445 Herrick Avenue in Eureka.
###
The obituary above was submitted on behalf of Phyllis Brown's loved ones. The Lost Coast Outpost runs obituaries of Humboldt County residents at no charge. See guidelines here.