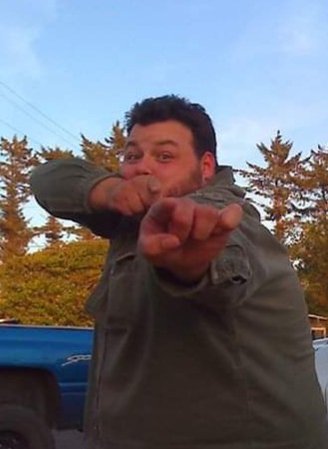 On Thursday March 12​, 2020, Justin Tyler Fontaine — loving fiancé, son, brother, uncle, nephew and friend — passed away at the age of 34 from a short but aggressive bout with cancer. He passed at St. Joseph Hospital in Eureka with family by his side and friends on the way.

Justin was born in Sacramento on August 19​, 1985 to Wendell Fontaine and Nancy (Radford) Fontaine. He attended Grant Elementary School, Winship Jr. High, and Eureka High School. Justin lived in Eureka but spent some time in New Mexico and Yreka with his father and brother Brian.
One of his proudest accomplishments was opening a business with Brian, called "Fontaine's Lube n' Shine" though soon after they opened they had to close up shop and Justin returned to Eureka, where he then met the love of his life Amanda Hurley.
In addition to Justin's Grandparents, he was preceded in death by his Mother Nancy Fontaine, Aunt Laura Nessler, Uncle Gerry Radford, and Uncle George Fontaine. He is survived by his Fiancé Amanda Hurley, Father Wendell Fontaine, Brother Steven Fontaine, Brother Brian Fontaine, Sister Lisa Fontaine, Nephews Trystan and Ayden Fontaine.
In high school Justin enjoyed lifting weights with friends. He was a big guy but an even bigger man. His friends would say it was a privilege to know him and to call him theirs. He was the joker that made you laugh, the ear that would hear you when the world wouldn't listen, the person you could count on to give you the motivation you needed to pull yourself together. He could bring joy to any room and loved seeing people pee themselves with laughter or spit out whatever drink was in their solo cup. His close friends were privy to witnessing his custom dance moves. He had some of his best times camping with friends at Ruth Lake or on the river bar. He had many nicknames such as USS J-Rock, J-Taine and he was named the "CEO" of what had come to be known as the BUFF Co. The crew of three big guys — Steve Kamberg, Shyler Quinton and Justin — with one smaller member who had a dream and a big appetite, Ryan Stockhoff.
Justin would often bring his friends and spend many days and nights with his big brother Steve, playing games and swapping stories. He was his Father's hunting partner and affectionately referred to as "Bear Bait" (another fun story). He was his baby sister Lisa's antagonist and protector. His step Mom Tori was host to his army of friends, that he would often bring over to eat all of her cooking back when he lived on Albee Street. This was usually during fun nights in the garage fixing old cars with his Dad and friends. His Mother Nancy would be proud of the man he became, though she passed away suddenly 12 years earlier. He loved her very much.
Justin met his fiance Amanda Hurley through mutual friends and the connection was instant. They soon became inseparable and moved in together. Justin and Amanda were in their seventh year together at the time of his passing. They were engaged on Dec. 25, 2017 and had begun to make wedding plans, which were put off once Justin had become ill. He and Amanda had an enviable bond that would only grow stronger and more filled with love. She was by his side the entire journey and he was so thankful to have her, as was his entire family.
Justin will be missed at the family's Easter Brunches, put on by AK (Aunt Kathy Radford) and cousin Stephanie Radford. He LOVED biscuits and gravy and would often give you a hard time if there wasn't enough to go back for more. Family gatherings, especially Thanksgiving will not be the same without his enthusiasm and bright spirit.
Thank you everyone for all the support Justin and our family received during his final months. It was hard for him to come up with the words of thanks for the many who reached out, but please know it meant so much to him. His oldest Nephew Trystan was a big help and support at home with Justin's care and he loved having him around. Justin loved his nephews very much. Justin loved Aydens nickname of "uncle Big Mac", and knows his "little mac" will make him proud.
Steve K, thank you for the late night trips and the belly laughs. Ryan, you were the best friend Justin could ever ask for and I know he's super proud of all you've achieved in the last year. Shyler, Justin couldn't wait to see you and I'm so sorry you missed him. He knew how much you wanted to see him. Thanks everyone for patience with our family during this trying time. We absolutely have plans for a large celebration of life, full of family and friends when it is safe to do so. (Justin, being the germaphobe he was would not want to put loved ones at risk). We will keep you posted.
###
The obituary above was submitted on behalf of Justin Fontaine's loved ones. The Lost Coast Outpost runs obituaries of Humboldt County residents at no charge. See guidelines here.